Try on These Celeb Engagement Rings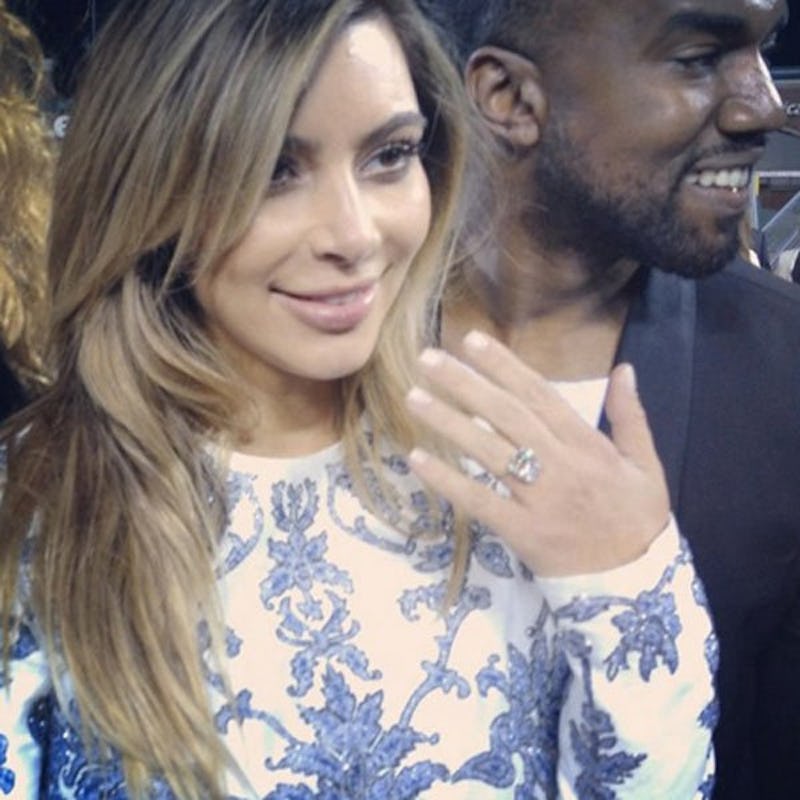 It's a big day for engagement rings: Tiffany and Co. announced a new website that allows you to virtually try on your dream engagement rings. The news was followed by Kanye West proposing to Kim Kardashian with a mountain-sized 15-carat diamond. Timing is everything.
Since we're all hopped up on engagement ring excitement, we decided to browse the Tiffany Blue website to try on our favorite celebrity lookalike engagement rings. Here's what Kim Kardashian's ring would look like (sorta), plus three other celebrity-inspired rings.
1. Kim Kardashian
Now, we know that Kim Kardashian's diamond is almost six-times as big as this gorgeous Princess cut, but just play along with us. To see what it would look like if Kanye proposed to you with an orchestra and a jumbotron, click here.
2. Lauren Conrad
Lauren Conrad recently said, "Yes!" to boyfriend William Tell. She shared the stunning engagement ring with her Instagram followers, showing off its simple and elegant shape. People speculates her ring to be a four-prong, 2-carat round cut diamond with a thick band. Try it here to get LC's lady-in-love look.
3. Naya Rivera
Unlike other recently engaged celebs, Naya Rivera is not shy about showing off her ring. And, um, if we had the princess cut diamond ring encircled by a halo of diamonds that she does, we wouldn't be, either. Try it on here.
4. Kelly Osbourne
Kelly Osbourne decided to go with a bright round diamond when she said yes to her man in July. Here's a ring inspired by Kelly's.