This Feminist Wedding Mag Is 100 Percent Awesome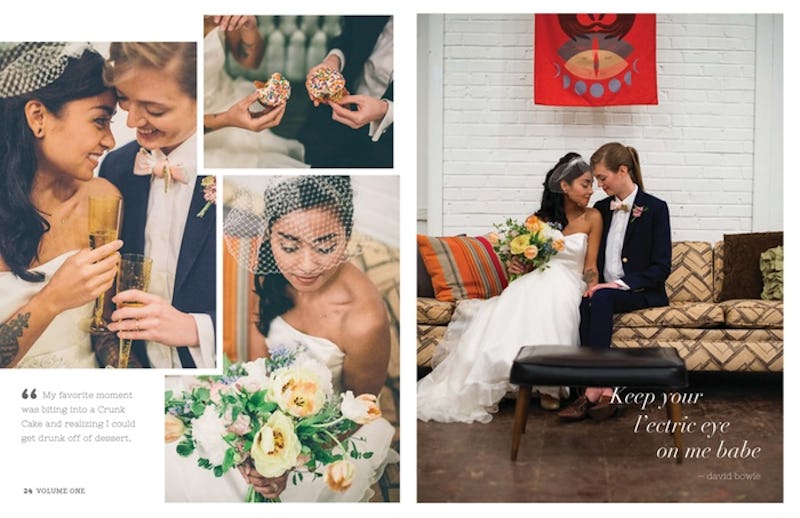 If we all took a second to think about the cover of a bridal magazine, our collective imaginations would likely stir up the same image: A slim, Caucasian model dressed in white, smiling happily at the camera. This predicable stereotype is part of what Catalyst , a new feminist wedding magazine, is hoping to challenge.
Many of the problems that standard bridal and wedding magazine represent are rooted in the traditional ceremony itself (which can be incredibly sexist) and the wedding industrial complex (an industry that is eager to empty your pockets). Popular publications tend to focus on heteronormative couples, and put an emphasis on whiteness and thinness. These magazines also center on spending for the big day, which ends up excluding couples that are watching their wallets or who just don't want an extravagant event.
Carly Romeo, a feminist wedding photographer, and Liz Susong, a progressive wedding coordinator, were fed up with the way that weddings were being represented. So, they started Catalyst magazine as a way to celebrate diverse weddings and show a different side of the industry. Their publication spotlights couples, rather than just the bride, celebrates diversity, and focuses on weddings as the beginning of a marriage and an expression of love, rather than an over-the-top, once-in-a-lifetime party. But also — and, I would argue, more importantly — they created Catalyst as a "way to access a diverse and critical discourse around weddings and the wedding industry."
The duo is currently raising funds for Catalyst's next issue via Kickstater. In a video for their campaign, Romeo states, "The wedding industry needs people who are vocally feminist, who are vocally in favor of marriage equality, who aren't afraid to say 'lets expand this conversation and break down the myth of the perfect wedding.'" With three days to go, they have already surpassed their goal of $8,500. And that comes as no surprise — who wouldn't want to support the diversification of love stories and a disruption of an industry that badly needs it?
It's clear that Catalyst is on the right track — alternative wedding trends have been increasingly popular in recent years, suggesting that traditional white weddings, and perhaps the magazines that come with them, may be on the way to becoming a thing of the past. Here are a few of our favorite feminist wedding trends:
1. Saying Bye-Bye to the Bling
Pricey engagement rings have quite the sexist history — they were basically like a down payment on a bride. Though some understandably can't resist the sparkle, some hip brides and grooms, like Adam Levine's wife Behati Prinsloo, are opting for wedding tattoos instead, showing their commitment in a very permanent way.
2. Wearing A Colorful Wedding Dress
In 2013, the Daily Mail reported that at least 10 percent of brides won't wear white on their wedding days. And why should they have to? There's no need to pretend to be a virgin anymore.
3. Walking Yourself Down the Aisle
The tradition of a father giving away his daughter is rooted in the practice of a woman's hand being exchanged for goods. Though some brides still have their dads walk them down the aisle for traditions' sake, a 2014 Harris Polls showed that millennials were the least likely age group to agree with this tradition.
Images: Catalyst Wedding Magazine/Kickstarter (3), Giphy (3)