Reliving The Wacky Roles Of Kyle MacLachlan For The 25th Anniversary of 'Twin Peaks'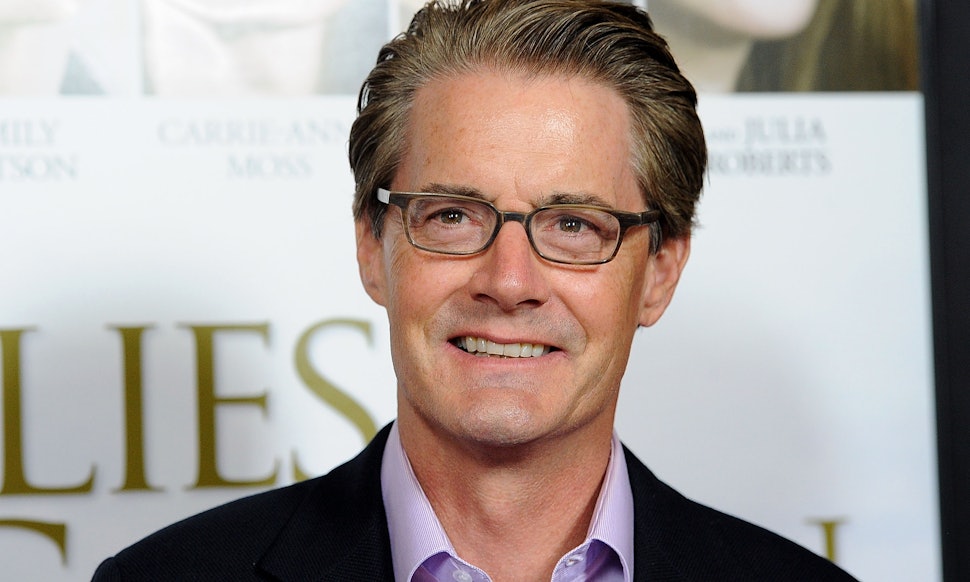 Frazer Harrison/Getty Images Entertainment/Getty Images
Oh, Kyle MacLachlan, you bizarre and beautiful man. Although he has seemingly taken on some of the most random roles, MacLachlan has one of the greatest acting careers around. He has mastered both film and TV, and one of his most iconic roles was that of Dale Cooper on Twin Peaks. April 8 is the 25th anniversary of the David Lynch TV show, but instead of celebrating, fans of Twin Peaks received some bad news recently with Lynch leaving the Showtime reboot of the series.
MacLachlan has been set to revisit his role of Agent Cooper for Season 3, but with this devastating blow, the future of Twin Peaks is hazy (yet again). But let's not dwell on the bad — let's remember the good. Here are 14 of MacLachlan's most memorable roles — including the best . . . and the best of the worst.
Zack Carey In 'Showgirls'
Is Showgirls terrible? Is Showgirls the best movie ever? Is it possible for it to be both? Some questions I may never know the answer to, but I do know that stars Elizabeth Berkley, Gina Gershon, and Mr. MacLachlan added to the majesty that is Showgirls — and that it's one of my favorite films of all-time.
Image: United Artists
Cliff Vandercave In 'The Flintstones'
Although The Flintstones was universally panned by critics, I was a child when the John Goodman film came out and can remember it fondly. But something I didn't remember? That MacLachlan and the Halle Berry were the villains of the film, with the stellar names of Cliff Vandercave and Sharon Stone. [Insert pun-laced stone-age joke here.]
Image: Universal Pictures
Trey MacDougal In 'Sex And The City'
Oh, Trey MacDougal and his schooner. As Charlotte's first husband on Sex and the City, MacLachlan was the absolute worst. And MacLachlan was oh so good at making me hate his snobbish character. Let's just be thankful Charlotte was married to Trey because through her divorce she met the real love of her life — Harry.
Image: HBO
Jeffrey Beaumont In 'Blue Velvet'
If you haven't seen Blue Velvet, you are truly missing a serious life experience. If that life experience is good or bad is really up to you. But MacLachlan's second collaboration with Lynch had his portraying the young Jeffrey who stumbles into the insane underbelly of his hometown Lumberton after discovering a severed ear. Costarring Isabella Rossellini, Dennis Hopper, and Laura Dern, the film is a Lynch-MacLachlan cult classic.
Image: De Laurentiis Entertainment Group (DEG)
Ray Manzarek In 'The Doors'
Although Val Kilmer as Jim Morrison may have been the standout in the movie about the band The Doors, MacLachlan's turn as keyboardist Ray Manzarek also needs to be remembered. Just look at that hair!
Image: TriStar Pictures
Calvin Zabo On 'Agents of S.H.I.E.L.D.'
MacLachlan is usually known for his more outlandish roles, but everybody has gotta go mainstream sometimes. He joined the Marvel universe by being a part of the TV show Agents of S.H.I.E.L.D. as surgeon Calvin Zabo, the father of Skye. Dude sure likes to keep busy since his current Twitter bio says he is in Agents of S.H.I.E.L.D., the Twin Peaks reboot (which might sadly change now with the current Lynch news), and Portlandia all at once.
Image: ABC
The Captain On 'How I Met Your Mother'
Ted Mosby was usually the most pretentious, lovable snob on How I Met Your Mother (just listen to how he pronounces the word "encyclopedia"), but he was surpassed in douchiness in spades when the Captain came aboard the show. MacLachlan was ridiculous and amazing as the Captain — I mean, how could he not be? His name was "The Captain" (OK — it actually was George Van Smoot, but still). Although Ted may have stolen his wife Zoey, MacLachlan's character came back to employ Lily as his art consultant.
Image: CBS
Claudius In 'Hamlet'
MacLachlan starred as the evil brother-killing, wife-stealing Claudius in this modern adaptation of Hamlet, opposite Ethan Hawke. He took over the Denmark Corporation in this 2000 interpretation of Shakespeare's play.
Image: Miramax
Orson Hodge On 'Desperate Housewives'
MacLachlan hit Wisteria Lane in Season 2 of Desperate Housewives as Orson Hodge, a man with a mysterious past. He ended up marrying Marcia Cross's character Bree, but since it was Desperate Housewives they eventually divorced. He was on the ABC series as a regular until Season 6 and then on-and-off until the show's final season.
Image: ABC
The Mayor On 'Portlandia'
Portlandia, the IFC show from the hilarious and genius minds of Carrie Brownstein and Fred Armisen, made the greatest call in the world by casting MacLachlan as the mayor of Portland. It's just another magnificently eccentric role to add to MacLachlan's long list of them.
Image: Frank DiMarco/IFC
Josh Perotti On 'The Good Wife'
Another reoccurring TV role that MacLachlan has on his plate is that of attorney Josh Perotti on The Good Wife. He's got it bad for Carrie Preston character's Elsbeth and if I've learned anything from TV courtroom dramas, even though lawyers may have to battle in court, they usually are getting it on outside of the court, amiright?
Image: Jeff Neumann/CBS
Dad In 'Inside Out'
OK. This one is cheating a bit since Pixar's Inside Out won't be released until June 19, 2015, but my faith in Disney and Pixar makes me know that this movie will be great. (And the trailer didn't hurt either.) MacLachlan will portray Dad in the movie showing how people really feel on the inside.
Image: Pixar Animation Studios
Paul Atreides In 'Dune'
David Lynch's sci-fi film based off the book of the same name marked the beginning of MacLachlan and Lynch's collaborations. MacLachlan's first film role had him starring as Paul Atreides, whose coming as the savior of the future was foretold. The movie was a critical and commercial failure, but it was the beginning of MacLachlan's status as a cult star.
Image: Universal Pictures
Dale Cooper On 'Twin Peaks'
FBI Special Agent Dale Cooper came to the town of Twin Peaks a half hour into the pilot episode to investigate the mysterious murder of Laura Palmer (and the mysterious appearance of Ronette Pulaski). Cooper's quirkiness and tape recorder got him quickly accepted within the community — and into the viewer's hearts. 25 years after its premiere, it is still one of the greatest cult series in all of TV history — and one of MacLachlan's most recognized roles.
Although I'm concerned for the fate of Twin Peaks sans Lynch (it just doesn't seem right for the reboot to go on without him), I know I can trust MacLachlan to bring the weird in whatever he chooses to do next.
Image: ABC