This Is How You Properly Blow Dry Your Hair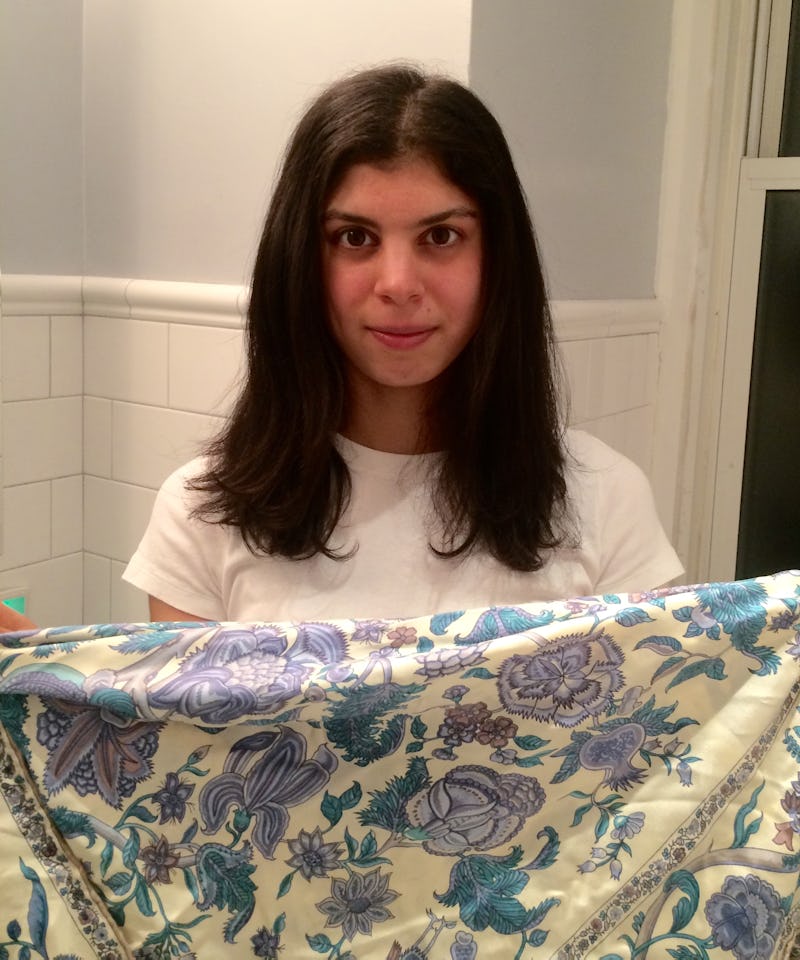 I've been studying the art of blow drying hair since I was in seventh grade. I remember the exact moment when I first became a student of heat-straightened locks. I was at my grandparents' house and looking for something to read, but all I could find was an old issue of Allure (why my grandparents had Allure in their house, I don't know, but they certainly weren't the target demographic).
Inside the magazine was a multiple-page guide on how to properly blow dry hair, complete with pictures and suggested products to buy. I had always been blown away (haha) by how seamlessly stylists straightened my naturally curly hair without the use of a flat iron whenever I got my hair cut, so I tore the pages out of the magazine and brought them home to study in front of my bedroom mirror. I knew there was a secret to at-home blowouts but I was incapable of unlocking it because each time I tried to blow my hair out myself, it ended in frizz and tears. Loosening the curls wasn't a problem, but getting my hair to fall flat and not outwards and upwards was beyond my dexterity.
Twelve years later and lots of hours spent in front of a mirror with various tools, clips, and creams, and I think I've finally succeeded in blowing hair out like a pro. I'm basically John Frieda, so follow my lead as I share some tricks of the trade. You'll need the following: a blow dryer, a round brush, clips, and a frizz-fighting cream (more on that below).
Conair 1875, $12, Amazon; Aveda Smooth Infusion, $26, Nordstrom
Wash your hair. Give it a good, deep cleanse so as to make your scalp as blank a slate as possible. The cleaner your scalp, the longer your blowout will last until grease starts to build up. Kim Kardashian goes five days without washing her hair, and since I aspire to be like Kim K, I let my blowouts go for five days, too.
Evenly distribute a heat-protecting, humidity-fighting, hair-smoothing cream through your hair. I've tried many products over the years, from ones I've mindlessly grabbed off a drug store shelf to an overpriced custom cream that a hair stylist pressured me into buying. I had a lot of good times with the $10 and less Garnier Fructis Sleek & Shine line, but once my supply ran out and I stopped seeing Garnier commercials featuring enviable straight yet voluminous hair, I started researching new products. I recently happened upon Aveda Smooth Infusion Naturally Straight treatment, a product that "progressively loosens curls for a straight style." You apply a small amount of cream to damp hair before blow drying, and after five or so washes, it's supposed to change your hair's texture so it actually dries straight. This is the second time I'm using it so I can't tell how well it works, but so far so good. I also bought it because I liked the light blue color of the bottle.
Dinosaur your hair into sections. The beauty school pros advise you to symmetrically divide your hair into six or more sections, but I'm too lazy for that and I've found that clipping your hair into sections so you slightly resemble a stegosaurus gets the job done just as well. The smaller each section, the faster it will dry. Use clips to keep everything intact, otherwise the affair will become messy and complicated.
Get to work! Beginning with one of the bottom sections, point the nozzle of the dryer down as you brush your hair from roots to ends. Maintain the dryer at a six-inch distance from the scalp and be sure not to focus it on one spot for too long or it'll burn your hair and scalp. Continue blow drying through each section of hair. How long it takes to do your hair depends on your length and texture, as well as your blowdryer's power and temperature. I wasn't timing myself but I got through four songs from Carole King's Tapestry album, for what it's worth.
Don't worry about drying your hair until it's perfectly straight because it will inevitably have some unnecessary volume and frizz. If you're low maintenance and happy with it as is, then you can go on your merry way. If you're a stickler for instant gratification and pin straight hair, then run a flatiron through it. If you're like me and determined to get your hair as straight as possible without resorting to a flat iron, then be sure to blow dry your hair before bed. Once you're done, take a silk scarf and tie it around your head à la Edie Bouvier in Grey Gardens .The silk will soften your hair overnight so you'll wake up with crease-free straight hair.
Go to bed. Have sweet dreams. Wake up. Look at yourself in the mirror. Mission accomplished.
Images: Author's Own