'Sherlock' Finally Gets Season 3 Premiere Date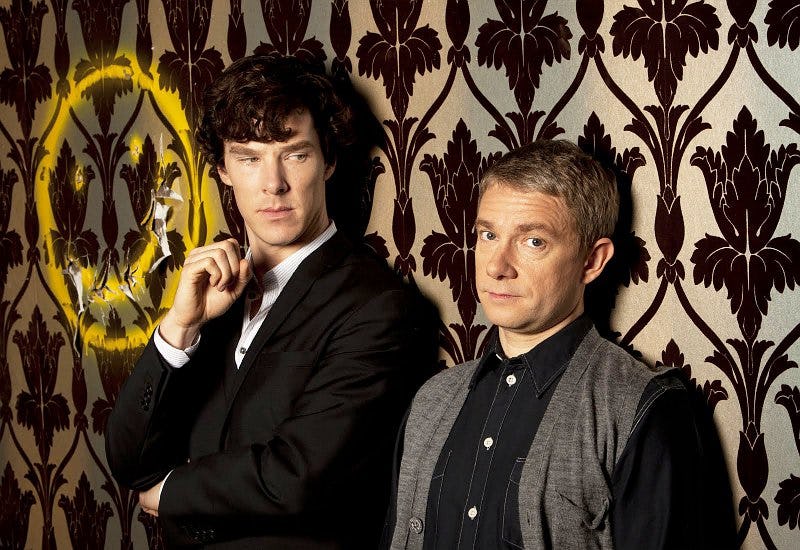 Benedict Cumberbatch fans were dealt a heavy blow this past weekend the actor's starring vehicle, The Fifth Estate, bombed epically at the box office. But things are looking up — for both his fans and Cumberbatch himself — with the news that Sherlock will be returning to your TV screens, and just in time to warm your heart during the harsh winter. So what's Sherlock 's Season 3 premiere date? Mark your calendars for Jan. 19
As Entertainment Weekly exclusively reveals, the PBS Masterpiece favorite — co-starring The Hobbit's Martin Freeman — has finally announced its Season 3 premiere after a very, very long wait. (Production was delayed thanks to scheduling conflicts of its two rising stars.) And here's guessing Season 3 will be more popular than ever, thanks to its headliners becoming more popular than ever — in the last year, Cumberbatch has experienced success on the big screen courtesy of Star Trek, and Freeman stars in the aforementioned Hobbit trilogy directed by Peter Jackson.
Even more incentive to watch? Sherlock's executive producer Rebecca Eaton says Season 3 might just be the series' best yet. "[The new episodes are] fantastic," she told EW. "They are jaw dropping. They are like small movies. Benedict and Martin are so in their Sherlock-Watson groove. They are so comfortable with that relationship it's like being in the room with them."
So, Cumberbitches, put down your Sherlock fan art and start planning your January now.
Image: BBC