Could We Get Two More Seasons Of 'The Good Wife'?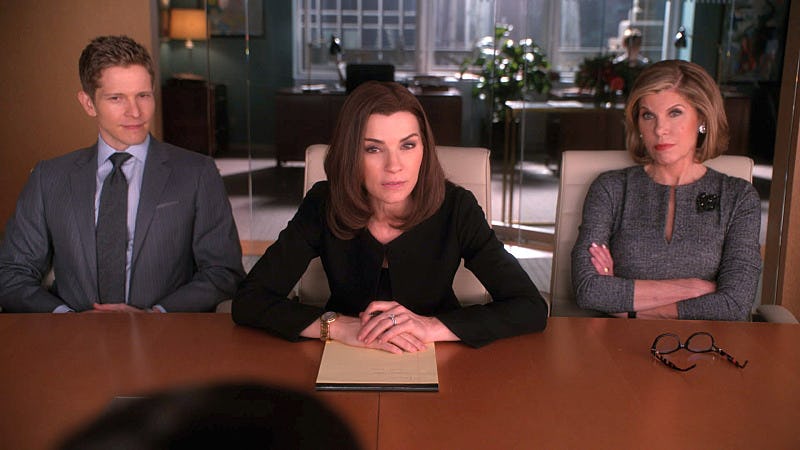 Wednesday's news that the principal cast of The Good Wife 's has signed contracts for two more seasons of the series throws a wrench into a popular fan theory about the show which is, specifically, that those who have been paying attention to the episode titles of the CBS series may have a good idea of when showrunners Robert and Michelle King plan to end their award-winning legal drama. For instance: Season 1 began with one-word episode titles ("Crash," "Bang," "Boom"); Season 2 had two-word titles ("Ham Sandwich," "Getting Off'), Season 3 had three-word titles ("Another Ham Sandwich," "Pants On Fire"), Season 4 had four ("Two Girls, One Code," "Don't Haze Me, Bro")... then suddenly Season 5 reverted to three-word titles ("Hitting The Fan, "Dramatics, Your Honor"), and the current Season 6 only has two-word titles ("Old Spice," "Hail Mary"). Based off of this trend, Season 7 should be back to one-word titles — a sure enough sign for the end of the show's run.
According to the new reports, Julianna Margulies, last year's Emmy Award-winner for Outstanding Lead Actress in a Drama Series, along with co-stars Matt Czuchry and Christine Baranski (aka the trio that make up the legal team of Florrick/Agos/Lockhart) have all reached agreements extending their tenure on CBS for two more years. Does this mean we can reasonably expect The Good Wife to last at least through Season 8?
And if so, what does that mean for the Kings' seven-season plan?
The timing of this news is interesting, given the show's standing on TVbythenumbers ' Renew/Cancel Index. The generally reliable site has had The Good Wife teetering on the edge all season, labelled as a "toss-up" alongside other CBS procedural veterans with so-so ratings, Blue Bloods and Hawaii Five-0 (both in their fifth seasons). Just yesterday, in their weekly update of the Index, the site claimed that, "The only reason the dreadfully rated show is still on CBS's air is that its syndication revenue more than makes up for its current, woeful, ad revenue (which is directly related to its demo ratings)." And what exactly are those "woeful" demo ratings? "The show's managed just a 1.0 rating in its last 4 episodes. If it's renewed, it will be quite a challenge for the CBS PR Jedi to make next season's ratings sound good." (Sounds like CBS needs to hire expert spin doctor Eli gold, no?)
TVByTheNumbers even scoffs — literally — at the notion that the show's bountiful awards recognition might give it the edge over its network competitors. (The Good Wife has been nominated for 13 Golden Globes and 35 Primetime Emmys; Blue Bloods and Hawaii Five-0 share one Golden Globe nom and 3 Emmy noms between them.) Many fans imagine that this prestige helps TGW... but as the Index put it succinctly this week: "Awards keep The Good Wife alive? Don't make the Cancellation Bear laugh." Sadly, out of the three shows, TGW has the lowest index score at 0.59 (a number arrived at by dividing the show's most recent rating against the network's average rating). The only show with a lower index score is the certain-to-be-cancelled freshman comedy Battle Creek, with a 0.46.
Putting a further damper on this news is TVLine 's Michael Ausiello, the man who broke the news in the first place: "An insider, however, cautions not to read too much into the two-year thing, calling it 'typical TV dealmaking,'" he says in this week's "Ask Ausiello" column. So is there any cause for hope?
Although it seems beyond the realm of possibility that The Good Wife could last for two more seasons, I'm still cautiously optimistic that CBS will give its most prestigious show one more year to wrap things up. Negotiating contracts in two-year periods may very well be a typical industry practice, but the fact that the cast is negotiating at all has to be a good sign, right? The showrunners have been very clear about their seven-year plan, as Ausiello noted in his column last week: "The Kings always viewed Wife as a seven-season saga, but the ultimate decision isn't up to them, as Robert King reminds us. 'It's a big question mark, because it's a question that's beyond us,' he says. 'It's… CBS.' He notes that viewers can probably sense that 'we're counting down' via the episode titles, but adds, 'That doesn't mean an end is an end.'"
Despite what the numbers may say, my gut still tells me that we will get one more season out of the show. After all, there's a reason the Index still has the show listed as a toss-up, and not "Certain To Be Cancelled," despite its "woeful" ratings. The Good Wife has defied the odds before; surely it can defy them once again... Just don't expect to see a Season 8.
Images: CBS (2)