Juliette Has Her Baby On A Sweet 'Nashville'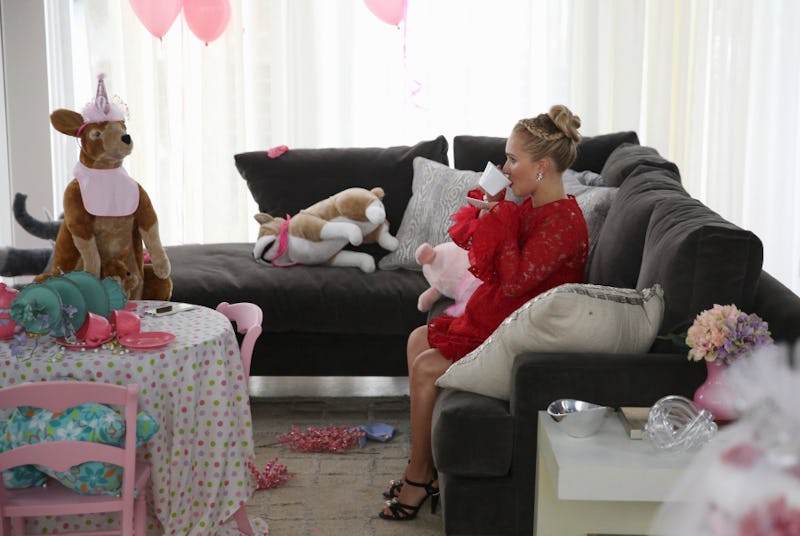 It's time to welcome another country crooner into the world now that Juliette gave birth to her baby girl on Nashville this Wednesday. We all knew that it couldn't have been too much longer of a wait, especially after Avery left town and basically dared this baby to be born while he wasn't nearby. Sure enough, that's exactly what happened: After a lackluster shower that just about every country music star in the city couldn't attend, Juliette got so angry that she and Rayna ended up in a shouting match, and it wasn't long before Juliette's water broke. Of course, Avery pulled himself off the tour bus to go meet her at the hospital, and in the meantime, Rayna stayed at the hospital to cheer her on.
Pretty much every Nashville fan breathed a sigh of relief when Avery finally burst into the hospital room, right in time for the baby to be born. Alas, we STILL don't have a name, though ABC is letting Nashville fans vote on a few different options, so there are really only four ways it could go. These are the names fans can currently choose from, with their standing as of Wednesday night.
Cadence - 47 percent
Bella - 42 percent
Nina - 6 percent
Blythe - 5 percent
Aside from the baby name angst, of course, the rest of the feels from Avery and Juliette this week were almost too much to handle. Can I personally thank Hayden Panettiere for getting pregnant this season? The writers adding this to Nashville has brought a whole different dimension to Avery and Juliette's relationship, and they are going to be just the cutest, sassiest, most vocally-talented family that Music City has ever seen.
So what's next for this couple and the new addition to their brood? Fingers crossed that this means the next few weeks will be filled with hilarious new parenting shenanigans and lots of their adorable baby on screen. In the meantime, let's just take a moment to reflect on how awesomely both of these characters have grown during their arc on this show. Can you imagine them being this ready for parenthood a few seasons ago? But here they are, together and totally ready to face what's up ahead. (And in case you were wondering, #TeamCadence.)
Image: Mark Levine/ABC