Jamie Dornan Is 'Fifty Shades's Christian Grey, But Who Is Jamie Dornan?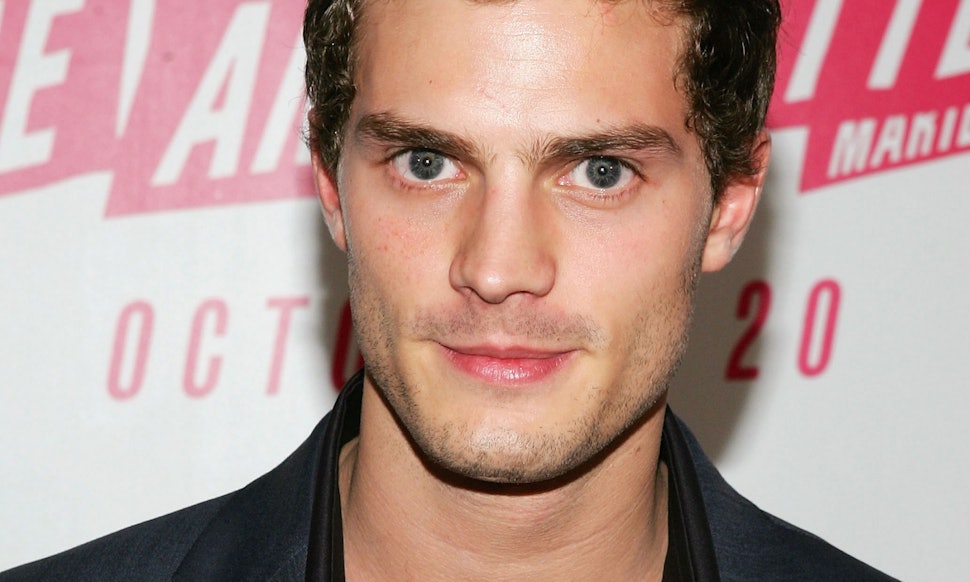 Evan Agostini/Getty Images Entertainment/Getty Images
We were all very much bereaved when we learned that the sexy Charlie Hunnam would no longer be playing Christian Grey. We worried, we campaigned for our next-in-line choice and sat, waiting, fearful that this ill-begotten franchise would falter before it even began. But fear not, you erstwhile Christian Grey fans: Fifty Shades of Grey has a hot new leading man, and his name is Jamie Dornan. You might recognize him from films like Marie Antoinette or as Sheriff Graham from Once Upon A Time, if his name and those soulful eyes don't jog your memory.
But like... who is this guy? Sure, he's hot, although I wouldn't actually know since I keep getting lost in his eyes (sigh). Is he really qualified to play one of the most talked-about literary characters in recent history (Edward Cullen aside, obviously)? Tough to say, although the choice of two unexpected and lesser-known stars for the lead role suggests that Fifty Shades of Grey might just do the unbelievable and surprise us. Read through these helpful facts, get to know him a little better, and decide for yourself: Is this the S&M sex god of your dreams, or, is he just a good looking, blue-eyed imposter?
He Is From Northern Ireland
Which, just so ya know, is actually not just the upper bit of Ireland. I'm only saying that because I legitimately had no idea for far longer than is acceptable. Northern Ireland is actually a part of the UK and, in my experience, is characterized most significantly by a predilection for mumbling that spans the entirety of the nation. (Sorry, northern Irishmen, I love you all, but I can't understand a thing you're saying.) Jamie Dornan is, furthermore, from Belfast, which means when he says "now" it probably sounds like "noy", and if he says "know" it probably sounds the same. I wonder if Christian Grey is noy going to rock a Northern Irish accent?
For A While, He Made His Living Being Really, Really Ridiculously Good-Looking
I mean hello, have you seen that face? It's a moneymaker. Wait hahahahah, as if we're looking at his face in this ad campaign. Jamie (yeah, we're on a first name basis now, things get casual by the third slide) started off as a model before breaking into the acting business, working for brands like Calvin Klein, Dior, Armani and more. Damn, the boy gets around, but one look at that bod and it's impossible not to see why.
Image: Calvin Klein
He Dated Keira Knightley For A While
Just imagine, Jamie Dornan comes home, strips down to his underwear (in which he looks identical to that Calvin Klein ad from the previous slide), and there, on the bed, is Keira Knightley rolling around in a sexy trenchcoat à la the Chanel ads. Crazy, right? But not remotely surprising, considering they're both very good-looking and British and all. Also, this image fits rather beautifully into my detailed imaginings of him as Christian Grey, yumyumyum.
He's from Holywood
No, I didn't misspell Hollywood — he just comes from a town called Holywood. Is it any surprise then, that he and his father aspired to become actors?
He Is Damn Good At Rugby
Because of course. What I'd give to stare at his ass during a scrum (the only part of rugby that makes total sense to me).
He Was In A Band
The band was called Sons Of Jim, and although Jamie has a lovely voice, his band was, uh... not necessarily as impressive as his acting and modeling. But the cover art is amazing and worthy of holding onto for when Jamie is a huge star and all your friends are obsessed with him.
He's Going To Be A Dad!
Yup, Jamie is cute, he's Irish, and he is due to have a baby fairly soon with his wife, singer Amelia Warner. Who, for the record, is also supremely good-looking, so expect one of those babies who's so pretty, they make you, as an adult, feel ashamed for no apparent reason.