Remember When Amy Played Hillary?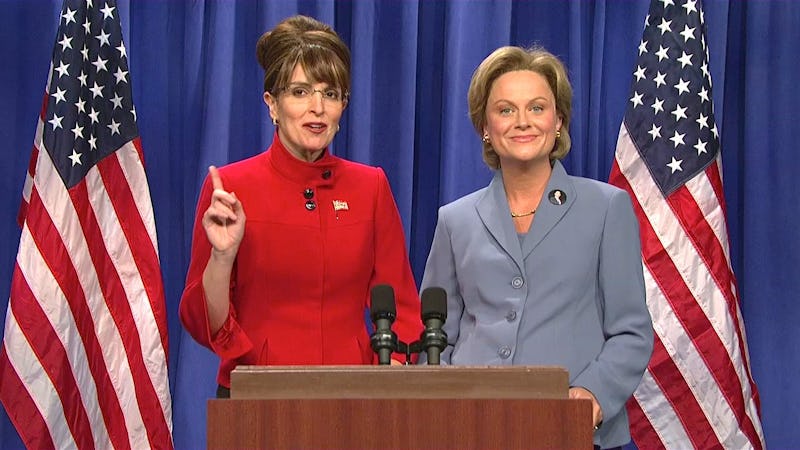 One of the best things about political campaigns is getting to see how the media deals with the candidates and their issues. I'm not talking simply about how The New York Times analyzes speeches and policies, but about something equally important to our culture: how sketch and variety shows parody, criticize, and portray the candidates in question. And while everyone from The Colbert Report to The Daily Show has perfected the art of the political take-down, perhaps no other show has done it as well, as consistently, as Saturday Night Live. Of all its many political sketches over the years, one of the all-time best, is, of course, when Amy Poehler played Hillary Clinton alongside Tina Fey's Sarah Palin and, later, the presidential nominee herself.
There's so much to love about the now-legendary 2008 clip, from the furious discomfort in "Clinton's" eyes to the iconic quips ("I believe that diplomacy should be the cornerstone of any foreign policy." "And I can see Russia from my house!") to the fantastic explanation, in Fey's Bossypants, of how the parody came to be. In the memoir, Fey revealed that the sketch was co-written by Poehler and Seth Meyers, and that there were several last-minute changes, including changing "fat ankles" to "cankles," made in order to ensure the skit's ultimate funniness. Other edits included having Poehler say "anything!" after Fey's "Hillary and I don't agree on everything" and having Poehler, when Fey mentions the White House, shout, "Mine! It's supposed to be mine!"
Fey also revealed that the original idea for the sketch was to have Palin speak to the camera alone, but it was at Fey's suggestion that Poehler's Clinton was incorporated, as well. The result, as we know, was legendary.
"This sketch easily could have been a dumb catfight between two female candidates," Fey wrote. "What Seth and Amy wrote, however, was two women speaking out together against sexism in the campaign.... you all watched a sketch about feminism and you didn't even realize it because of all the jokes. It's like when Jessica Seinfeld puts spinach in kids' brownies. Suckers!"
And while it's Fey's work as Palin that may the most memorable all these years later, Poehler's Clinton impression was equally fantastic. It wasn't the only time she portrayed the politician on the show (she also appeared as Clinton during the "SNL Presidential Bash" and in an Obama-centric sketch later on), but it was by far the best. The comedian just nailed the impression, and while future Clinton impersonations — of which there will certainly be many, now that she's set to announce her candidacy — will likely be done by SNL cast member Kate McKinnon, it'll always be Poehler's bit that comes to mind when thinking of Hillary Clinton on SNL.
Rewatch the amazing clip below:
Image: NBC