The 7 Best Hillary Impressions Ever On 'SNL'
So it's official, or almost: on Sunday, Hillary Clinton is set to announce her candidacy for President of the United States. This means that the next year and a half will be filled with more speeches, press briefings, and photo ops than anyone can imagine — except, of course, Clinton herself, who, as we all know, has been down this path before. She's used to the craziness that is campaigning, and has probably prepared herself for the more ridiculous aspects of the process — such as getting parodied on Saturday Night Live, a treat the politician has been privy to numerous times over the last several years.
When most people think of Hillary Clinton on SNL, their minds automatically go to Amy Poehler's portrayal of the politician alongside Tina Fey's Sarah Palin in that legendary 2008 skit. And while that sketch was certainly amazing, it's far from the only time Clinton has gotten the variety show treatment, whether it's been done by Poehler, current impersonator Kate McKinnon, or the several other cast members over the years who took on the role. In honor of the many Clinton-focused skills guaranteed to come, a look back at the seven best parodies and impressions of the politician SNL's ever had:
Kate McKinnon: The Email Scandal (2015)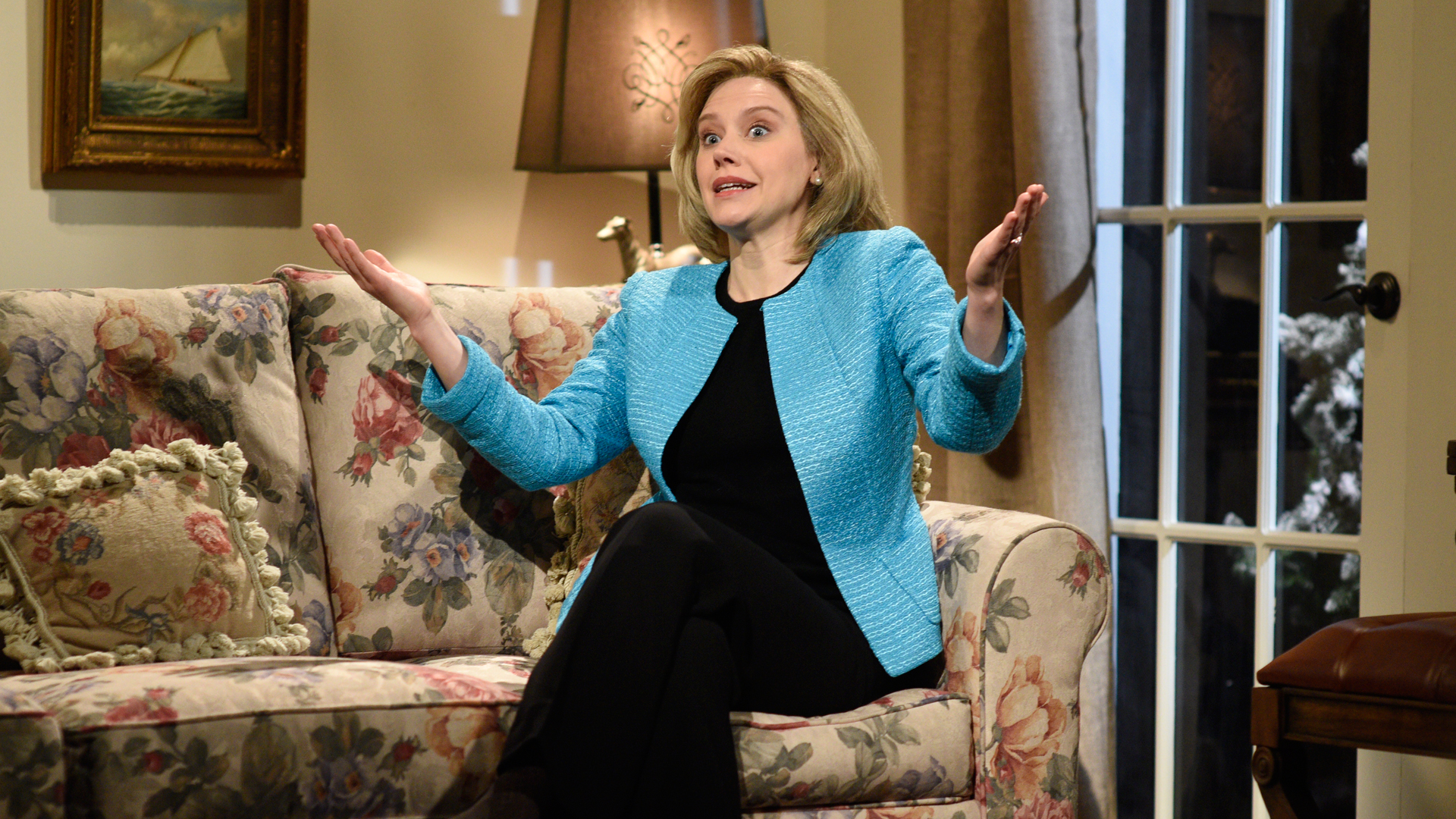 As the "relatable woman on a couch," McKinnon, the latest star to take on Clinton, dismissed the recent scandal over the politician's emails in hilarious, spot-on fashion. She revealed some of her "personal" emails (including one to Bill addressed "Dear Sir/Madam"), shouted-out to Elizabeth "Lizzie" Warren, and gave hints of what to expect when she runs — I mean, if she runs.
Vanessa Beyer: Fighting With Michelle Obama (2014)
In a sketch last year, Beyer's Clinton competed with Sasheer Zamata's Michelle Obama over who was the better first lady. It started out slow, but by the end, Beyer had made enough great jabs about Michelle's health policies and guest appearances on Nashville to make this parody a memorable one.
Amy Poehler: The Presidential Debate (2008)
This all-star skit starred featured Kristen Wiig, Jason Sudeikis, Will Forte and Fred Armisen, and yet it was still Poehler, as the very-aware-she's-been-defeated Clinton, that stole every minute.
Jan Hooks: Arguing With Bob Dole (1993)
The late Hooks had many great impressions under her belt, but it was her time as Clinton that fans loved the most. In this legendary sketch, she taught Bill about health reform, fought with Senator Bob Dole (Dan Aykroyd), and, most famously, called herself the "co-president of the United States."
Amy Poehler: A Sore Loser (2008)
Who should campaign about John McCain? Why, Hillary Clinton, of course, because, as Poehler's Clinton explains, she's a sore loser, resents Barack Obama, and has super racist supporters. Obviously.
Ana Gasteyer: Running For Senator (2000)
As "the new Hillary," a woman who was kind, friendly, and warm, Gasteyer killed. Watch her eyes as Bill interrupts more and more — she may say she's reformed, but that anger? Totally the "old" Hillary.
Amy Poehler: Alongside Sarah Palin (2008)
Of all the many Clinton impressions SNL's had over the years, none are as memorable as Poehler's version of the politician in an address to America with Tina Fey as Sarah Palin. The sketch was hilarious, filled with now-iconic quotes ("I can see Russia from my house!") and the best impersonations of the politicians either star had ever done. Rewatch it, love it, and bow down to the genius of Amy Poehler and Tina Fey.
Image: NBC