11 Cutest Hillary Clinton Kid & Baby Gear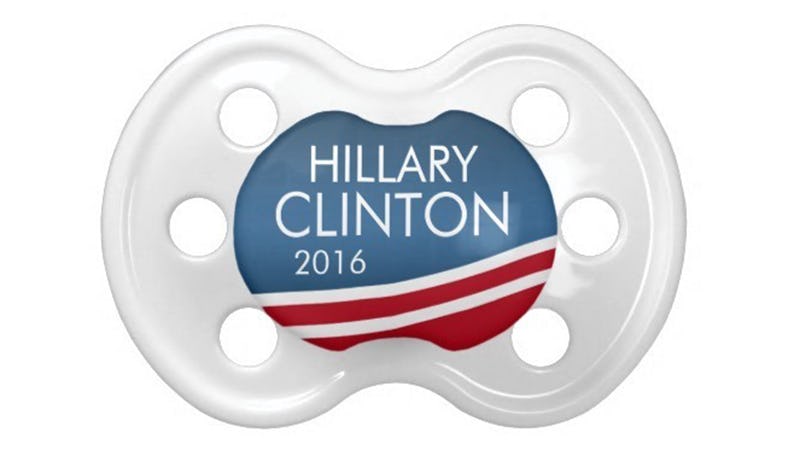 Horay! It was just announced that Hillary Clinton will be running for president in 2016. WOO! What better way to show your support than to not only spruce yourself up, but to dress your kids in Hillary Clinton gear, too. I know baseball season just started back up, but you might want to hold off repping your favorite team for a little bit and cop some Clinton gear for spring instead. Or, if you're like me and can't take off your fan gear, wear both.
For many of us, this moment has been a long time coming, and even though the kids and babies in your life may not know it just yet, they should be super excited about this announcement, too. For this reason, it's important that you deck them out in cute body suits, mini beanies, T-shirts, and bibs. They will be forever grateful when they have these adorable photos to #TBT on Instagram or whatever the latest social media sharing platform will be. It's basically your civic duty.
If you're thinking that it's too early to find some Hillary Clinton supporter threads, you are totally wrong. Like I said earlier, people have been waiting for this moment for a long time. Here are 11 super cute Hillary Clinton pieces that all the kids in your life should rock immediately.
1. Pom Pom Beanie
Even if your little one isn't old enough to say anything besides, "Mama" and "Dada," this beanie perfectly says it all. (Formidable Fleece Child Hat, $14, readyforhillary.com)
2. Born Ready Onesie
How adorable is this tiny onesie? Hillary, we're ready for you! (Born Ready Onesie, $20.16, readyforhillary.com)
3. Simple Beanie
Replace your baby's nap time beanie with this "Team Hillary" one. (Team Hillary Baby Hat, $10, C afePress )
4. Hillary Quote Bib
This quote is perfect for any little feminist to rock. (Well-Behaved Women Bib, $11, CafePress)
5. Hillary Bodysuit
This would be a great everyday type of onesie to wear. (Hillary 2016 Baby Bodysuit, $20, CafePress)
6. Pacifier Button
Don't want to pin a button on your baby? Understandable. Have them rock this pacifier instead! (Hillary Clinton 2016 Modern Swoop Design BooginHead Pacifier, $8, Zazzle)
7. Hipster Burp Cloth
If you're hipster, then it's more than likely that your little one is just as hipster as you. In other words, this burp cloth is perfect for the both of you. (I Supported Hillary Clinton Before It Was Cool Burp Cloth, $21, Z azzle )
8. Hillary 2016 Blanket
Nap time will never be complete without a Hillary blankie. (Hillary Clinton 2016 President Receiving Blankets, $31.95, Zazzle)
9. Viva, Hillary!
There are a million ways to say and show your support. (Viva Hillary Bib, $22.95, Z azzle )
10. Hillary Silhouette Bodysuit
Simple in design, strong in meaning. (Hillary Clinton MMXVI Logo Bodysuit, $18.95, Zazzle)
11. I Like Hillary
You're basically guaranteed at least 100 likes if you upload a photo of your baby in this. It's just a fact. (I Like Hillary T-Shirt, $19, Zazzle)
Images: Courtesy Brands