Cynthia Bailey Had Some 'RHOA' Acting Trouble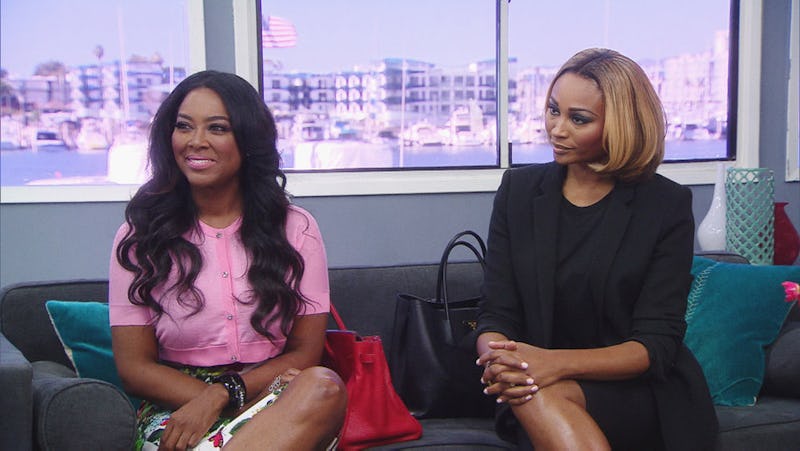 My reaction at the revelation that this was going to be a Real Housewives of Atlanta episode focused on Cynthia: "ugh, really?" I can't really deal with her a lot of the time, although I have to admit that she does still have a little nerdy charm. But is Cynthia Bailey... an actress? She's managed to not only perform in Kenya's pilot Life Twirls On , but also perform as a good Housewives cast member too. This was her best showing in a long time, and even Peter had something to do other than be creepy. He was able to give her some acting pointers.
But that Jamaican accent, honey... that was rough. And I can't deal with how hilariously bad that was. Even the "good" version was incredibly goofy, and pitched more for a live studio audience than for a filmed show. Every line was screamed at the top of her lungs. I mean, all the comedy was more unintentional than purposeful.
But Kenya's pilot is by no means a normal television experience, because generally speaking you don't wait for the day of shooting while on set to figure out actor's contracts, or have such limited cast and crew. This was a broken down production, for sure more of a pilot presentation than a TV-ready piece of filmmaking. They've managed to put a single scene on film, so let's see if Bravo can shepherd this one to the screen. Supposedly it's on its way. Having an experienced star like Cynthia Bailey can only help, right?
She Was On 'The Cosby Show'
Much has been made of Cynthia's appearance on The Cosby Show back in 1990. The episode is available on Hulu Plus, if you're curious and have forty-four minutes to wait.
She Used To Work With Sandra Bernhard
Cynthia also appeared in Sandra Bernhard's special Without You I'm Nothing, in 1990. They've even remained friends over the years, as discussed in an episode of Watch What Happens Live.
Like Many Stars, She Was On A Cop Show
New York Undercover was Dick Wolf's more colorful Law & Order, filled to the brim with eccentric New York City characters, and many actors of color got their start on NYU just like Cynthia did. Check her out as a wordless masseuse at 7:33. She's not quite Regina Hall or Viola Davis yet, but maybe after Life Twirls On, she'll get there.
Image: Bravo