You Have To See These Awesome Finger Tattoos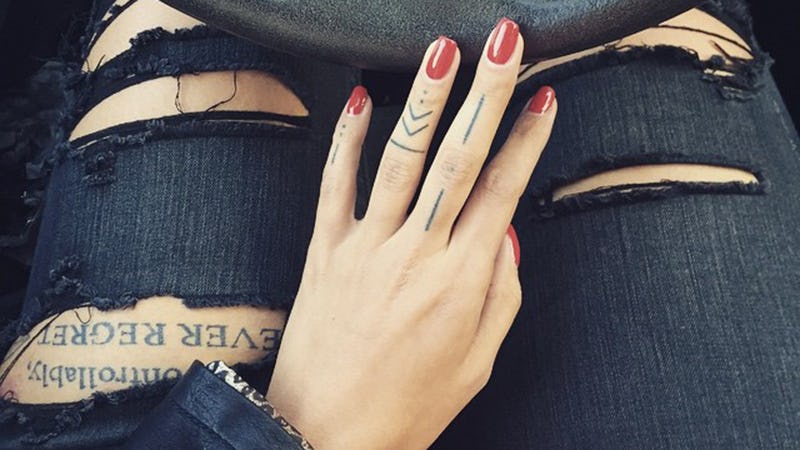 In the world of body ink, cool finger tattoos have become increasingly popular — and understandably so. Everything from cute, little designs to fun, quirky pictures to meaningful messages look so at-home on digits. And if you like to see your art, you have a much better vantage with your hands than, say, your back. I mean, even celebs are loving finger tattoos. But before getting too hyped about this mini art, there are some logistics to consider if you're planning on making a finger tat your first piece.
The first is how well the ink will last. Because hands are exfoliated so much more than other areas on the body (think about how much more we wash our hands than other areas), tattoos here will fade or become blotchy or blurry much more quickly. The second is allowing proper healing. We use our hands so much that it can be hard to allow time and space for a tattoo to adequately heal. And yes, how well it heals affects how well it lasts. And with any tattoo comes the considerations of how much it will hurt (hands are one of the most painful areas), and how it might affect future employment (don't get ink that can't be covered if you're still job-hunting, though companies are becoming increasingly more lenient on this front).
OK, now that that is out of the way, let's ogle over some awesome finger tattoos. Because the cutest ink is mini ink.
1. Simple Design
Keep it simple with some abstract dots and lines.
2. Who?
So precious.
3. Abbreviated Solar System
LOVE the colorful simplicity of this design.
4. With a Bow on Top
So pretty.
5. Meow
Yeah, I could look at that face forever.
6. Unless You're a Dog Person
I'll take one. Any color.
7. Or Maybe You Like Both
Daww.
8. Send a Message
Just think of your fingers as a mini notepad. You have four lines. Go.
9. Get Your Own
Would ya look at the size of that rock??
10. Count Your Lucky Stars
Cover a finger (or two!) in a fun motif.
11. Yaaassss
Tonari no totoro tattoo just kind of rolls off the tongue.
12. 3, 2, 1...
Blast off!
13. Mix & Match
Because why not?
14. Finger Mural
Um, how badass is that??
15. Marks the Spot
So simple. So elegant.
16. A Little Bit of Everything
Knuckle tats are perfect for showing off a statement. Or eight things you love.
17. Pen & Ink
OK, I seriously want this.
18. For Love & Music
The white outline really makes this design pop.
19. For Obvious Reasons
'Nuff said.
20. Gotta Catch 'Em All
I fully approve.
Images: Instagram