Celebs Get Their #Nochella Style On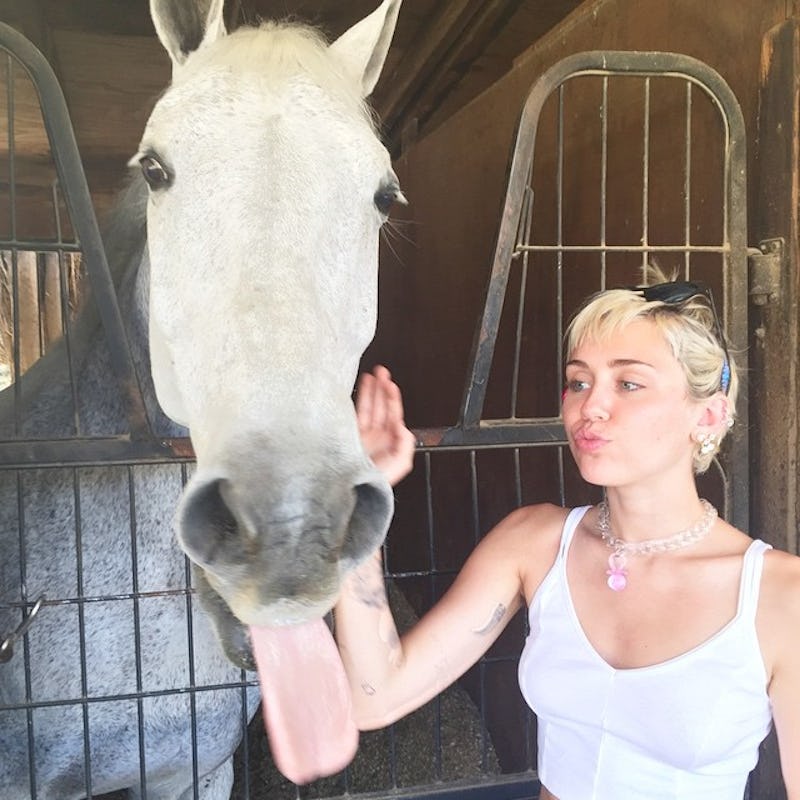 It was virtually impossible to avoid Coachella, the first weekend of which just took place, on social media. Attendees, both celeb and civilian, were posting from the annual festival like crazy. Coachella festival fashion posts, from clothing brands and more, were flooding Instagram feeds. We get it; flower crowns are so in. But far away from the California desert, many celebs like Demi Lovato were all about #Nochella, since they were otherwise occupied, doing things that were not Coachella.
Vanessa Hudgens, a perennial Coachella attendee who is currently playing Gigi on Broadway, wasn't onsite, either, but she still enjoyed the event remotely, since Coachella was also accessible online. Those who were unable to travel or attend could participate in the festivities and the event from the comfort of their coach, er, couch.
Still, all the social media statuses about Coachella were a bit much and almost inspired a raging case of Coachella envy in me. Until I saw Lovato's post about working out and working on herself as opposed to parting in the desert. I thought, "How cool of her!"
That type of post was a refreshing break from Coachella taking over the Internets, that's fo' sure.
Here's some of my fave posts from the #Nochella crew!
1. Demi Lovato
While some might have assumed Lovato was sippin' on Haterade, she was merely presenting an alternate option to all that hot desert fun. No makeup, no festival fringe, no nothing but working on herself. Nothing wrong with that, either.
2. Selena Gomez
Justin Bieber was getting all handsy with Kendall Jenner at Coachella, but his ex Selena Gomez was glamsual with family. So she was "famsual."
3. Vanessa Hudgens
The Hudge is currently on Broadway, but she still hosted her own dance party, rocking that boho flow via her dress and looking happy. She didn't go to Coachella; it came to her, via her laptop. Thank you, Internet, for closing the gap.
4. Miley Cyrus
While her little sis Noah was being cool at Coachella — actually, it's the desert so she was probably basting — Miley was hanging with horses. At least at first. Her BF Patrick Schwarzenegger was said to be Coachella'ing, too!
5. Lady Gaga
Lady Gaga was too busy staring at her heart-shape engagement ring and hanging with her fiance Taylor Kinney to get dirty in the desert.
6. Witney Carson
The Dancing With the Stars queen was too busy with work to do Coachella. She had to rehearse. Still, she got her Coachella on with that flower crown. It's the little things, right?
So if you were boo-hooing about missing Coachella, take comfort in the fact that these stars were absent from the action, too. It should sooth the sting until Coachella's second weekend, when the Band-Aid will get ripped off as of this Friday.
Images: Demi Lovato/Instagram (1); Selena Gomez/Instagram (1); Vanessa Hudgens/Instagram (1); Miley Cyrus/Instagram (1); Lady Gaga/Instaram (1); Witney Carson/Instagram (1)