Your Fave 'GoT' Women Vs. A/W 2015 Fashion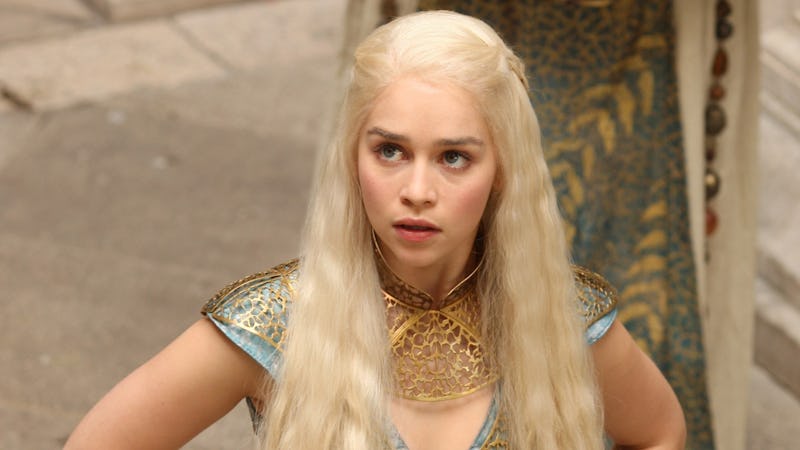 The first episode of Game of Thrones Season 5 aired in the U.S. on Sunday night and I couldn't think of a better way to celebrate than to imagine our favorite fantasy characters and what they might wear from the autumn/winter 2015 runways. Well, actually I would rather celebrate by riding on the back of one of Daenerys Targaryen's dragons, but I thought it would be best to keep things realistic. Although on the other hand, if anyone has Kit Harington's number (the actor who plays the rough and rugged Jon Snow, should you for some inexplicable reason not know this vital fact), a chaise longue, and an unlimited supply of chocolate, I'm out of here!
Have you ever day-dreamed of what it would be like to meet the fictional females of Game of Thrones in reality? We know their personalities, their favorite foods, and could guess at where they'd enjoy hanging out — but what would they be wearing? Fear not, I have compiled a snapshot of what I think each leading lady would adorn herself in so you know which dresses and tresses to look out for if time and space warped and they somehow made it out of our screens and into reality. Plus, all the looks are taken straight from this year's autumn/winter catwalks so you can stay up-to-date while we delve into our imaginations. Who would win in this tournament of style and be seated upon the fashion throne? You decide.
Sansa Stark
For all those not in the know, Sansa Stark is a lady of Stark House. She started out quite spoiled and bratty, but now — having faced some horrendous hardships — she is mature, kind (okay, that's questionable), and demure.
I could just picture her in this incredible San Andres Milano outfit. Some may think the giant, fur collar to be slightly OTT but she is a lady and has been betrothed to more than one member of the royal family, so I think this would be more than appropriate. The electric blue would complement her pale complexion and red hair perfectly and the coat's long length means there won't be any "unladylike" photos of Ms. Stark posted on social media sites. Plus, the fur will keep this Northern lass warm in the winter months while giving a nod towards her house sigil: the direwolf.
Arya Stark
Arya is the polar opposite of her sister Sansa. She enjoys sword fighting and embraces adventure, whereas Sansa likes sewing and eating lemon cakes. This adolescent has seen and experienced things that make her wise beyond her years, but which will have most likely scarred her for life.
This Dsquared2 outfit would be perfect for Arya. The buttoned trousers would be easy to move around in and also give off the androgynous vibe that she is famous for. Her multiple layers would make it easy to hide a sheathed Needle (her sword) inside and the luxurious fur is reminiscent of the ones that her family used to wear in their old home, Winterfell. The tasseled bag would come in very useful on her travels. However, she may want to ditch the heels and swap them for some Dr. Martens to make adventuring a little easier.
Daenerys Targaryen
It seems all of the women in Game of Thrones have had a hard life. Daenerys in particular has overcome trials of an abusive brother and the deaths of her husband and unborn child. However, she has come out on top as a powerful leader of an ex-slave army and mother to a trio of dragons.
Daenerys would look beautiful in this Raisa & Vanessa gown. This dress has enough grace in its flowing skirt for an aspiring queen, yet it would make her appear battle-ready with its armor-esque panelling. The detailed, metallic embellishment gives a royal feel to the gown, yet the sheer sections add a sexy edge much like her dresses towards the end of Season 4. Not forgetting that of course, blue is Daenerys' color.
Cersei Lannister
Cersei is an ex-ruler of Westeros, an elegant dresser, and a nasty piece of work. A member of the royal family, she rules with an iron fist and takes no prisoners. She is the worst woman you could ever wish to be your mother in law.
A striking look for the modern Cersei, this billowing Vionnet ensemble screams grandeur and importance and definitely cannot be missed. The red pattern, which conjures up bloody, battle-splatters, would be a warning to all those who might plot to betray her. The garment also comes with a camouflaged belt, which she could use to strangle any potential usurpers.
Margaery Tyrell
Quite the little fox in sheep's clothing, Margaery and her family are willing to do whatever (or whomever) it takes to climb up the social ladder. Often spotted wearing dresses with daring cut-outs and flashes of skin, this feisty lady knows how to get what she wants.
This sweet, demure Erdem frock would be a perfect fit for Margaery. With her love of pattern and peekaboo necklines, this dress would suit her style. Also, the addition of the feminine pinks and florals adds a butter-wouldn't-melt appeal, which Miss Tyrell always manages to inspire.
Brienne of Tarth
Brienne is a hardcore warrior. She is guards-woman and friend to Jaime Lannister and can swing a sword better than most men in Westeros.
I would love to see Brienne walking down the street in this Burce Bekrek ensemble. Compiled of layered leather that gives off a badass vibe, no one would want to mess with her, just like in her realm. This fashionable attire, along with her stony attitude, would definitely dissuade attackers. I also love how the maxi skirt adds a slight touch of femininity to this outfit, which hints at her rarely seen softer side.
Unfortunately, we won't ever get to see these fabulous, strong female leads wearing these beautiful garments, unless HBO conducted a super stylish photo shoot. So instead, why don't you channel your favorite Game of Thrones' female (or pick your fave outfit) and pretend to be the next ruler of the iron throne!
Images: HBO; Getty