Phone + Vibrator + Erotica = New French App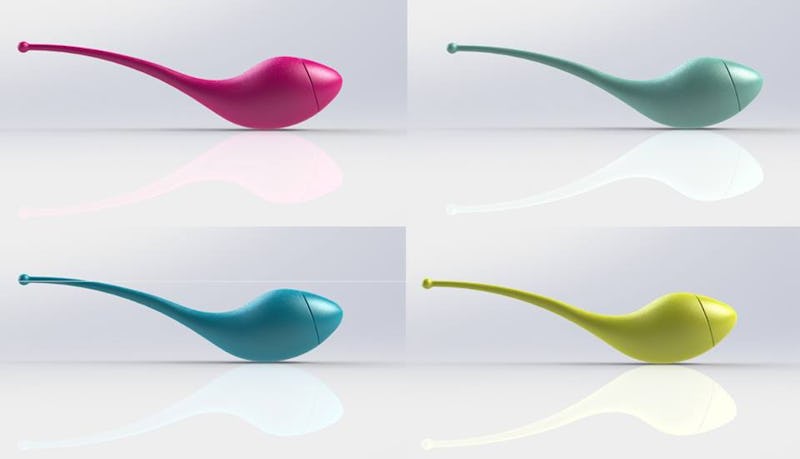 Leave it to the French to invent the first literary sex toy. A vibrator called Little Bird can be connected with digitized erotic short stories to heighten the experience of reading hot writing and sex. Now you don't have to balance, say, Anaïs Nin's Delta of Venus with one hand while you maneuver your vibrator with the other. It can be used solo or with a partner, and it's being crowdfunded right now via Indiegogo. There's still time left to participate in the campaign, which is awesome. Actually, everything about this is pretty much awesome. The app, called B.Sensory, can be installed on your smartphone, connected with your Little Bird via Bluetooth, and synched with erotic short stories. Your phone acts as a remote — touching, shaking and breathing on the screen triggers vibrations in various sequences.
In the spirit of keeping things hot — or should I say chaud — B.Sensory's informational YouTube shows a couple at a restaurant with the app running on a phone between them. The dude slides the phone across the table in a very deliberate manner. He presses "couple" on the screen (as opposed to "solo"); the video flashes to the woman obviously getting a hit of vibration under the table. So — that's one kind of mischief they have in mind with this new phenomenon.
One particularly sexy function of the app is that you can start off reading some Henry Miller and jamming out solo, then hand the phone to your partner, who can take over the controls. Another tandem perk: the person with the "remote" can read aloud, which is a superhot act in and of itself, even without the added vibratory bonus that the sex toy has to offer.
French publishers La Musardine, J'ai Lu, and Editions Livrior have signed on to supply erotic text; the endeavor is also sponsored by the writer Françoise Rey, who is apparently known as the "grand dame of eroticism" in France. She's published such titles as Aventures délirantes (Crazy Adventures) and Extases anonymes (Anonymous Ecstasies).
Little Bird, dubbed an "elegant vibrating love egg" in the YouTube video, has an ergonomic design to give Lelo products a run for their money, boasting some hefty horsepower and made of silicone (but also touted as quiet, which is always a real game-changer). The first app of its kind, B.Sensory is helmed by creator and CEO Christel Le Coq, who wisely encourages us all to "read, vibrate!" Mais oui.