Pharrell Is New On 'The Voice,' But He's The Best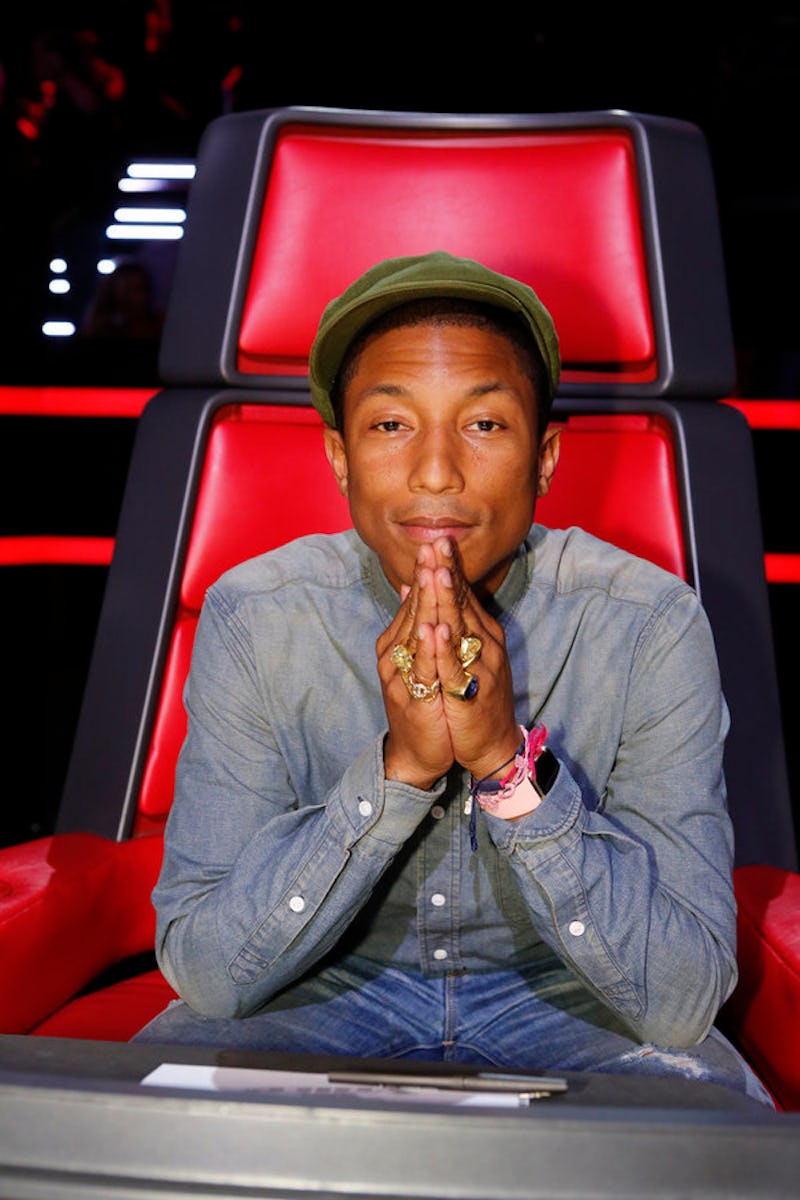 He may be one of the show's newest mentors, but he certainly took no time at all fitting in. Pharrell Williams is now on his second season of coaching on NBC's hit competition series The Voice , and while he has not yet led any of his contestants to victory, he has already left quite the lasting mark on his teammates and on audiences with his unique and intelligent coaching style. It's easy to say that Blake Shelton is the best coach on The Voice based on sheer winners from his team alone, or that Adam Levine is the best coach thanks to his charisma — but I actually think it's entirely possible based on what we've seen from him so far that Pharrell Williams is the best coach on The Voice .
Yes, I know what I have said — and I'm prepared to back it up with solid proof, too. I truly believe that as Williams continues his run as a coach on The Voice, he could not only win the competition, but easily surpass the other coaches as the best. Williams has a lot of amazing qualities that make him a great coach, and whether you're on his metaphorical team or not, it's hard to deny that he brings a lot of strength and skills to his team, as well as to the series in general.
1. He Knows How To Help Produce The Best Sound
He's won 11 Grammys as both musician and producer. He's helped a countless number of artists create hit songs and score accolades all on their own. Williams is no fluke — he's the real deal when it comes to the music business. He knows how the business works, he knows how music works. He's just ridiculously accomplished.
2. His Musical Knowledge Is Vast & Versatile
Considering how many hit records Williams has produced (for others and for himself) within so many different genres, it's easy to see why he would be able to coach anyone with any kind of style of singing. He's a master of all things music, so you really can't go wrong with his advice.
3. He's Funny & Charming
Not only does he hold his own, but Williams is also funny. It may not be a classic type of funny — the type of humor he brings is more charming and understated — but that's why when he is, it's even more appreciated and acknowledged.
4. His Style Is All His Own
5. He's Smooth & Has The Best Swagger
It's no secret: Williams just oozes cool.
6. He Knows How To Play Well With The Coaches
Awww. How cute is this?
7. He Invites Incredible Guest Mentors
Alicia Keys, Lionel Richie, and Diana Ross as mentors have all been mentors working with Williams — proof alone he's the best coach!
Images: Trae Patton/NBC; nbcthevoice/Tumblr (7)