14 Amy Schumer Sketches To Get You Hot & Bothered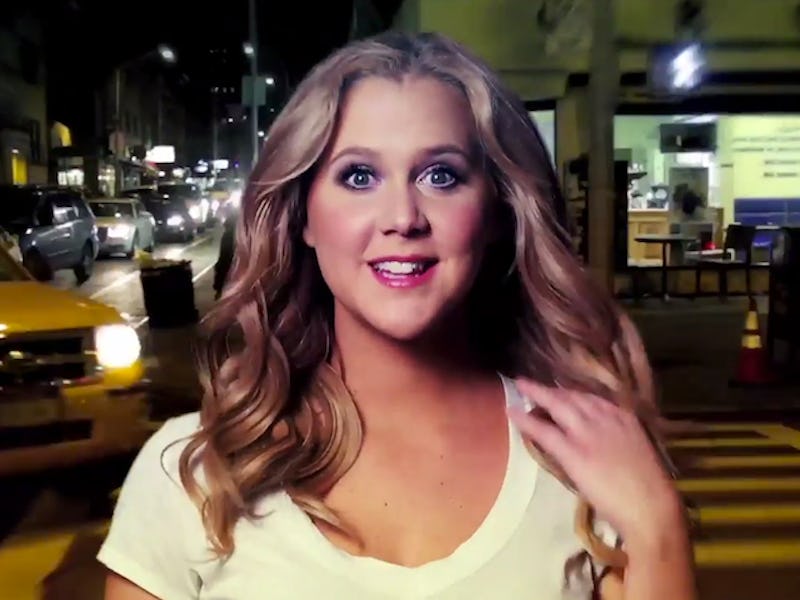 If her gig hosting the 2015 MTV Movie Awards wasn't proof enough, the fact that Amy Schumer wrote and is starring in the Judd Apatow-directed flick Trainwreck is undeniable proof that this comedian is having her moment in the sun. With the good looks of an all-American girl scout, the mouth of a sailor, and a healthy dose of confidence, Schumer has proven to be as unexpected as she is hilarious. I fell head over heels for Schumer when I binge-watched Seasons 1 and 2 of her hit series, Inside Amy Schumer, over the holidays. Needless to say, two seasons of 10 episodes each just wasn't enough of the clever-as-hell blonde. Lucky for us, she's coming back with a third season of Inside Amy Schumer starting April 21.
We've already been warned that it's the season of the ass, and with a promo featuring Amber Tamblyn, Amber Rose, Jemima Kirke, and Method Man — we can't wait to see what else Schumer has in store. So with Season 3 of her Comedy Central show around the corner, let's take a look back at some of the sassy comedian's best sketches that will leave you all hot and bothered for the Season 3 debut.
A Chick Who Can Hang
"Tequila, no training wheels. Burger, rare as f*ck," orders Schumer at the bar, prompting a table full of guys to rattle off their lists of what defines a hot girl. Basically, if she's a man, they want to have sex with her.
Publicity Stunt
To improve her image, Schumer decides to "pity fuck a prom loser," because "all the hot celebrities are doing it now."
Compliments
There's an old adage that claims, "women can't take compliments." Well, according to this hilarious sketch, it might be true.
Sexting
Moral of the story: Sexting is hard!
A Couple Chooses A Movie
If you've ever tried to watch a movie on Netflix with a significant other, this sketch will ring oh-so true.
The Food Room
This parody of The Newsroom is so scarily accurate you'll forget you're watching a 30-minute sketch comedy show.
A Very Realistic Military Game
In this Call of Duty parody, Schumer attempts to play the video game her boyfriend loves, only to find out the female characters can't fight, and are immediately raped. Reminiscent of The Invisible War, the female privates are questioned whether or not they really want to report their rape. A funny sketch? Yes. Depressing? Absolutely.
2 Girls 1 Cup
Ever wonder how the viral YouTube video "2 Girls 1 Cup" was incepted? Schumer's here to tell you... and it's just as disgusting as you imagined.
Hello M'Lady
Ever wish there was an app to help manage clingy guys who think they're your boyfriend? So does Schumer.
Herpes Scare
You don't need to know anything about this sketch other than Paul Giamatti guest stars as God. Boom.
Clown Panties
When Schumer comes home to find a clown panties in her hallway, she suspects her boyfriend is cheating on her with a circus performer. Happens to everyone, amiright?
Abusive Couple
"You're a poop person!" Is the best insult you could use against your significant other.
Mom Computer Therapy
Anyone with computer-illiterate parents knows how frustrating it can be to teach them how to do something as simple as sending an email. Schumer decides to tackle this challenge with the help of a therapist.
Cancer Scare
Upon learning that Inside Amy Schumer show writer Tig Notaro has cancer, Schumer uses it as an excuse to get out of every commitment she wants to avoid. Because what are friends for, right?
Image: Comedy Central