Who Won 'The Voice' Fan Save?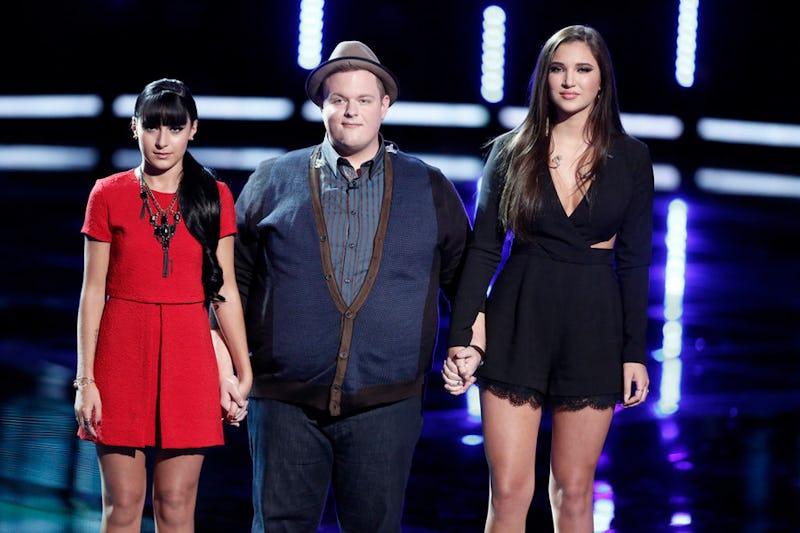 The final spot of The Voice Top 10 was in the hands of America and the result was pretty surprising. Deanna Johnson, Mia Z, and Brian Johnson fell into the Bottom 3 of the Top 12 and were forced to sing for their lives on the show. (Sounds pretty familiar, huh Idol viewers? But to be fair, The Voice was first to this game.) Though I was almost positive Mia Z would dolphin flip over the other two to steal the final spot in the Top 10, it was Deanna Johnson who won the vote. Her humble personality and inspiring performances have won over America, but Deanna won't make it past the Top 10 if she doesn't get out of her own way.
Deanna's win was surprising, but I can see why America chose her over the other two. Let's preface this argument by pointing out that the vote was extremely close when the numbers were shown. Like basically a three-way tie close. But the Johnson's (Brian & Deanna — no relation) edged out Mia by a mere 10% of the vote combined. Only in the final minute did America decide which Johnson they wanted to see continue on, and Deanna was the chosen one. She was the most relatable of the three artists and the one who has shown the most improvement. Her comeback story is also very inspiring and probably earned her a few extra votes.
Deanna has the most potential at this point in the game, but it's up to her to get there. Her biggest obstacle up until now has been herself. She needs to believe in herself and the advice of her coach, Adam Levine, if she wants to advance any further in this game. Deanna's sincerity and inspirational song choices have won over America, but she can't rely on them saving her every week. To stay in this game she really needs to wow with her performance next week. It will be a tough week of rehearsals for Deanna and her coach, but I can't wait to see what she comes back with in the Top 10.
Image: Tyler Golden/NBC