How To Have A Perfect Picnic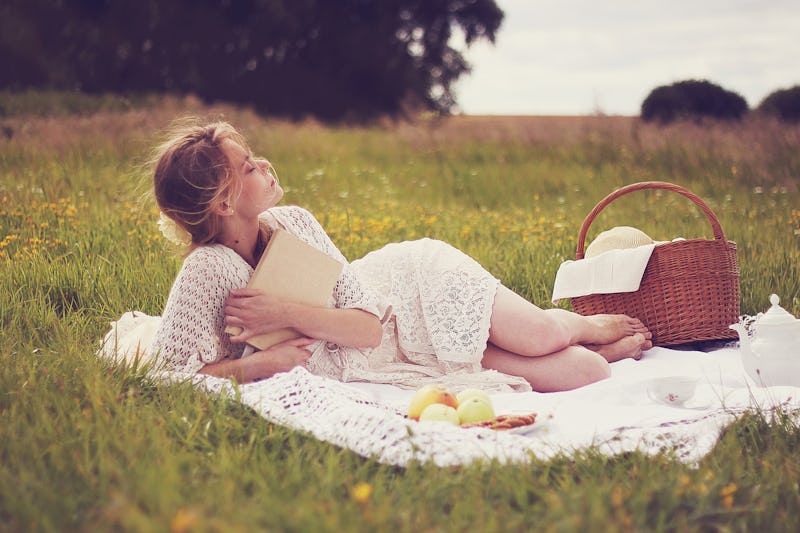 The longest winter of all time (according to my scientific calculations) is finally over, and the sun has decided to come out of hiding. Trees are starting to become green again, flowers are actually popping up in the place of icy sludge, and Heattech leggings are at long last heading back into storage. Though hibernating definitely has its perks (like watching the entirety of House of Cards over roughly 1.5 days), the world outside is beckoning — and what better way to enjoy the great outdoors than an expertly executed picnic? April 23 is National Picnic Day, and the perfect opportunity to get your favorite sundress out of closet jail, pack up some goodies, and get some fresh air with your best buds.
Although it's perfectly valid to sneak a bottle of wine in your backpack and grab an old beach towel to lay across the grass at your favorite local park, a picnic holiday calls for something a little more thoughtful. With a little bit of prep and research, you can easily make your picnic day something special. So rally that springtime energy, and dust off your basket (or, like, insulated Whole Foods bag), because we're getting into it. Here are five tips for planning the ultimate picnic.
1. Location
We probably don't all live walking distance from Central Park, but wherever you're located, there are probably a handful of decent outdoor options. Think about the ambiance you're going for — do you want a secluded, romantic spot, or somewhere lively? I always love spots by a body of water (be it a creek, lake, or even the ocean), but maybe you're looking for something more woodsy. If you're planning to stay for sunset, you might also want to think about a spot with a nice view.
2. Equipment
You can get as fancy as you want in this department, but it definitely isn't necessary. You could go all out with a pro basket outfitted with everything you'd ever need, or you could make do with a cooler and some disposable flatware. Your packing list should look something like this:
Enough plates/ bowls/ flatware/ etc. for everyone to eat whatever you've packed (but don't overstock — that will be a pain to transport)
Napkins
Durable or disposable cups — nothing fragile
Hand sanitizer or baby wipes
A roomy backpack, basket, or cooler — just make sure it's insulated, or you have ice packs if your food requires it
A trash bag — don't be that jerk who leaves litter behind
3. Food
There aren't really rules here, but there are a few things to consider that will make your picnic life a whole lot easier. Pick foods that can sit out for a while without getting gross, ice chest or not. Choose dishes that require as little on-site construction as possible. Now is not the time for a DIY sandwich bar — you want everything to be ready for action. Bring foods that can be enjoyed with minimal effort and clean-up. Finger foods are great if you bring napkins, things you've pre-packed in tupperware are awesome, but things you have to plate and cut will be annoying. Here are some easy-to-pack salad recipes from The Kitchn to get you inspired.
Or, you know, just throw a baguette and some cheese in your tote and call it a day.
4. Drinks
Do yourself a favor, and don't bring anything that requires ice. This is reason #9,467 why wine is your best friend. And check out these outdoor-ready portable wine glasses from REI. Just be aware that alcohol might not be allowed at your chosen spot, so be cautious. I'm not telling you to break the rules or anything...
Reusable water bottles are always good to have around, too. If you want to bring something like iced tea or some other pre-mixed concoction, use a really good thermos — i.e. it will keep your beverage the right temperature (for the most part), and most importantly will not leak all over the rest of your stuff. This strawberry sangria by A Cozy Kitchen is the stuff picnic dreams are made of.
5. Carefully Selected Guests
You're going out into nature — this is not the time for that girl who's your "good friend" but makes you want to strangle her after 20 minutes. This is also not the time for ex-lovers and new ones to mingle in a weird, no-cell-service triangle of awkwardness (see image above). Bring along a couple of your besties, your significant other, or pack a good book and go solo! That's allowed too, and would probably be super pleasant.
Just remember to keep it simple and stress-free. Eat your snacks, drink your drinks, play cloud shape games, and enjoy! I'm starting a committee to put picnics on the regular outing rotation.
Images: Izabela Pawlicka/Flickr; Williams Sonoma; Mad Men/AMC; A Cozy Kitchen; Vicky Cristina Barcelona/Weinstein Company