7 Things Samantha Jones Taught Us About Confidence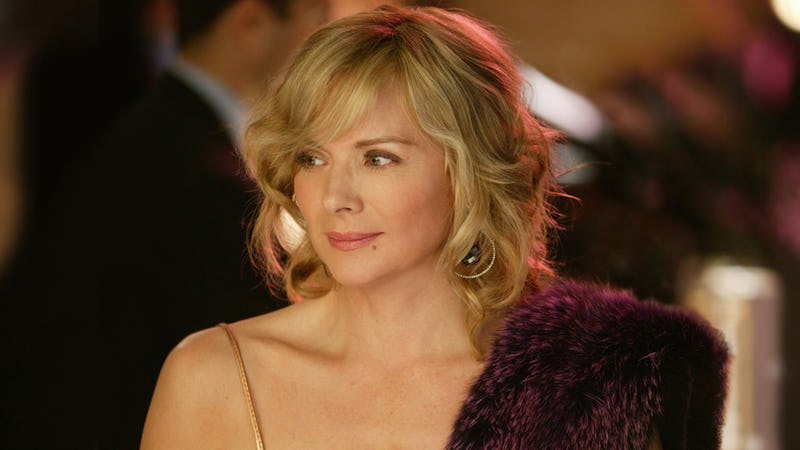 You have to admit it: Samantha Jones certainly put the "sex" in Sex and the City. While the other three ladies were either looking for Mr. Right, trying to make sense of a tumultuous relationship (hi, Carrie and Mr. Big), or just navigating their way through a series of bad dates, Sex and the City 's Samantha Jones stood out as the one with the least concerns when it came to romantic entanglements. In fact, Samantha seldom "dated" at all. To her, sex never had to be a prerequisite to a relationship — it could just be sex.
That's not to say that Samantha was immune to romance. Avid fans remember in Season 4 when Samantha unwittingly fell for Richard Wright, one of the few men who made her consider monogamy. When Samantha caught Richard cheating on her she was heartbroken, but didn't allow the upset to deter her from moving forward. After a brief reconciliation, Samantha was resolute in putting herself first, telling Richard, "I love you, Richard, but I love me more," when she realized she would never be happy in a relationship that lacked trust.
Outside of her trysts, Samantha was a fierce friend and a savvy businesswoman. Throughout the series, she faced harsh judgments centering on her personal life, and even her age. It's not easy to face criticism or judgment in any context, and Samantha never allowed even the harshest of critiques to sway her from staying true to herself and pursuing her goals. Let's take a look at the things Samantha Jones taught us about being confident and independent.
Fabulousness Doesn't Come With an Expiration Date
Samantha taught us that — just like a fine wine — we only get better with age.
Put Yourself First
Even though Samantha was in love with Richard, she didn't settle for a situation that would make her unhappy. She moved on and later secured a more fulfilling relationship with Smith Jerrod.
Pursue Your Dreams
Samantha's career success was a result of her tenacity in the working world, even when being faced with opposition.
Stay True to Who You Are
Not everyone was a fan of Samantha's choices, particularly when it came to her sex life. During Richard's initial interactions with Samantha, he made some judgments about her based on archaic double standards. Rather then back down, Samantha called him out on his biases, to which he later admitted fault.
It's OK to Make Mistakes
Samantha made her fair share of mistakes, and she could sometimes be stubborn in admitting to them. In the end, however, she was able to view her slip-ups as learning experiences and move forward with her confidence intact.
It's Also OK to Lose Your Filter Once in a While
We obviously need to choose our words carefully in certain situations, but it can be healthy to turn our proverbial filters off once in a while — particularly when it's with a few gal pals and apple martinis. Samantha kept close friendships with those that accepted her for the fabulous woman she was, and — much like Miranda Hobbes — she was never shy about speaking her mind.
Confidence Isn't the Same as Being Invincible
One of the most pivotal storylines in SATC history occurred when it was revealed that Samantha had been diagnosed with breast cancer. In an iconic scene where Samantha was speaking at a breast cancer benefit — and experiencing severe hot flashes — she stopped in the middle of her carefully prepared speech to say "oh to hell with it," and ditched her wig. This led to a standing ovation from the benefit's other attendees who also took off the wigs they were wearing as a result of radiation.
In other words, Samantha Jones is one fierce, inspirational female.
Image: HBO; Giphy