7 Ways To Add Lemons Into Your Beauty Routine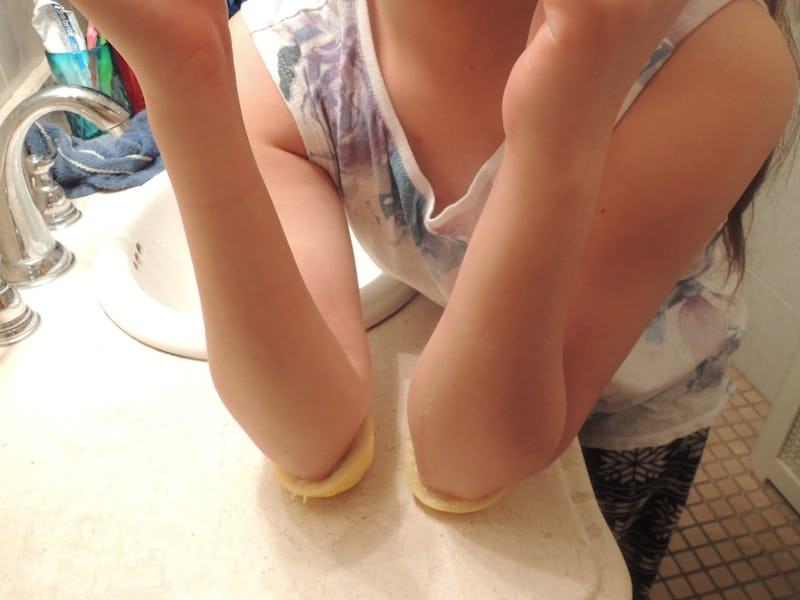 Growing up, my mom always told me that some of the best things to take care of any beauty problem or crisis could be found in your own kitchen, and like a true mom, she was right (don't you hate it when that happens?). But I never could've imagined this advice would teach me how to use lemons in your beauty routine.
For some reason, I didn't want to believe her, and constantly found myself forking over cash on products that promised to work wonders — but each time I was disappointed. In an attempt to switch up my routine and save a bit of money, I tried to replace some of my favorite beauty staples with a natural ingredient. Lemons immediately stuck out because they're super affordable and can be mixed with a number of other ingredients to boot.
It's safe to say that I wasn't disappointed, because apparently lemons have tons of beauty uses — especially when it comes to skincare. As someone who's struggled with skincare issues in the past, I'm game for anything that will keep acne troubles at bay. With high hopes, I tried to see what all the fuss was about with lemons.
A word of caution: If you're going out of the house, later up the SPF and apply sunscreen after using lemons on your face, because their acidic nature can leave the skin more susceptible to possible sunburns, and nobody likes those.
1. Blackhead Remover
After I wash my face, I normally use a pore refining toner to take care of any blackheads. Who knew that lemons could work just as well if not better? After washing my face, I cut a lemon in half, applied a few drops of honey to the center, and rubbed it all over any blackhead-prone areas — like my nose — using a cotton ball. I slept with it on my face overnight and washed my face like normal in the morning. I loved how it was able to take out the impurities in my pores, but didn't make my face feel ridiculously tight and dry like a toner might.
2. Face Exfoliator
I've been guilty of committing the ultimate beauty sin and accidentally sleeping in my makeup after a long day, so exfoliators have been amazing for my skin. There's nothing like a good exfoliator to give your skin a boost and lemons are perfect for this. Just squeeze out the juice of half a lemon into a bowl and mix it with two tablespoons of sugar. I applied this to my entire face and gently rubbed in circular motions, and as soon as I washed it off, my skin felt unbelievably soft. Seriously, it was glowing!
3. Lip Exfoliator
As a lipstick hoarder, I'm always experimenting with all types of lip products — especially mattes. The only problem is that they are super drying and make my lips look flaky after a while. Lemons helped bring my lips back to life with their natural exfoliating properties. To fix my dry lips, I rubbed a lemon wedge on my lips for 30 seconds and it immediately got rid of any dead skin cells, leaving my pout rather smooth.
4. Conditioner
It's been months since I've cut my hair, which has resulted in some dryness — so I'm always on the hunt for new conditioners that can revive my hair. At first, I was kind of hesitant to try this because since lemons are acidic, I thought they might do more harm than good.
This actually turned out to be the exact opposite — it gave my hair tons of shine whilst helping prevent dandruff, too. I've never really struggled with dandruff before, but for anyone who does, it's an added bonus of this conditioner. Simply mix the juice from half a lemon with ¾ cup of olive oil and ½ cup of honey and apply it as soon as you get in the shower. Leave it on for 10 to 15 minutes (the longer the better) and rinse it away with shampoo. The lemon shampoo will help soften it and bring out a natural shine. For added shine, rinse it out with cold water.
5. Nail Hardener/Whitener
I love painting my nails and trying out bold colors, but sometimes it's not so great for my nails and all of that polish can make them look dull. I've also had breakage problems in the past because my nails are so thin that it makes it hard to grow them out.
To make my nails as strong as possible, I combined three tablespoons of olive oil with one tablespoon of lemon juice, mixed it together, and popped it in the microwave for 10 seconds. Using a cotton swab, I applied the solution all over my nail bed and around my cuticles. I didn't see any results just yet because this is a treatment that's supposed to be done over the course of a few days or weeks, but I wouldn't doubt that it would improve the condition of my weak nails.
Lemons are also a natural bleach, so I created a second solution with only lemon juice from an entire lemon and soaked my hands for five minutes. Unlike the hardener, this treatment immediately made them look noticeably whiter.
6. Moisturizer
I'm not sure if it has something to do with the weather changing or what, but my skin has been going through a dry spell and it felt like nothing that I applied could bring it back to its natural hydrated state. I decided to give this DIY lemon moisturizer a shot and the results were nothing short of amazing.
I mixed one tablespoon of lemon juice, olive oil, and honey in a small bowl and applied the mixture to the dry spots of my face (a.k.a. my t-zone). After leaving it on for 15 minutes and rinsing off the paste, my skin was so soft and didn't look as patchy as it did before — a definite improvement to say the least.
7. Skin Lightener
If you're like me and know the struggle of not wanting to show off your elbows or knees because they're darker than the rest of your body, rest assured that lemons are a cure for this, too. Just cut open a lemon and put the halves facing upward on a table. Place your elbows on top of the lemons and let them sit on there for 10 to 15 minutes. It might have been because I was ridiculously optimistic, but I saw a slight difference in my skin's pigmentation. To really see results, though, you're supposed to repeat this at least four times a week.
No matter what your skin type is, just know this: When life gives you lemons, don't be scared to up your beauty game and show your skin some love with all of its natural beauty uses.
Images: Author's Own