Can You See The Prancing Elites Live?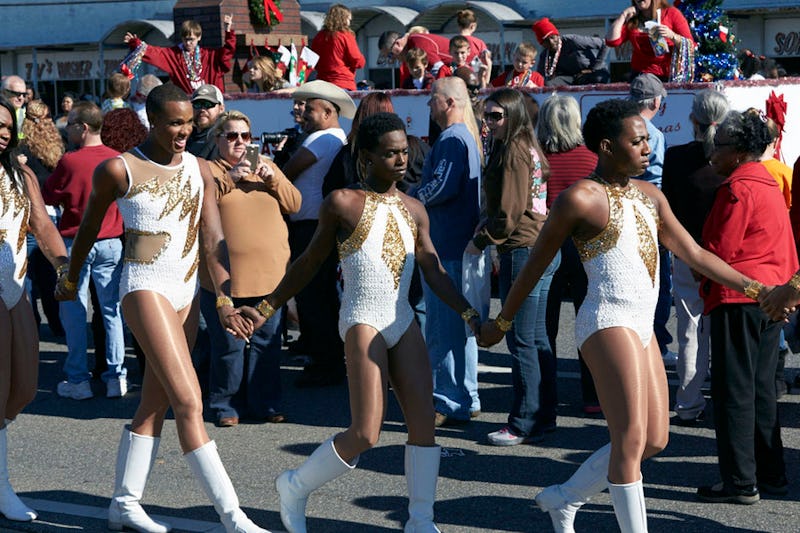 Chances are, you probably have never heard of the Prancing Elites until very recently. It must've sounded to you like some kind of high-level Brony inner circle. But, once you find out who the Prancing Elites are, you're going to want to check them out. The Prancing Elites are a dance group in Mobile, Alabama made up of African American, gay, and gender non-conforming dancers. They've been banned everywhere from competitions to parades, but they've still managed to find places where they can steal the spotlight. Now that you know that, don't you want to try and find a performance? So, where can you see The Prancing Elites perform live?
It's certainly going to be a different experience now. Not only does the group have a reality show —The Prancing Elites Project, which premieres on Oxygen on April 22 — but they've also risen in fame after a video of theirs was tweeted by (of all people) Shaquille O'Neal. "It's weird that it took a basketball giant to get people in our hometown to recognize what we're doing," Kentrell Collins, the team captain, told Time. "But it's been great because now people can't deny our talent...we didn't realize until after we blew up that just by dancing and doing what we love, we were inspiring others to live their lives without worrying about judgment."
Sadly, it looks like you're out of luck for an in-person viewing at the moment. You'll have to stick to screens for a while. Right now, the only appearances that have been announced are on other shows. It looks like they're really just focusing on getting the show up and launched, and less on attending events. (In addition to the talk show appearances, of course, there's a million of their YouTube videos to comb through, too.)
They don't have a website other than Oxygen's, so it's hard to say how people heard about their live performances previously. Maybe it was always a spontaneous thing — show up at a football game, and maybe they'd be there. In any case, they don't have a list of dates or appearances readily available.
I would keep an eye on the group's Facebook page and Twitter feed, though. Those are both very active right now. If the The Prancing Elites Project is a hit, it's a good bet that there will be some kind of victory tour afterward. (It would be crazy not to have one!) And, when the time comes, it makes sense that Twitter and Facebook would know first.
Image: Maxwell Mason/Oxygen