Bethenny & Kelly Meet Again On 'RHONY'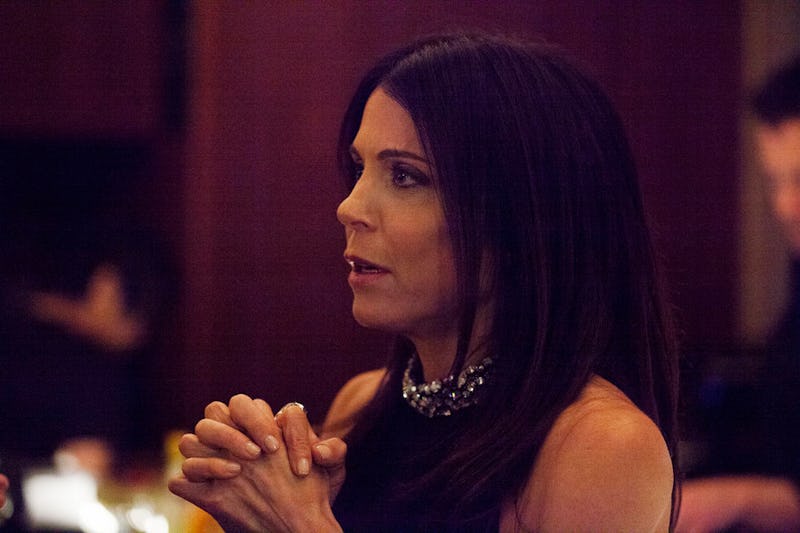 Take a deep breath. Eat a snack. Do whatever you have to do to brace yourself, because Bethenny Frankel and Kelly Bensimon reunited during Tuesday night's episode of The Real Housewives of New York City . And no, this is not a drill.
Just hearing the names of these two Housewives in the same sentence should send chills down your spine. If there arch-nemeses exist in the universe of The Real Housewives, as we all know they do, you would be hard-pressed to find rivals that hated each other more than these two.
From the second Kelly joined RHONY in Season 2, she and Bethenny just did not see eye-to-eye. That may be because Kelly once said that she was up here, while Bethenny was down there, with the appropriate hand gestures, of course. They also had the Housewives vacation smackdown to end all Housewives vacation smackdowns on what was lovingly referred to as Scary Island. I do not remember exactly what the fight was about, but it basically had something to do with the fact that Bethenny and Kelly are two very different people, who will just never get along, especially when Kelly was having nightmares of Bethenny's psychotic-looking face.
So when Bethenny walked into a girls' night get-together organized by Luann de Lesseps, blissfully unaware that she had invited Kelly to the shindig, you better believe I was exuberantly popping jelly beans in my mouth in anticipation of the drama to come. And then Bethenny said, "That is so 2000-and-who-cares," during her confessional interview in regards to Kelly crashing the party, and I felt like I was going to be very disappointed about their reunion.
It turned out that Bethenny was kind of over her past run-ins with Kelly. It has been a few years now, you know, and it would be super-weird if these ladies hadn't put the whole thing behind them by now. However, I was hoping for something to happen. Can't I just get a little side eye? Or maybe just a snide and/or passive aggressive remark said in confessional later? Pretty please?
Unfortunately, not tonight. Bethenny said the two were cool at this point, and she gave Kelly a little greeting when she joined the other ladies in da club.
However, Bethenny was pretty peeved at Luann for not giving her at least a little text-y-poo about Kelly joining the fun. Bethenny likened it to not letting someone know you invited his or her ex to the gathering, and she definitely has a point there. You don't invite someone who has such a fraught history with your friend to the party without giving him or her a head's up. The Countess should have known better.
Bethenny forgave Luann in the end, but I feel like this foreshadowed some tension between them to come. Even though Bethenny and Kelly's reunion wasn't as crazy as I hoped it would be, planting a seed like that made it worth it.
Images: Heidi Gutman/Bravo; realitytvgifs/Tumblr; Giphy