7 Clues That Derek Is In Major Trouble On 'Grey's'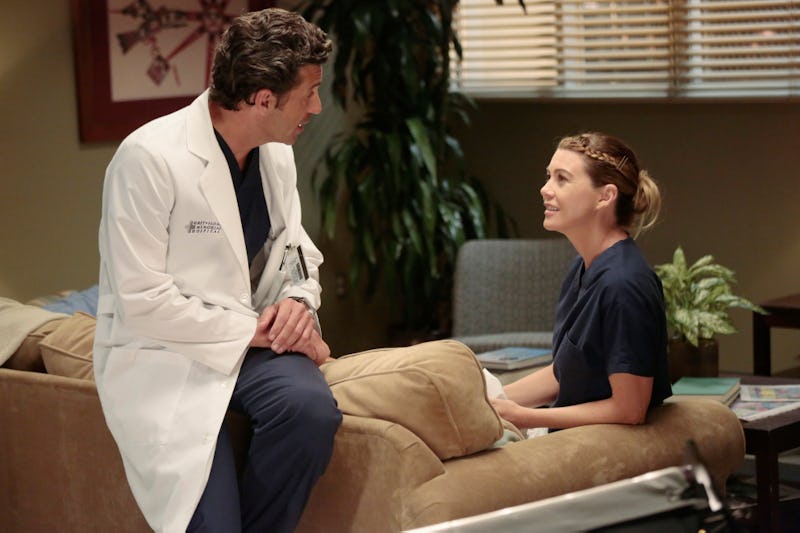 There's drama brewing in Seattle and the outcome isn't looking too good for McDreamy. I am pretty confident that Derek Shepherd will die before Grey's Anatomy Season 11 ends, even though Patrick Dempsey has another year left on his contract. A source told Page Six earlier this week that Dempsey's "diva" behavior infuriated Shonda Rhimes. "Patrick has been acting like a diva and has clashed with Shonda," the source told the site. "She suspended him for a while, and the word on set is that he isn't coming back full time." However, a rep for Dempsey told Page Six, ""I can confirm that this story is not true," and an ABC rep declined to comment on the story.
Regardless of what may be happening behind the scenes, I think Derek is in trouble on the show. From the upcoming preview of Grey's Anatomy's "How To Save a Life" episode, it looks like he is going to be the heroic guy we all know and love, but it's going to come at a price. After witnessing a car accident, Derek jumps in and tries to save everyone involved. The preview includes an explosion and the voiceover tells us that it's basically going to be the craziest episode of Grey's Anatomy EVER. Hey man, nothing will ever be as crazy as the gunman episode, so relax. However, you know that when they start playing The Fray, things are getting pretty serious. Do I think Derek is going to die in this particular episode? Probably not, but I think that by the time season finale comes around, we will have come to terms with the fact that we are saying goodbye to Derek, because there have already been a ton of warning signs.
Here are seven clues that Derek is going to die before Season 11 ends.
The Flashbacks
Have you ever noticed that when someone is going to leave a show, there tend to be a ton of flashbacks to remind everyone of all their best and most memorable moments before they leave forever?
The DC Plotline
Considering how it was wrapped up, I think the DC plot was a preview of what Grey's Anatomy would be like without Derek, and it was actually very promising.
Everyone Is Happy
At this current moment, Derek has made amends with both Meredith and Amelia. They are all in a good spot and it's worrisome because no one is ever happy on Grey's Anatomy for too long. Something terrible is always around the corner.
Amelia's Foreshadowing
Here's what Amelia told Meredith in a recent episode: "You've never lost the love of your life. You've never cried over the body of the person you love most in the world." Um, that sounds a bit like foreshadowing to me.
The Cops At Meredith's Place
That's an immediate signifier of tragedy.
Season Finales Are Always Heartbreaking
Seriously, between the plane crash, the shooting, and the prom, something terrible always happens in a Grey's Anatomy season finale.
Derek Is Being A Hero
I think Rhimes would want everyone to remember Derek as a hero. He has to go out on top, and this is his big moment.
Images: Bob D'Amico/ABC; Wifflegif (3); a-c-i-d-k-i-t-t-y/Tumblr