9 Of 'Seinfeld's Most Literary Moments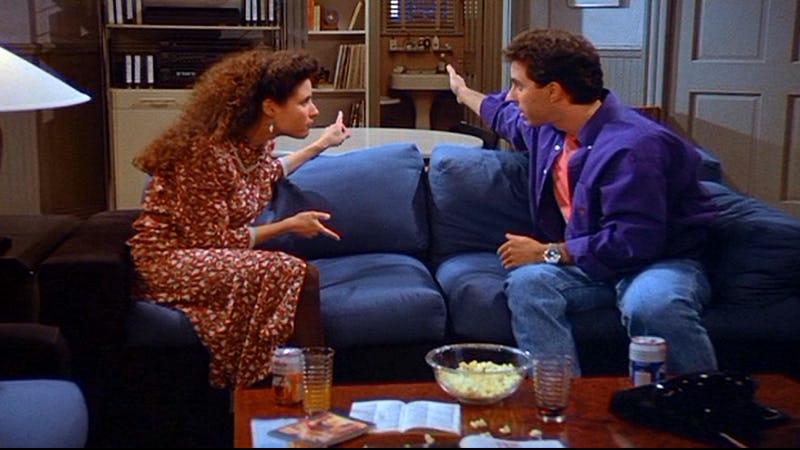 Ah, Seinfeld, the show about nothing that will never get old. I have to admit, though, I found Seinfeld way later than everyone else. First of all, it started before I was born, and second, I was always very Team Friends. In fact, I was sure nothing could compare.
Oh, how wrong I was. My recent foray into Seinfeld has me laughing harder than I ever expected. I was also pleasantly surprised by all the literary moments the show has, both big and small. From the time Elaine has to write Peterman's boring life story to the time George asks a blind man where he gets his textbooks in audio form, there are more bookish moments than I ever would have imagined.
For long time Seinfeld fans who've been there since day one, or anyone who's been living under a rock like I was, there is a literary Seinfeld moment for you. In fact. here are 9 of the best literary moments Seinfeld has to offer. Because you never know when you'll meet the love of your life in a bookstore — you need the poetry stylings of Newman to sweep them off their feet!
"The Opposite"
Kramer writes the infamous Coffee Table Book: the book that can turn into a coffee table, just in case you don't have on to put it on. He then of course goes on the book tour, beginning with Regis and Kathie Lee, in a completely Kramer way.
"The Library"
Jerry finds out he has a library fine — from 1971. The book in question? Tropic of Cancer by Henry Miller. Jerry is positive he returned the book, because he was at the library with a girl that same day. He and Kramer go to the library to sort it out, and meet — dun, dun, DUN — Lieutenant Bookman, the "Library Cop."
"The Bookstore"
George does the unthinkable: he brings a book into the bathroom with him at the bookstore. The book gets "flagged" and he is forced to buy it, and worst of all? Unable to return it or resell it anywhere in the city. Bad news for George's wallet. I guess Barnes & Noble has those "no books beyond this point" signs for a reason, after all.
"The Marine Biologist"
Elaine tries to explain to a Russian author, Yuri Testikov, that Tolstoy's War and Peace was originally called War, What Is It Good For? after being told so by Jerry. Needless to say, it doesn't end well for anyone. But one does wonder: Would the novel have been as successful under that name?
"The Fatigues"
George fraudulently has "risk management expert" on his resume, and his boss is under the impression that he knows something about the topic. In his frenzied attempt to learn it, George finds that books on paper are unacceptable because they have "his voice." Naturally, he seeks out audiobooks, which don't fair much better for him: "Got a big problem here Jerry, the tapes ARE WORTHLESS!"
"The Cheever Letters"
It is dramatically revealed that Susan's father had an affair with the famous novelist John Cheever. Her father's letters to and from Cheever are found by Jerry and George, who go to Susan's parent's house to return them, forcing them to witness the family's shock, and her father's refusal to be embarrassed.
"The Soulmate"
Kramer falls in love with Jerry's girlfriend, Pam, who works at a bookstore. Naturally, he goes with Newman to the store, and tries to woo her with the words of an unknown 20th century poet — Newman.
"The Cartoon"
Elaine attempts to write a wittier cartoon for Peterman's catalog than the New Yorker, whose jokes she just doesn't think are funny enough. She stays up all night and comes up with a joke that she finds out is a "Ziggy" and not her own, after all.
"The Van Buren Boys"
Peterman hires Elaine to ghost write his memoirs, but they soon realize Peterman doesn't have many good (read: any) stories worth telling. He buys all of Kramer's crazy, antic-filled stories from him, putting Elaine in charge of interviewing Kramer and writing them all down.
Image: Sony Pictures Television; Giphy