This Line Is Back, But With A New Name And Look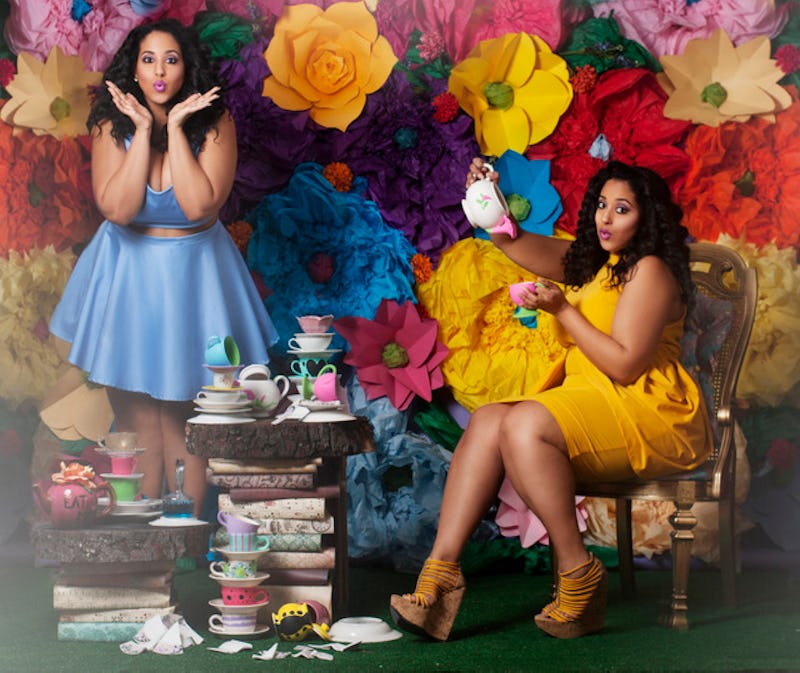 Remember the incredible clothing line Rum+Coke? You know, the indie retailer that designs apparel for women sizes S through 3X, and only uses plus-size women of color as its models? Well, as a company, Rum+Coke is gone — but don't be sad if you were drooling over the luxurious dresses in sultry cuts. You can still buy what's left of the collection and visit designer Courtney Smith's new baby, Courtney Noelle. Smith is still making clothes for women of all shapes and sizes and continuing to declare "death to the mumu." In a video on the brand's Facebook page, she cites "growing up," as the reason for the sudden name switch.
Standing in the place of the line that launched her into the spotlight as a designer is the new collection "Wonderland." It's the first collection on her new label and, like Rum+Coke before it, it's bright and playful while being simultaneously glamorous and undeniably feminine. The fairytale-inspired line features both dresses and matching separates in golden yellows, cool blues, iridescent shimmer, blush pink, and a gorgeous floral.
The pieces are bold and are definitely stick to Smith's "anti-mumu" maxim and are designed for women who are looking to stand out. There are pieces in the collection that are fit for a night out, a romantic dinner, or a family brunch. Yes, in a collection that's heavily centered around thigh-high slits and crop tops, there's something for you to wear to a family function. Courtney Noelle has you covered.
Blossom Silk Halter Dress, $369, courtneynoelle.com
Belle Romper, $349, courtneynoelle.com
Madison Scuba Skater Dress, $169, courtneynoelle.com
While Smith's aesthetic may have slightly changed, I'm glad to see that the roots of her brand are still holding firm: Having plus-size women of color at the forefront of the brand, making clothes for all sizes, and being playful and daring with cuts and fabrics. It's exactly the type of clothing I'd expect from Smith and I'm so glad to see her back in this iteration. While I think there is nothing wrong with a good mumu or sack dress and am actually crying out for more minimalist fashion, like Mei Smith is offering, it's so refreshing to see Smith's designs. Here's why:
In recent months, tons of new plus-size clothes have been hitting the market. From exciting new indie designer launches to specialty plus-size ranges from straight-size mall stores, even I'm having a hard time keeping up with the new offerings that are increasingly frequent. This isn't saturation or too much competition, it's a sign of the diversity and healthy growth that's meeting the demand in the plus-size fashion movement.
It's so interesting to see Courtney Noelle and Mei Smith launch in the same month: The lines could not be more different from each other, but could not be more alike in the most encouraging way. Both are a sign of the willingness of customers to seek out and support indie designers who are creating unique clothes for plus-size customers without following any of the so-called rules of plus-size fashion. They're giving plus-size customers the choices that they deserve. And that's the best news of all.
Images: Courtesy Courtney Noelle