Lifetime Is Making A 'Full House' Movie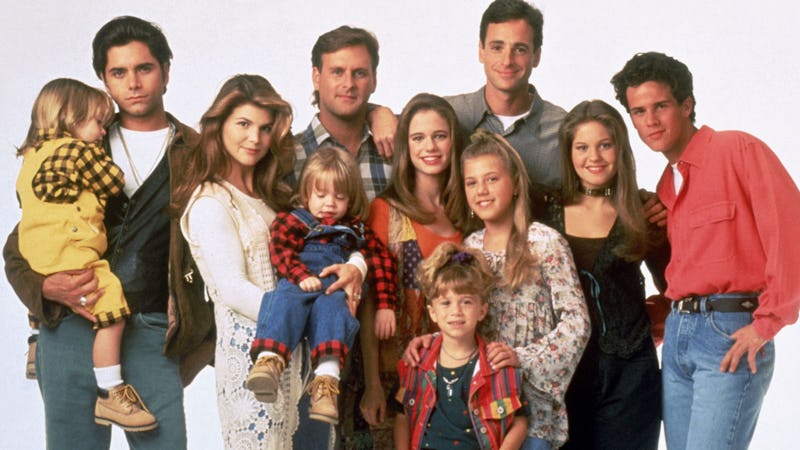 When I heard that Full House was getting a Netflix spinoff, I was elated. My favorite sitcom of the TGIF lineup was getting new life online and there was absolutely no reason to be cynical about it — I want to see what the Tanner kids have been up to all of these years just as much as the next '90s baby. Now, it seems we're getting even more of the Tanner family — err, sort of. Lifetime is making a new Full House tell-all TV movie, which promises to reveal some of the behind-the-scenes secrets of the real-life Tanner household. The film is titled The Unauthorized Full House Story and will give fans a peek behind the idyllic family sitcom.
Though the new film is penned by the screenwriter behind The Unauthorized Saved By The Bell Story,the Full House movie might not be quite as scandalous. The Unauthorized Saved By The Bell Story was told from actor Dustin Diamond's perspective and highlighted some of the more tumultuous aspects of growing up around a cast of young up-and-comers, from the behind-the-scenes hookups to Diamond dabbling in drugs and alcohol. The point of that story was scandal, but according to The Hollywood Reporter, the Full House tale is a bit less controversial, instead focusing on the "warm bond" between the cast, some of whom (like spinoff co-stars Candace Cameron-Bure and Andrea Barber) are still super-tight BFFs.
I'm a sucker for tell-all movies, but unlike Saved By The Bell, I won't be tuning in for some salacious gossip. It seems like the Full House cast is just as caring offscreen as they are on, and i hope that the TV movie highlights their triumphs as the family they became rather than stir up drama that perhaps didn't really exist. If Lifetime can do that, then I'm totally onboard this nostalgia train.
Image: ABC; Giphy