Chris Soules Is King Of Romance On 'DWTS'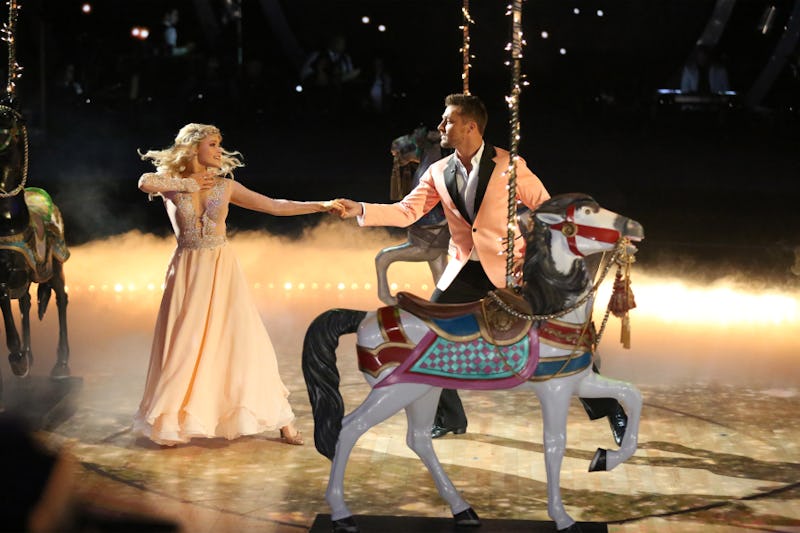 After an amazing performance last week, it looks like Chris Soules is in the zone on Dancing With the Stars. He and partner Witney Carson have figured out what best makes Chris shine — no surprise, it's romance. The former Bachelor knows how to win over an audience with his romantic side — he did it all season long on The Bachelor. So, after he and Witney soared during their sweet waltz to "Hopelessly Devoted to You" last week, she called upon the love factor again during their 1940s number.
The pair portrayed a loving couple about to be separated by war. But before sailor Soules shipped out, they had one last dance together. The number was excellent, and their connection was spot-on. A lack of onstage chemistry was something the judges complained about in the early weeks of the competition, but it's not a problem anymore. Now Chris and Witney have no problem acting in love for the performance, and it's really strengthened their scores. For the second week in a row, the pair earned 31 points. "You're turning into a dancer," Bruno Tonioli raved. "There was such wonderful fluidity." Carrie Ann Inaba also loved the couple's romantic number. "You're the most exciting one for me to watch right now."
And how does Chris Soules' fiancée Whitney Bischoff feel about her husband-to-be pretending to love Witney Carson onstage? It likely doesn't bother her! Bischoff and Carson are actually good friends.
Plus, I'm sure she knows she and Chris are solid, and she's just proud of his improvement. She's been by his side throughout the competition to show her support for #TeamSouleShakers. So, now that Chris Soules knows the genre he does best at, I'm sure fans can expect him to continue to excel.
Image: Adam Taylor (ABC)