10 Things To Include On Your Wedding Website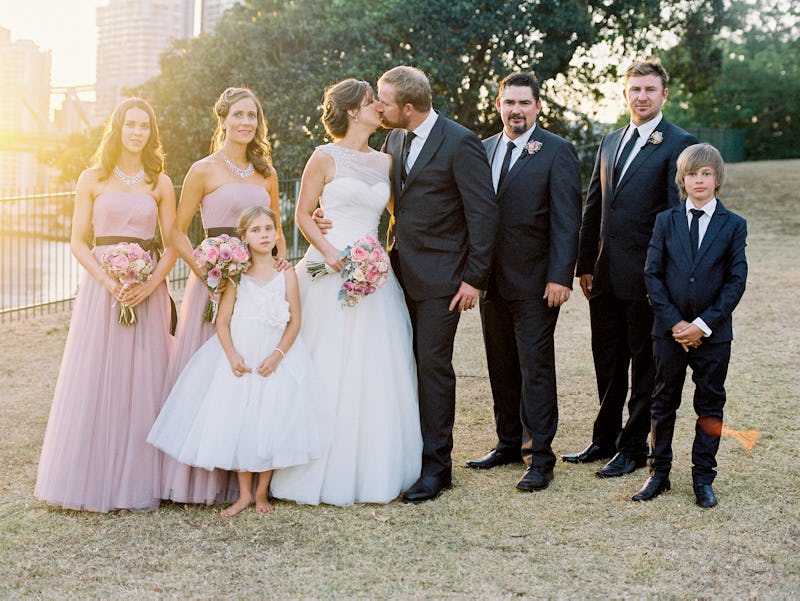 So, you're getting married — congratulations! I bet you have a million things on your mind, and one of them is probably what you're going to include on your wedding website. Wedding websites are nothing new, but they've definitely become more of a standard during the wedding planning phase. And no matter what service you're using or your level of graphic design skill (or lack thereof), there are a few things every wedding website should include.
Wedding websites can either be a source of inspiration or a cringe-worthy disappointment. There are plenty of websites and services that will help you create a gorgeous, modern-looking website (AppyCouple and Weduary are both good choices), and there are many other services for people just looking for barebones simplicity, like MyWedding, TheKnot, and WeBuddy. So, my first piece of advice is to figure out exactly what you want for your website, and how much your wedding planning will rely on it — obviously, you'll want a more advanced look and functionality if your whole wedding will be organized through the site.
And after you've nailed down what you want and where you're going to be building your site, you can finally move on to the fun part — dedicating hours of your life to filling out all the necessary information! Here are 10 things you should definitely remember to include.
1. Date, Time, And Location
If you're going to put anything on the site, it should be the most important information regarding your wedding, obviously. Paper invitations get lost, people get mixed up on where and when the ceremony and reception take place, and how they can get there. Make the date, time, and location (including a map or directions of some kind) easily accessible, if not on the front page of the website. You and the wedding party might be able to avoid a lot of confused day-off convos if your guests can refresh their memories anytime they want.
2. Dress Code
As a 25-year-old adult, I've been to my fair share of weddings (with only more to come), so I'm pretty familiar with the most common wedding dress code dos and don'ts. But unless it's directly stated on your invitation, some guests might be wondering what would be appropriate to wear.
Obviously, if you have a set dress code like black tie, then just state that and most people will know what that entails. If you have a more unique dress code, such as "cowboy chic" or "Victorian goth," you should probably include more of an explanation and some examples. And make sure to let guests know of anything that might affect their wardrobe choice, such as if your reception venue is literally an uphill hike from the ceremony.
3. Bios And Background
I'd like to think that most of the people you're inviting to your wedding will know you guys, and be familiar with at least some details of how you met or how you got engaged, but that might not be the case. You don't have to write a novel of both of your life stories and every detail of your relationship, but a few paragraphs would help any family and friends who aren't totally on the up-and-up regarding your lives together. You can also use this space to write a little about each of your parents and maybe even the wedding party.
4. Registries
Speaking of gifts, you'll definitely need to include a section for your registries. This will be the easiest way for people to find and access them, and you can also give a little information about the type of things you'd enjoy if people want to go off registry. You can also state whether or not guests should buy presents for both the wedding shower and the wedding (I actually had to Google what was appropriate when my best friend got married in December). And if you're foregoing registries in favor of having your guests make a donation to charity, or help pay for your honeymoon, you can include info for that too.
5. Hotels And Hotspots
Unless everyone attending your wedding lives in the same town, you'll need to give some info on travel and lodging arrangements. Once you have your wedding venue locked down, call around to some hotels in the surrounding area to see if you can get any coupons or group rates to provide to any out-of-town guests. Deals or no deals, list a few hotels that are close to your venue, including their addresses, websites, and phone numbers, as well as any coupon codes you got. You should also list where you'll be staying, and any local hotspots your guests might want to check out while they're in town.
6. RVSPs
In recent years, couples have opted to ditch traditional paper invitations for the more eco-friendly and manageable online invite. If this is the route you're going, make sure to include a way to RSVP on the front page of your site. You can use Evite or Paperless Post to send out the actual invitations, and add your website to the invite for easy access. And even if you're sticking with paper invitations, you can use your website to gather RSVPs for the wedding shower, bach parties, or other events leading up to the big day.
7. Give Them An Idea What To Expect
You don't have to give a play-by-play of what will happen on the wedding day, and you definitely don't have to spoil any surprises you have planned, but it would be helpful to give your guests a heads up on a few things. Make a special section for tidbits of information, such as if your ceremony is standing room only, if you'll have a cash or open bar, will there be a cocktail hour with snacks, and where guests can place gifts and cards on the big day.
8. Social Info
Some couples have opted to ban phones and social media from their big day, but let's be honest — it's 2015, and people want to Instagram that shiz. There are definitely some wedding day social media best practices, but you should include any pertinent social info you want your guests to know. This includes you and the groom's social media accounts, what hashtag you'd like your guests to use, or where your guests can share their photos on Facebook or Flickr.
9. Vendor Shout Outs
Give a little love to the people who are making your wedding dreams a reality! Have a small section that gives details about your photographer, your wedding planner, the Etsy store you bought your bridesmaids' gifts from, and all the rest. It's a great way to say thank you to all the people behind the scenes, and a good resource for guests who might be interested in their services.
10. Photo Gallery
Like your bios and love story, this doesn't have to be a big section, but it would be nice to share some pre-wedding photos. Add some baby pictures, high school photos, pictures of the wedding party and your respective parents, and, of course, pictures of the two of you together. Helping people put faces to names before the big day is always a good plan.
Images: Felipe Neves/Flickr; Giphy