7 Going Out Styles That Aren't Bodycon Dresses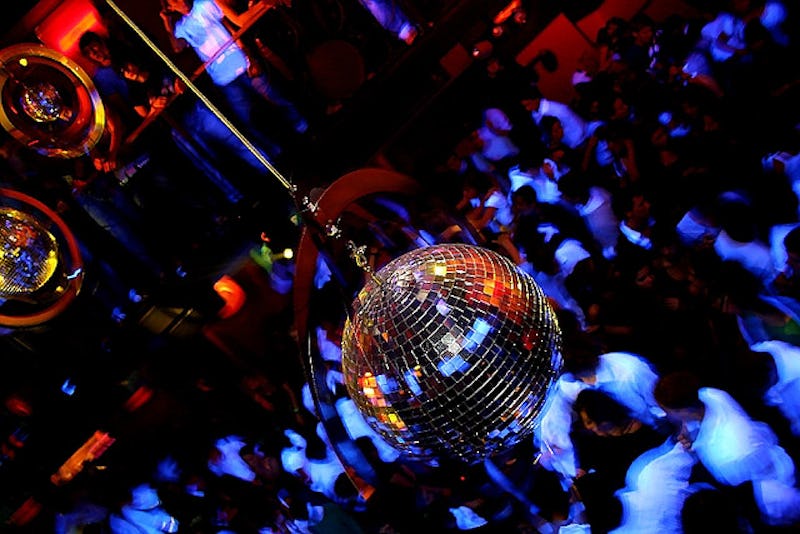 Few things make me more scared than receiving the text, Want to go out tonight? It's not the loud music that shivers up my spine, nor how every conversation is shouting: "What's your name?" "What?" "Your name." "Ohhhhh! I'm from Florida!" It's not even getting the sweat of others all over my person. It's how six-inch stilettos feel after a night of standing around in a bar. It's constantly tugging down on my bandage dress in which I can hardly breathe. It's making sure my low-cut top hasn't suddenly become X-rated.
Over the years, I've come to accept that the typical "going out" look just isn't for me. Still, I don't want to roll into the bar rocking sweatpants, so I've managed to find a happy medium: Outfits that are a bit more special than what I wear on the day-to-day, but still incredibly comfortable. Now I can dance badly to '90s hits all night and my feet don't even hurt. High heels: 0. Michelle: 100.
1. Get your Don Draper on with a pair of smoking slippers.
Spoiler alert: I am not a middle aged man from the 1960s. However, that doesn't mean I don't love a good smoking slipper. They're a bit dressier than your typical ballet slipper, and look great with a pair of cropped jeans or cigarette pants. I especially love this pair from DV by Dolce Vita for the silver detailing on the toe.
2. Throw a statement necklace on it.
"Throw a statement necklace" is actually what my roommates and I say to each other whenever we're at a loss for how to dress up an outfit. I like to tuck a bold statement necklace, like this one from Topshop, under the collar of a chambray button-down.
3. Wear (basically) pajamas pants in public.
It is insane—truly insane—that we are allowed to wear this out. I own a pair similar to these Zara pants, and whenever I wear them I get a ton of compliments from people who have no idea that they just complimented a glorified pair of PJs. In order to avoid looking like I stopped by a party before heading off to bed, I tuck a dressier shirt into the pants and opt for wedges over flats.
4. Spend .2 seconds thinking about your outfit with a maxi dress.
Can I just say that dresses rule? It's one garment that someone else made for you and we have all just accepted that it is fancy. With pants, there's so much effort. You have to figure out a top. You have to zip them. After a long week of work, pants are really the last thing I want to tackle. This BCBG dress is a stunning shade of orange, perfect for summer, and the high-low cut is super trendy, but it's still so comfortable. A brightly colored maxi dress is a great option for when you really just can't be bothered.
5. Listen up: Wedges are not heels.
"How do you wear heels all the time?" says everyone. The answer: I don't. I wear wedges. If you're scared of heels, I urge you to give their cousin, the wedge, a try. I currently have my eyes on these DVF babies. Wedges are ideal for when flats just won't do, but you still don't want to be nursing your blistered feet all night.
6. Wear a t-shirt with dressy details.
I absolutely love t-shirts, but I know that they are a bit casual for some events. For those occasions, I like to go for a tee with small, dressy details, like lace or leather. I own a shirt similar to this RD Style one and wear it all the time (Not literally. That would be disgusting.).
7. Go for shorts in a luxe fabric.
Shorts are awesome, especially if you're the type of woman who never knows what kind of ruckus she's going to get into. Say you get into a breakdancing contest, or you have the urge to do a split, or you're forced to audition for the Rockettes. You're going to need a pair of shorts for all those very likely Saturday evening activities. Shorts in a dressier material, like leather or "leather," are a great option for no matter where the night takes you.
Now, it's Friday. Don't you have some plans to attend to?