How To Achieve Marilyn Style Makeup In 10 Steps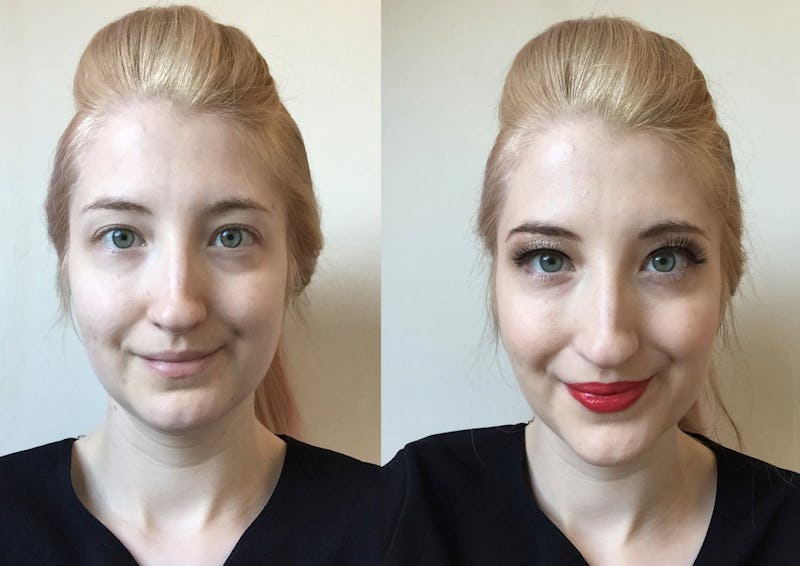 I had never really experimented with 1950s vintage makeup looks until I became a part of a vintage style, two-person girl band: Diamond Darlings. Luckily, my singing partner was very talented in all things hair and makeup so I learned a lot from her in a very short space of time. At first it was difficult to choose which era we wanted to channel, but we both confessed our love of the 1950s and Hollywood glamour, eventually settling on this decade. Thus, we needed a beauty icon to guide us and we decided that, of course, it had to be golden girl Marilyn Monroe.
Marilyn was the epitome of '50s Hollywood glamour. With her peroxide blonde hair, killer curves, and flawless makeup, she became the pinup babe of the decade. My bandmate and I broke down Ms. Monroe's beauty look into five key areas: The perfect eyebrows, the winged cat eyeliner, the voluminous lashes, the rosy cheeks, and, of course, her signature scarlet pout. It's a look that has clearly done wonders, considering Marilyn is still considered a beauty icon today, with celebrities continuing to copy Marilyn's look.
Now, after a lot of practice and perfecting, I want to share with you how to get this gorgeous Hollywood starlet makeup look at home — don't worry, it's way easier than you may think. It turns out that makeup is a girl's best friend.
Before
This is me sans makeup, first thing in the morning after a shower. I would just make sure you don't have any residual makeup from the night before lingering anywhere on your face prior to starting.
Step 1: Moisturize
Nivea Cream, $9, Amazon
I use Nivea every day on my face but feel free to stick to whatever you use — I don't want to cause anyone unnecessary breakouts!
Step 2: Build A Base Layer
Bourjois Healthy Mix Serum, $17, Amazon
I use Bourjois Healthy Mix because I find it feels very light and wearable, yet it's thick enough to use as a concealer to cover dark circles and any blemishes. Again, feel free to use your preferred base makeup and your preferred products/routine here. All we're doing is creating a base layer on which to build the Marilyn look.
Step 3: Create Rosy Cheeks
Bourjois Little Round Pot Blusher in Rose Frisson, $9, Amazon
This is the kind of "slanted" brush I use paired with a Bourjois Little Round Pot Blusher in "Rose Frisson." Choose a color to suit your skin tone but go more for the girly pink shades rather than the browns or reds.
Step 4: Make Your Eyes Sparkle
L'Oréal Paris Color Riche Eyeshadow in "Nude", $9, Target
This is a L'Oréal Paris Color Riche gel-infused eyeshadow in "Nude." I chose this bronze/gold as I think it suits my complexion and it also adds a lovely shimmer to my eyelid. You could try any metallic shade, but for this look lean towards warmer shades rather than cold silvers.
I used my little brush to sweep the eyeshadow all over my eyelids because later on we layer on top of it, so we inevitably lose some of it. Plus, I feel it makes my eyes look bigger by using this method.
Step 5: Prep Your Lashes
"Eye's Right" Mascara, $20, Lush
I use Lush's "Eyes Right" mascara because a while ago my eyes got a little irritated after using a new mascara. I chose "Eyes Right" because it's reasonably priced, a great travel size, and it has just one preservative instead of the normal five that most mascaras host, so it's kinder on my eyes.
Step 6: Create A Cat Eye
I used this really cheap yet effective eyeliner pen to create my cat eye. I can't remember exactly how much it was but it was definitely under $4 from a local beauty store and it worked like a treat!
As you can see, I have given my top lid a winged flick and I have lightly drawn partway across my bottom lash in order to frame my eyes.
Step 7: Elongate Your Lashes
Katy Perry False Eyelashes, $20, Amazon
False eyelashes are a must for this look — unless you have naturally long, thick lashes. As I sadly have neither of these traits, I went for these Katy Perry for Eylure "Banging Beauty" lashes. I tend to always look for brands I know and trust when it comes to falsies (probably due to the eye irritation I had in the past) and I have always been happy with Eylure.
It took me a while to be able to apply false eyelashes myself and I was forever asking lovely friends to help me. I think the key is just to go for it. Make sure that the eyelashes aren't too far over one side and press and hold against your lash line for a few seconds. Afterwards, I tend to press my own lashes against the fake ones for good measure.
Step 8: Line Your Lips
I use a little lazy/thrifty girl beauty hack here. Instead of purchasing a lip liner pen, I literally just use my brown eyeliner that I used before. Obviously I make sure my mouth is clean before applying. I love this little hack because lip liner and eyeliner are like the same thing with a different name IMO. Apologies if that offends any hardcore lip liner lovers!
Step 9: Color Your Pout
Natural Collection Lipstick, $3, Boots International
To finish my lips, I used a Natural Collection Lipstick from U.K. beauty store Boots.
The shade is "Crimson" and it's part of the Moisture Shine range. It looks quite matte when you are wearing it but as the name suggests, it doesn't dry out your lips too much and keeps the moisture locked in.
Step 10: Emphasize Your Brows
Again the cheap-as-chips brown eyeliner comes to the rescue. I used it here to make my eyebrows "pop" and elongate them, because for some reason they don't grow very long.
End Result
So now you too know how to transform yourself into a Hollywood icon — you just need the clothes now. Marilyn, eat your heart out!
Images: Giphy; Author's Own