10 Utopian Novels To Keep Your Hopes Up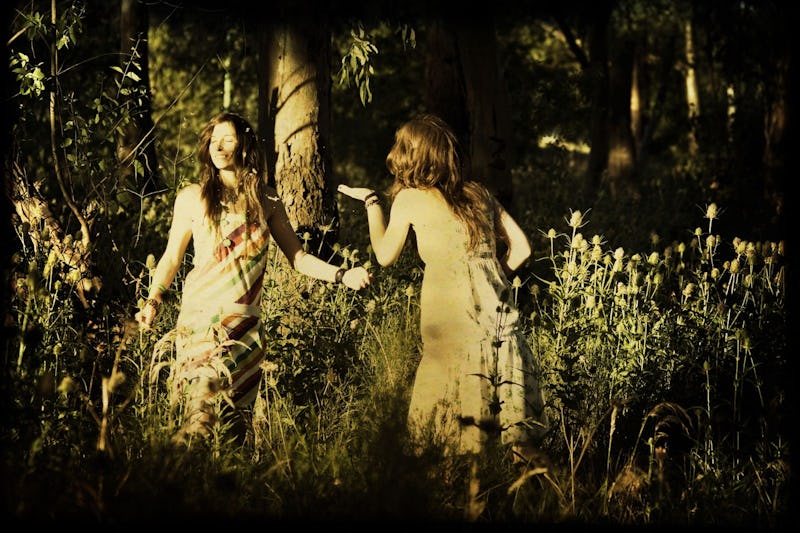 Popular culture really loves their apocalyptic, undead, and dystopic media. But gorging on so much death and destruction isn't always the best way to maintain your emotional well-being. The other day as I was getting my zen on at my favorite yoga studio, the music shifted, and the theme song from Game of Thrones echoed out from the speakers in between a traditional chant and an anthem from The National. Other than my family and cheese, there is nothing I love more than Game of Thrones — and yet somehow, the emotional upheaval of contemplating a sword through the throat did not contribute to my yogic calm.
Now, I'm not saying we should only indulge in cat videos and Nancy Drew novels (although it's not the worst idea I've ever had), but sometimes the surfeit of tough times swirling throughout the cultural landscape can get to be too much. So, when the mean reds start to chase away all your hope, consider a little slice of heaven in the form of these 10 utopian novels.
Herland by Charlotte Perkins Gilman
If you've ever imagined a world populated entirely by women and resembling some cross between a hippie commune and Oxford College, you and Charlotte Perkins Gilman have quite a bit in common. This early 20th century flight of fancy flies you into a haven of female bliss, alongside three male explorers who shake things up quite a bit. If you're interest isn't piqued yet — consider this: how on earth have they managed to populate Herland for all these years without a single Y chromosome?
Utopia by Thomas More
As the godfather of utopian fiction, Sir Thomas More is not to be missed on your tour of realms idyllic and farmlands fertile. More's mythic kingdom may be patriarchal, but religious tolerance and full employment make Utopia shockingly relavent to this particular era's consuming problems.
The name Jack London normally calls to mind wintery wonderlands and wild wolves, but as it just so happens, Jack was also quite the socialist, and The Iron Heel puts those ideas of class equality into practice. Rushing back and forth through a speculative future, London's novel follows rebels in the war against oligarchy. Although this novel certainly has a touch of dystopia to it, London never loses sight of the perfect picture, which helps keep all of the tragedy well in perspective.
Islandia by Austin Tappan Wright
One of my favorite aspects of utopian fiction is anthropological — the intricate details of a life so foreign it takes voluminous description to convince an unbelieving audience. With Islandia , Wright takes the time to fully flush out the detailed history of an imagined Southern country so warm and inviting, you'll never want to leave. If you can't quite afford any more time off, but you're yearning for a getaway, Wright's inviting novel may just be exactly what you need.
In an unusual inversion of the traditional gender disparity in literature, women figure prominently in utipian fiction. Although it begins in the darkest corner of contemporary society, Woman on the Edge may just be the most startling and poignant example of a feminist utopia to emerge in the 20th century. As Connie suffers in the thrall of psychotropic sedatives while undergoing forced institutionalization, an envoy from a feminist future descends to describe her vital role in determining the course of events to come. Dark, simmering, and full of hope, Piercy's unusual utopia is totally original.
B.F. Skinner's Walden Two paints a picture of a paradise on earth in which the miracles of modern science are put to work solving humanity's problems, and society is no longer forced to contend with the baser elements of human behavior. Although controversial upon publication, Walden Two has begun to appear more and more viable as the years have passed, which only makes it all the more compelling.
Erewhon by Samuel Butler
Lurching unstably along the line between utopia and dystopia, Erewhon imagines a world in which criminals are sent to therapy while victims of illness or bad luck are convicted of crimes against confidence. If you have a taste for the winsome and a rather flexible imagination, Butler's unique utopia should provide more than enough food for thought to fill you up for the time being.
Banish any lingering image of Will Smith from your mid's eye — Richard Matheson's I Am Legend and the sci-film of the same name are entirely different. Although the film offers viewers only death and destruction, I think the book is a utopia, although I can't tell you why without ruining the ending. Take it from me — this is one utopia that's well worth the wait.
An unusual variation on the theme of utopias, Chang-Rae Lee's On Such a Full Sea follows a young, female fish tank diver in a distant future. She heads out into the open country to find the man she loves. Brimming with adventure, rebellion, and more than a little anarchy, On Such a Full Sea is a unique take on utopia, but as compelling and convincing a reimagining of the genre as any I have seen.
Ecotopia by Ernest Callenbach
Ecotopia conjures up a world in which California, Oregon, and Washington have seceded from the union and established an ecological wonderland of sustainable best practices. If you've spent any time at all in Portland, Ecotopia may seem more like a viable possibility than a flight of literary fantasy.
Image: Xava Du / Flickr