11 White Ink Tattoos You'll Fall In Love With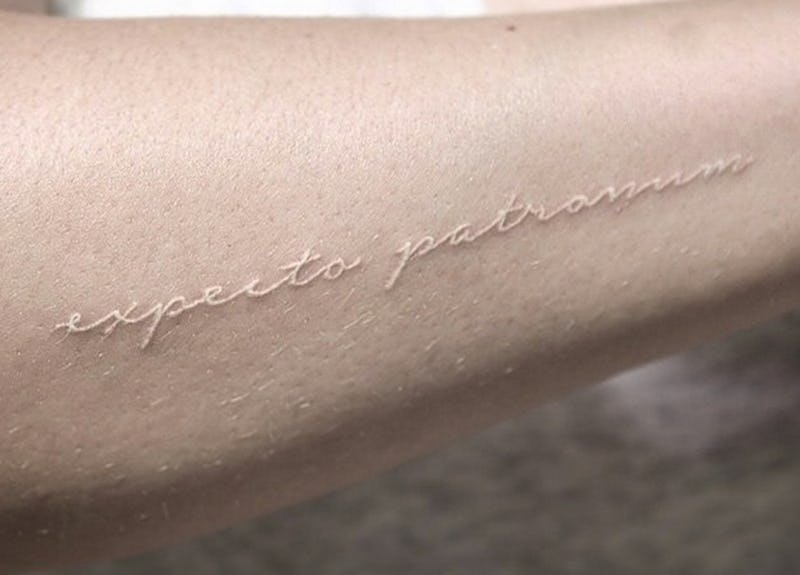 It's a little scary to stamp a trend on your body for the foreseeable future. Tattoos, as far as we know and barring painful lasers, are pretty much the definition of permanent. Be it a micro tattoo or a friendship tattoo, you wanna make sure you're pretty solid in whatever is gonna come outta that tattoo gun—even when that involves white ink. White ink tattoos are a pretty polarizing style, one that may be done horribly wrong or flawlessly great. And when white ink tattoos are done well, I promise you will want them all over your body.
First of all, before booking an appointment to get this specific kind of ink, make sure you planned ahead. Namely, be absolutely positive you're able to keep the inked area out of direct sunlight. When this doesn't happen, the ink can turn a really weird yellow color. (I didn't know this and now it's on my forearm for all time...oh well. At least it's just the highlighted area of an otherwise all-black and shaded design. Regardless! Learn from my errors.) This is good practice for tattoos of any color, but especially important with those involving white ink.
When white ink tattoos are done correctly design-wise (and aftercare-wise), they can seriously make a statement. In some cases, even, the art can transform into a fashionable accessory. It's pretty extraordinary. Here's some really pretty white ink tattoos sure to make you fall in love with this stunning trend:
Hermione-core
It's not like as soon as we turn 18 Harry Potter is any less magical. This white ink design offers a more elegant, adult twist on a nod to the classical series.
Hippity-hop
Incredibly subtle and sweet. Here's a bunny who may easily hide beneath a sweater sleeve (for shelter, or to dodge visiting parents). So cute!
Kissed by a rose
Classier than Seal, even? POSSIBLY.
Flock up
Feathers have become pretty standard. I'm allowed to say that because I have one. Anyway, an all-white ink approach gives the tired concept a refreshing makeover.
Right direction
A super sweet old school compass made more sweet with this cutting edge twist. It's a beautiful union of eras, as you can see.
Secret oath
A modern touch on the whole Pamela Lee and Tommy Lee inked wedding bands. I really dig how clandestine it all is.
Phone home
This tatted person wanted to pay homage to their homestate of Michigan. And hey, Michigan is pretty icy, right? White ink makes ample sense in this scenario, for sure.
Playing footsie
A great excuse to go barefoot boldly and often.
Majestic memorial
Cue the Snape x Lily feels that are still felt all over the world.
Lacy limbs
I am all about this investment. A whole sleeve? It looks like lace! Yes, please.
Geo fox
Still not sure what the fox says, but damn does he look fine.
Images: equillatera/Instagram; Imgur