Mark Your Calendars For 'Arrow's Season 3 Finale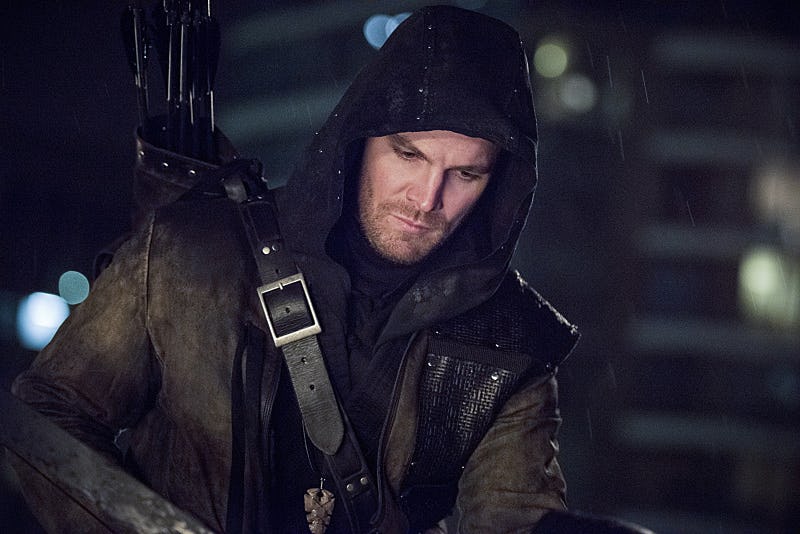 The change in season may bring warm weather and welcome amounts of sunshine (though I'm still waiting for this to kick in for NYC), but it also signifies one of the saddest times in television for me: May finales. In just a few short weeks, we will be without a majority of our beloved television programs for over four whole months. And while it's probably healthy to go out and have a social life rather than stay inside watching copious amounts of TV each night, that still doesn't make their imminent departure from our lives any less depressing, especially in regards to one of my all-time favorite shows, Arrow. It seems like only yesterday we were sitting around wondering what this season would have in store and now the Arrow Season 3 finale date is just around the corner. Time sure does fly when you're shooting arrows at people!
So when exactly will this dreaded day occur? Arrow's finale, which happens to be titled "My Name Is Oliver Queen," is scheduled to air on May 13, 2015. So set your alarms and mark your calendars, folks, because something tells me this is going to be a very important finale you aren't going to want to miss. But just in case you need a little more incentive to help solidify your interest, I've taken the liberty of listing all the reasons you should definitely be tuning in on that fateful night. Unless you want to face the wrath of Oliver Queen… or should I now say Al Sah-Him?
The Title Speaks Volumes
Unless you fell asleep during last week's episode, you know that Oliver has now officially joined the League of Assassins and been given a new name: Al Sah-Him, which means "The Arrow" in Arabic. So the fact that the finale is titled "My Name Is Oliver Queen" is very telling. In fact, it highly suggests that Oliver will find a way out of his deal with Ra's al Ghul and be able to return to Starling City as the Emerald Archer we've grown to love. So if you were hoping that Oliver would eventually leave the League, chances are this episode is your best bet of seeing that happen.
The Description Sounds Game-Changing
Aside from Oliver's possible return to his old self, the episode synopsis indicates that major surprises lie in store for these character and could put many lives in serious jeopardy. The description reads: "Everyone's lives are in danger as Ra's al Ghul puts forth his final plan. Oliver/Al Sah-him must decide if he's strong enough to take on this new role and what it will mean for everyone on Team Arrow, and his soul." And given that this is Arrow that we're talking about, it's more than likely that someone is going to end up dead by episode's end. Wouldn't you rather watch it live than risk being spoiled on social media? It's better to be safe than sorry.
An Olicity Reunion Could Happen
Now that we've seen just how steamy these two can be together, it's only natural to be impatient for their inevitable reunion. And not to sound like a broken record, but given Oliver's possible return to Starling City, this romance may be rekindled a lot earlier than you'd think. (Please?)
An Epic Cliffhanger Awaits
This show prides itself in its ability to leave our jaws dropped to the floor. What makes you think the season finale will be any different? I have no clue what parting moment Arrow will choose to leave us with, but I'm positive I want to be there when it all comes to fruition.
A Spontaneous Workout Session Could Break Out
Which, let's be honest, is reason in itself to tune in each and every week. Bless you, Oliver. BLESS YOU.
Images: Dean Buscher/The CW; thecwarrow/Tumblr (4); Giphy