Minimalist Plus Fashion For Less OTT Looks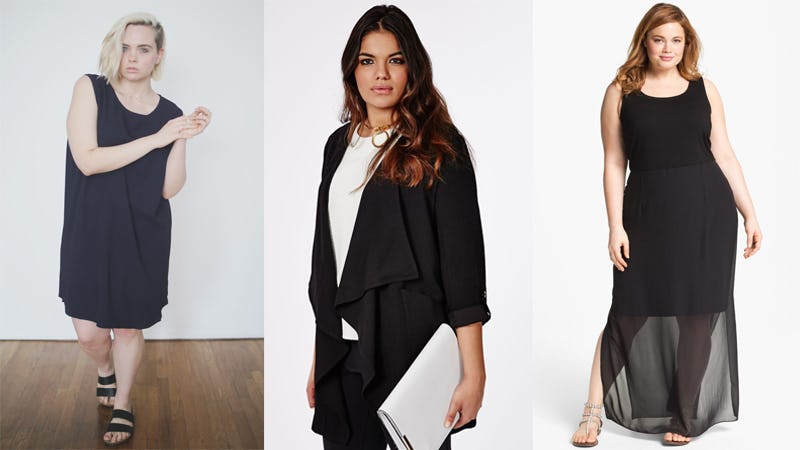 As of late, there has been tons of buzz and conversation centering around minimalist plus size fashion. Whether people are referring to the more casual "dressed down" kind of minimal, or the style theory of clean lines and solid colors, there's certainly truth in the critique that this market is underdeveloped. But why?
The evolution of plus-size fashion and the ever-expanding selection of clothing options for fat babes everywhere is starting to happen. And it didn't just happen overnight, even when it seems like it, what with new brands and plus-size ranges from retailers popping up what seems like daily. There were years of influential plus-size bloggers and activists campaigning and petitioning and grinding hard to make the industry listen and make size inclusivity an impending reality.
It's unarguably a good thing — a thing that has been a long time coming. It means that those of us over a size 12 are no longer waiting with baited breath for the one or two national plus-size retailers to release their collections each season, hoping that there will be at least a few pieces that we sort of like and fit us right. It was once a huge coup if anything suited your personal style — even the idea of having a personal style was pretty much considered a luxury!
The previous eras subjected women to a multitude of plus-size fashion sins, including a lack of anything other than mumus, horrifying denim washes, shapeless sacks, childish cartoon characters, all frumpy everything, and the ugliest patterns imaginable. Seriously, there is a special place in hell for the people who put patterns on plus-size women's clothing in the '90s and '00s.
It's no wonder, then, that fat babes are quick to embrace the OTT plus-size clothing lines, turning to bodycons, crop tops, and collections full of shimmery fabrics and bright colors. These things had never been an option for them for so long! After years of having their fashion fate taken mostly out of their hands and being made to cover up, lest they draw attention to their fat selves, it's refreshing to be given a plethora of options — colorful, shiny ones!
The point of the plus-size style revolution isn't that everyone now has to dress the same way or in head-to-toe trends, but that people actually have choices about how they want to dress. If clean lines and tailored cuts are your thing, though, here are five retailers that make plus-size minimalist clothes you're going to love:
1. Mei Smith NYC
Hackwith Design House Dress, $210, Mei Smith
New to the game and recently launched, Mei Smith is bringing minimalist staples in classic color schemes to the plus-size market by way of indie designers. These pieces aren't cheap, but are built to remain staples of your wardrobe for years to come.
Waterfall Jacket, $48, Missguided
Yes, there are tons of trendy picks for fat babes on this site; but there's also a very solid selection of basics in of-the-moment cuts at really affordable prices.
3. Carmakoma
Jasminus Artpowder Shirt, $41, Carmakoma
Carmakoma is a Scandinavian line with a nearly monochrome palate that makes me feel pleasurable tingles. Minimalist modern with a femme, rock-y edge, this is one line I'd love to fill my closet with.
Vince Camuto Chiffon Overlay Tank Dress, $45, Nordstrom Rack This not-so-secret spot is the perfect place to stock up on well-made basics (uh, Eileen Fisher alert) and it usually has tons of great stuff on sale. Plus-size selections at most department stores can be depressingly stale and stuffy. Nordstrom carries a bunch of fresh, current lines along with the classics.
5. Mimu Maxi
Cascade Dress, $118, Mimu Maxi
Is all this talk about sack dresses and mumus offending you on a personal level because they're your minimalist go-to? Never fear! Mimu Maxi make the most chic sack dresses in the world (probably) and they're handmade in NYC to boot.
Images: Courtesy Brands; Giphy