Chubby Cartwheels Launches "Curves Reign" Line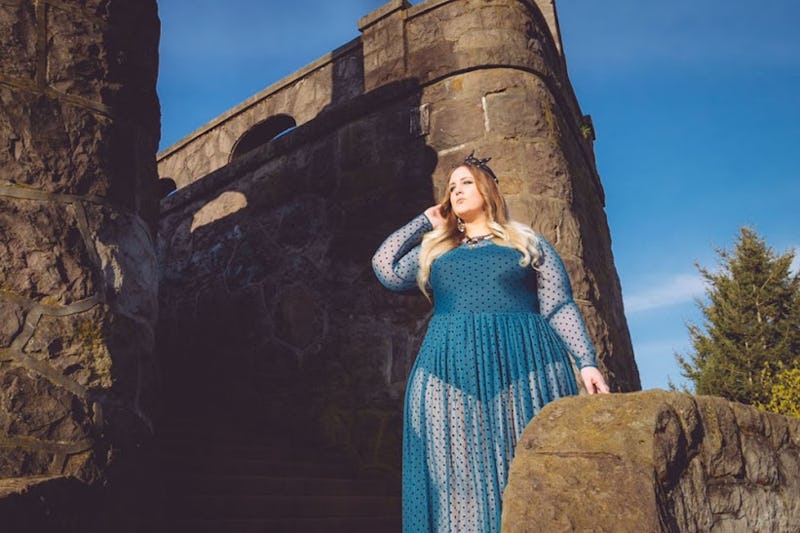 The world of plus-size fashion has been booming lately, and it's no wonder thanks to the power of the Internet. The latest news in body pos retail is the launch of the "Curves Reign" collection by Chubby Cartwheels. Plus-size fashion companies are blossoming all over the world in response to the high demand of quality, fun, edgy, fashion-forward garments for the fuller-figured woman, and as part of the body pos community, I couldn't be more thrilled to have our voices heard and our needs finally met. Thus, I couldn't resist the chance to collaborate with the plus-size indie fashion designer on this line.
Growing up as a chubby youth, there were little-to-no options for us big gals in the way of clothing. Most of us had to make do with wearing baggy sweats or tees, buying unisex-looking clothing from the men's section at the local department store, or opting for the least-offensive shirt we could find from the sad, pathetic "husky" section of said department store that was really — let's be honest — designed specifically for the voluptuous grandmas of the world. And even though grandmas gotta dress, too, it managed to feel like a proverbial slap in the face to all us other plus women and girls who just wanted to be able to dress like "everyone else."
Today, things have changed, thanks to passionate plus-size designers like Shawna Farmer, owner of Chubby Cartwheels, who has heard our cries for fashion that reflects both our style and our size. For several years now, Shawna has been creating fun, bold, edgy clothing for the plus-size woman (including bandeau tops, crop tops, "Diet Industry Dropout" tees, and fatkinis), leaving no size out. Her clothing ranges from a 1X-5X (as opposed to many other brands that only go up to a 3X). And she is profoundly passionate about what she does, her goal always being to provide every plus-size woman (and even men!) with clothing that promotes confidence, style, and strength in being "whatever size you are."
Personally, I'm a fan of the Chubby Cartwheels brand because I not only love the clothing, but support the passion, love, and intention behind its creation. This brand's desire is to empower plus-size women through fashion — and that's exactly what it does. So when I was personally approached by Shawna and asked to collaborate with her on the concept and design of a new Chubby Cartwheels plus-size clothing line, I was completely thrilled and immediately jumped at the opportunity.
As someone who has been quite heavily involved in the plus-size community for the past decade and worked in the plus-size fashion industry for years, I've always carried a heavy passion for all things sartorial. My style has recently developed into (what my friends call) the "glamorous bohemian witchy princess," leaning quite heavily on the "royal."
Recently, I started the hashtag #curvesreign via social media. I came up with #curvesreign not to suggest that a fuller figure is "better" than a slender one, but because I wanted to express a feeling of confidence and strength within people in regards to their bodies. I've always been drawn to royalty (specifically queens) because they walk around with an air of strength, confidence, and power. In their lives, they rule the world. So I wanted to embody this feeling when it comes to self love and confidence. Each of us is a queen in our own right, and as plus-size women, we have a right to feel beautiful, confident, and at home within our bodies. As someone who has always been plus-size and has come to appreciate, love, and celebrate my unique beauty and my body, my truth has always been that "I Am a Queen" in this body of mine. I want all plus-size women to rise up and seize their own crowns for themselves.
Thus, the Curves Reign Collection was created, focusing on feminine, flirty, edgy, whimsical-inspired pieces. Fusing together my personal style and the already established Chubby Cartwheels aesthetic, Shawna and I came up with a line that includes mesh leggings, a "Curves Reign" graphic tee, the "Antoinette" dress and skirt, and finally the "Boleyn Dress" (my personal favorite). Along with these amazing pieces are a line of really lovely accessories, including jewelry, leather suspenders, and some pretty fabulous sunglasses.
The "Boleyn Dress" was the pièce de résistance and an absolute dream to create. When discussing possible designs with Shawna, it occurred to me that we should turn her already popular mesh bodysuit into a dress. Inspired, of course, by royal fashion (think Reign here, people), I really wanted to see something with long sleeves and at a maxi-length — something elegant that could be worn either casually (bathing suit cover-up) or more formally (as an evening gown).
The "Boleyn Dress" hybridizes the original Chubby Cartwheels mesh design with the royal maxi dress. We also had fun picking out the fabric — choosing deep, rich royal colors and adding a fun, flirty element with polka dots. All these elements meshed (ha!) together to create a dress that is light, flirty, quirky, and elegant — not to mention one that fits and flows like an absolute dream. In all honesty, you probably can't find anything like this dress anywhere else in plus-size fashion right now, because it's the kind of thing that has always been "reserved" for a slender frame.
When it came to shooting the collection, I was blessed to work with some fabulously talented individuals — and I'm talking absolutely amazing people to work with. Taking to Rocky Butte, a gorgeous Portland, OR location with a castle-like vibe and a 360-degree view of Portland's city and mountains, the magical process of creation began.
All clothing was hand-made by Shawna herself, photography was shot by the talented (and delightful) Nicole Kondra, filming by the gifted Ben Mercer and his film associate, and hair, makeup and modeling was done by yours truly. Collaborating all of our creative talents together resulted in a truly magical, majestic outcome which represented the personality of the collection beautifully.
For the chubby girl growing up who thought there would be a constant struggle finding fashion that reflected who I was (and, you know, that actually fit), collaborating with such an amazing designer as Shawna, and being a part of the Chubby Cartwheels "Curves Reign" plus-size clothing line was an absolute dream come true. Who knew that I would end up here? And who knew that we, as a community, would end up where we are today?
Gone are the days when we had to hide our bodies away beneath baggy clothing, pretend that we were all tomboys as we reluctantly wore men's clothing, or suffered in embarrassing silence, sporting a grandma-worthy frock. Today, we own and love our bodies just the way we are, and our fashion finally reflects that. We stand with pride, walk with confidence, and glow with the power of self-love. Always remember that no matter what size you are, you are a queen, and your #curvesreign.
Images: Chubby Cartwheels/Nicole Kondra Photography; Instagram/khaleesidelrey; YouTube