5 Fun Bachelorette Ideas That Don't Include Booze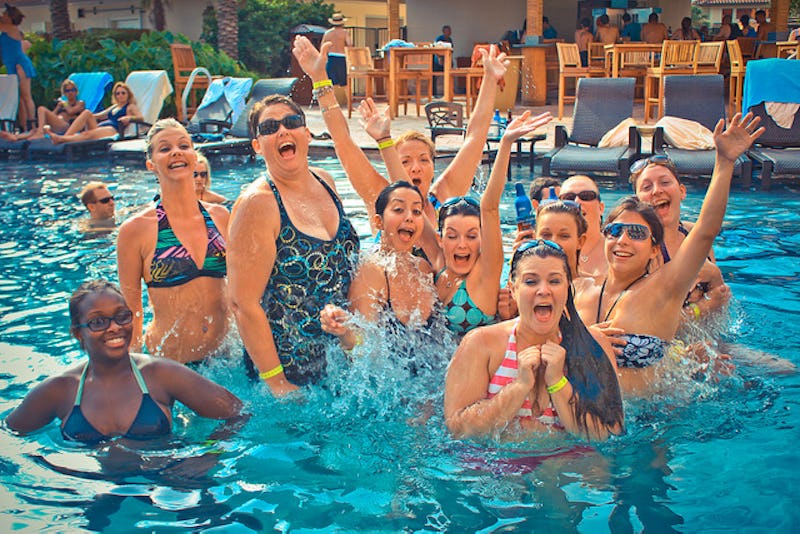 The concept of the traditional bachelorette party — girls in party veils and pink sashes getting progressively drunker as they hop from bar to bar has finally become a thing of the past. Maybe you have a maid of honor who's under 21, don't drink or just want to do something different. Either way, there are plenty of fun bachelorette party ideas without alcohol.
"In the past year or so, we have seen more and more bachelorette parties stray away from the typical Las Vegas outing. Why? Because there are so many more creative ways to approach this event. We see bachelorette parties at art galleries, studios, and lofts," says Jayna Cooke, CEO of EVENTup.
"We also have noticed an increase in destination trips to non-traditional locations like Nashville or Gatlinburg," says Cooke, who reveals location isn¹t the only thing changing. Bar hopping is becoming less and less popular with some of the more creative brides looking to do a group cooking or a spa day, comedy clubs, and more.
"I'm straight-edge (no drinking, no drugs) and had a spiritual healer come to my house and do tarot card readings for my friends during my bachelorette celebration!" says Joelle Caputa, Creative Director at CPR Communications. Gone are the days of the pink sash and endless rounds of shots. The possibilities are endless.
1. Spa weekends
There's no better way to get ready for a wedding than to spend an entire day getting pampered. Relax with your gal pals and emerge more beautiful than ever. Whether it's a staycation in town or a trip to Arizona, no bride is going to turn down an opportunity for some much needed pampering, says Dorian Smith-Garcia of bridal inspiration site The Anti Bridezilla. If a full trip to another city or state isn't an option, contact your local hotels to find out who offers in house spa treatments. Often if you book a room (or rooms depending on how big your group is) the hotel will offer discounts or complimentary add on services.
2. Go to the Barre Instead of the Bar
Get a buzz from endorphins rather than alcohol. Elements Barre and Dance Cardio Studio in East Hampton founder Andrea Fornarola Hunsberger has hosted several small bachelorette parties in studio, allowing the women a care-free workout zone, complete with great music and juice tastings. She has also taught Hamptons style parties with paddle board lessons, or doing barre on the beach. Barre isn't for you? Maybe take your party to a Zumba or striptease workout class! What fits your crowd!
3. Jewelry Party
Diamonds are a girl's best friend — that is, beyond her actual best friends. Combine the love! A great example is goldsmith Donna Distefano, who loves hosting small bridal parties in her atelier. She makes it ladies choice, allowing them to either focus on designing a special piece that she can then make for everyone as a special keepsake, or exploring the process of goldsmithing with a handmade demo. She even brings in a mixologist to do virgin cocktails, and sets the mood with music.
4. Charity Trips
Much like there are bridal couples who prefer you donate to the charity of their choice in lieu of wedding gifts, some people would rather work with a charity to give back to their community than bar hop, says Smith-Garcia.
5. Crafting
"Pottery making, knitting or sewing classes all make great alternatives for the bride who isn't interested in the kitschy bar experience. It's a great way to relax (assuming the bride isn't Type A and focused on creating the perfect craft) and also lets you bond with your bridesmaids and friends without avoiding the creepy guy in the bar," Smith-Garcia says.
An example is an event like Paint Nite, now available in 167 cities worldwide. There's the option to drink, but many don't. You get to create a work of art to take home with you that night, an instant event memory.
Images: Taylor Ward/Flickr;