7 TV Shows Lifetime Needs To Make Movies For Next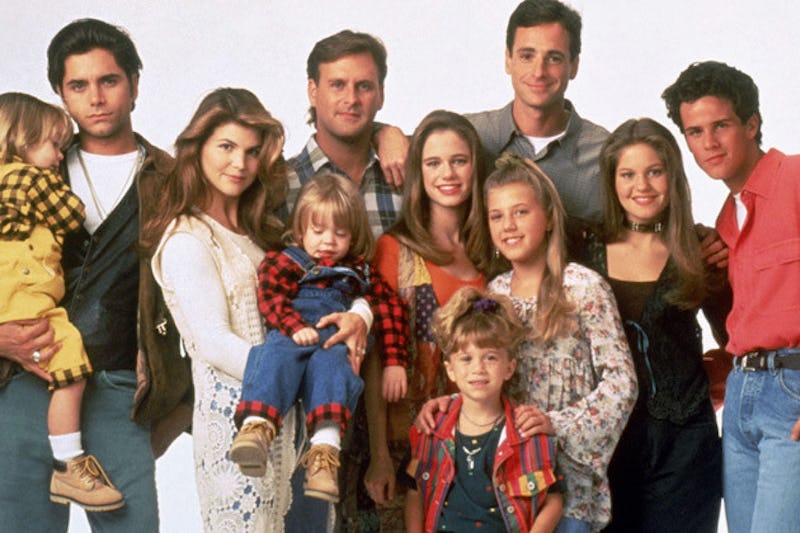 I want to start off by saying one thing: Lifetime is possibly one of the best networks ever in existence. Having been in the business of producing original TV movies — all of which are amazing, for better or worse, in their own ways — for decades, it is now a cult favorite of viewers around the globe. Their movies have become so popular, in fact, that they created the Lifetime Movie Network, a channel dedicated to airing Lifetime movies 24/7, back in 1998. This week, Lifetime announced their latest bit of genius in the form of The Unauthorized Full House Story , a (likely largely fictional) biopic about the '90s TV series stars' rise to fame. Following up their 2014 Saved By The Bell tell-all, Full House will end up with the same entertaining treatment... but why stop there?
Basically, if there's anything I love more than the TV shows of my childhood, it's gossip about what was going on behind-the-scenes while it was shooting. Sure, Lifetime's versions are likely taking some pretty serious liberties when it comes to portraying what allegedly happened, but so what? TV is entertainment, and Lifetime movies fit the bill. And while I can't wait to see what we learn about Full House, There are plenty of other TV shows I'd love the network to make a tell-all movie about, so if you're reading this, execs, listen up!
Friends (1994 - 2004)
This is probably the most obvious choice, because Friends is still an absolutely worldwide phenomenon despite having gone off the air back in 2004. There has simply never been another TV series like it — no one has been able to replicate the dynamic, the particular type of humor and mesh of personalities, or the ongoing success. GIVE ME THE DRAMA that went on behind the scenes, because there was plenty to choose from.
Family Matters (1989 - 1998)
Can you imagine the incredibly overwrought (and likely entirely false) scenes between Jaleel White and Kellie Shanygne Williams? I need this in my life! How did Jaleel feel about playing the geeky Steve Urkel? Did he have a crush on Laura (Kellie) in real life? Put this on our screens, Lifetime!
Blossom (1990 - 1995)
Blossom only graced our screens for five short seasons (short because it should have gone on forever), but it still left a lasting mark on all of us. The fashion? The friendships? Joey Lawrence? I rest my case. Lifetime could totally make an amazing movie about Joey's groupies and the friendship between Mayim Bialik and Jenna Von Oy behind the scenes. I'm counting on it.
The Fresh Prince of Bel-Air (1990 - 1996)
Man, Fresh Prince was so good. I still think that every time I catch one of the reruns in syndication. I used to love this show growing up, and, considering what an awesome ensemble cast it had, it was no doubt RIFE with material to turn into a TV movie. Why did one of the Aunt Vivs (Janet Hubert) really get canned? Was Will Smith really an "egomaniac"? Where did the Carlton dance come from? (Yes, I'd watch a movie about that.)
Home Improvement (1991 - 1999)
I was in a major Jonathan Taylor Thomas phase for much of my adolescence, so you know Home Improvement was weekly viewing. The only thing I really remember about the show now, more than 15 years after it ended, is when JTT's character had a thyroid problem and, also, that Wilson was always looking over the fence. However, I'm sure my memory would love to be refreshed by a TV movie all about it. Tim Allen was a hot mess (Santa Clause for life, tho) and JTT and the other child actors had their own share of drama, so let's make this happen.
Dawson's Creek (1998 - 2003)
I can't even believe I have to say anything about this one, to be honest. Teens filming a teen drama, growing up on screen? HELLO? The movie makes itself. I want to know all about the behind the scenes dirt — the secret affairs, the partying, the growing pains... Ugh, so good. I think I might want a Dawson's Creek movie most of all!
All That (1994 - 2005)
This might seem like a weird pick, but it's totally not. Many of our beloved child stars, from Amanda Bynes to Keenan Thompson, started out on this Nickelodeon series, and putting a bunch of kids together like this is bound to cause drama. Show us the darker side of children's TV, Lifetime. I'm begging you!
Images: Warner Bros. Television (1); Giphy (7)