I Recreated 6 Wacky & Sticky 'ANTM' Beauty Looks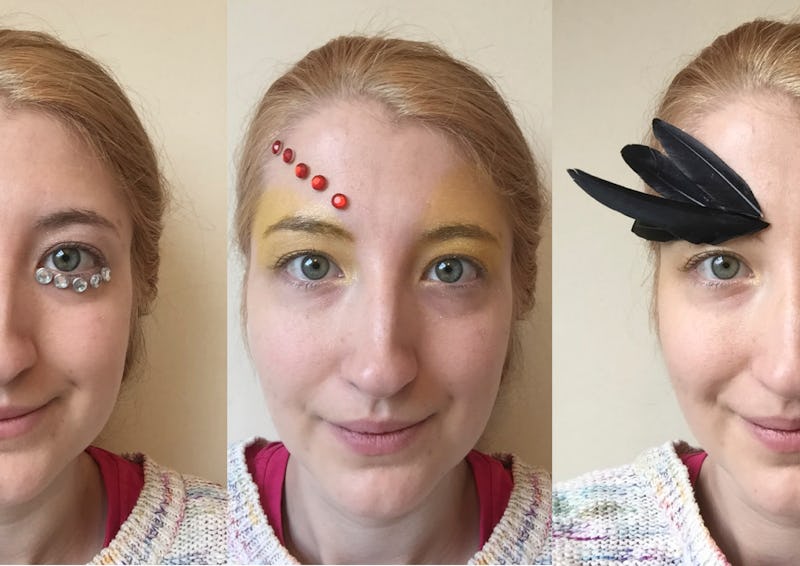 Have you ever tried to add jewels to your face, á la beauty looks from America's Next Top Model? I have seen it done many times before and always admired the wearer, be it a friend or a celebrity. In fact, I've always sort of wondered, why stop at jewels? It'd difficult not to admire quirky makeup looks that include a range of stick-on materials such as feathers and sequins. But personally, I've sported a bindi or an odd eye gem and that's about as adventurous as I've gotten. That is, until I remembered some amazing beauty looks from America's Next Top Model (ANTM).
Full disclosure: I love ANTM. I could sit and binge watch it (with a bag of potato chips and a can of cola) forever. I know I'd probably get very sick from just eating chips and drinking cola for hours on end, but I probably wouldn't notice because I'd be high up on my ANTM cloud, looking down into the models' house and wondering which of them is going to claw the others' eyes out.
My college friends and I were so enamored with the show that we even created a drinking game in its honor. The game, imaginatively dubbed, "America's Next Top Model Shots," consisted of everyone drinking a shot whenever Tyra Banks or Jay Manuel said "fierce!" or told the contestants to "smize." Obviously, the game never lasted very long...
So in honor of ANTM and its totally out there beauty looks, I wanted to see if I (an unqualified-in-the-art-of-makeup gal) could achieve (or come close to recreating) any of these whimsical looks. Plus, I really wanted to experiment with the "sticking stuff on your face" makeup style and discover whether putting stickers on your profile can ever really look cool... Or acceptable to wear in public.
Before
This was me before the experiment. I moisturized and created a base layer so that the stickers had something to stick to. I also added a little blusher and a coating of mascara. With my face/canvas prepped and ready to go, I began...
The Dainty Gem Look
Here is Megg Morales from Cycle 7 looking rather lovely — she has an almost angelic look to her, no? I thought this would be a nice style for those who perhaps aren't so confident about stepping out of the house with things stuck to their face.
I used these gems, which I picked up from a local U.K. crafting store called Boyes (it has a haberdashery department). They were super cheap (definitely under $5). As you can see, they are not actually body gems, but are supposed to be used for crafting. However, I'm the kind of girl who lives on the edge so I took the risk. They also came with little peel-off, double-sided sticker pads on the rear, so they were actually quite easy to use and comfortable; just the qualities you look out for in craft supplies.
I don't mind this look, although I wish my stick-on gems had come in different sizes. I feel because they are quite big they make me look less ethereal and more bug-eyed. Unless I can get some smaller ones, I don't think I'd wear this look out of the house.
The Under Eye Glimmer
I love this photo of Kari Schmidt from Cycle 6. In fact, I really liked the whole "Ice Princess" concept of the shoot. Plus, this was way before Frozen — ANTM obviously has a team of professional trend forecasters. Unfortunately, I did not have anything that resembled the "ice" under Schmidt's eyes, but as it looked very sparkly, I went for the craft gems again.
I preferred this look to the previous one because I think with this size of gem, you have to go big or go home. I don't know why but I am getting a slight Great Gatsby vibe from this beauty look — possibly due to the excessive glamour and diamond-esque color of the gems. I think this would make a great festival makeup look or (if you dare) you could wear it to a special event or party.
The All Star Look
I really like Renee Alway's beauty look in this Cycle 8 shoot. Like a neo-hippie, she sits atop her ride with flowers in her barnet and stars on her cheeks.
To recreate Alway's look I used star stickers. I will just mention now: Beware of trying this at home. Same applies to sticking craft gems (and anything else you might come across later in the article) on your face. Until, of course, you're sure that none of the products will cause you rashes or irritations. I, on the other hand, have no regard for my skin's safety; so I threw caution to the wind. You may want to actually purchase genuine body stickers, which you can now get in a huge range of shapes and sizes, because they are made with human skin in mind. Whereas mine were created for paper and cardboard.
I added a golden-hued eyeshadow to this look to complement the stars. And I really liked this look — it's probably my favorite so far. I think it's great because it's easy to apply and more subtle than the others. Don't you think it would be perfect to wear for the 4th of July?
Lesson: Here's why you shouldn't stick things that aren't meant for skin onto your face!
The Striped Jewel Look
This is a very dramatic look that Cycle 7's Eugena Washington is flaunting. I think her "jewels" are actually created from makeup, but as I don't have the products or expertise to paint authentic-looking jewels onto my face, I thought I'd use my trusty craft gems.
I am quite happy to say that this beauty look was an epic fail. Well, I guess that's what you get for drawing lipstick and eyeshadow lines on your face and throwing some craft gems in for good measure! It's safe to say that I will never be recreating this look again. Sorry Eugena, I'm just not as fierce as you, girl.
The Bejewelled Forehead
Wow! Amanda Babin of Cycle 7 looks very fancy — cue Iggy Azalea's song. I like how the red and yellow shades clash against each other but somehow work nonetheless.
This is probably my best like-for-like recreation, although I'd look way better with a bright red wig on like Amanda. Having said that, I think this look would have to be kept for costume parties because I just don't think you could get away with it in everyday life.
The Feathered Brow
Cycle 15 saw the models posing as heavenly beings and wearing feathers. Some women even wore feathers on top of their eyebrows, like Kendal Brown pictured here. I was very excited about this look, as I think feathers are an intriguing material that can add a sense of ethereal grace, heavenly magic, or avian vibes. I think in Kendal's look, all three of these apply!
As you can see from my many snaps, this was my favorite look. I loved the Black Swan vibes and how by just adding feathers to my face, I was transformed into a creature. This was definitely the most theatrical look as well.
I achieved it by cutting some feathers slightly (purchased from the aforementioned Boyes store) and then using eyelash glue to stick the feathers to my head. The only thing I didn't like about these specific faux feathers was that they were quite brittle and hard to mould to the shape of my eyebrows. I think if I was going to recreate this look again, I would purchase the softer style fake feathers, which would hopefully give my brows a more organic look.
Again, if you don't want to rip feathers from your eyebrows and you don't fancy having eyelash glue stuck in them, then please don't try this at home. I would imagine a safer/easier method of sticking feathers to your eyebrows would be to stick a piece of body tape just above your eyebrows and attach the feathers to that instead.
My verdict is: Sticking things on your face is fun! So why don't you try your favorite ANTM "stick-on" look at home? I can guarantee you will look fiercer than I! Just don't forget to smize.
Images: Courtesy ANTM/10 by 10 Entertainment, Bankable Productions, The Tyra Banks Company, Anisa Productions; Author's Own