Angela Bassett 'AHS' GIFs For Every Life Moment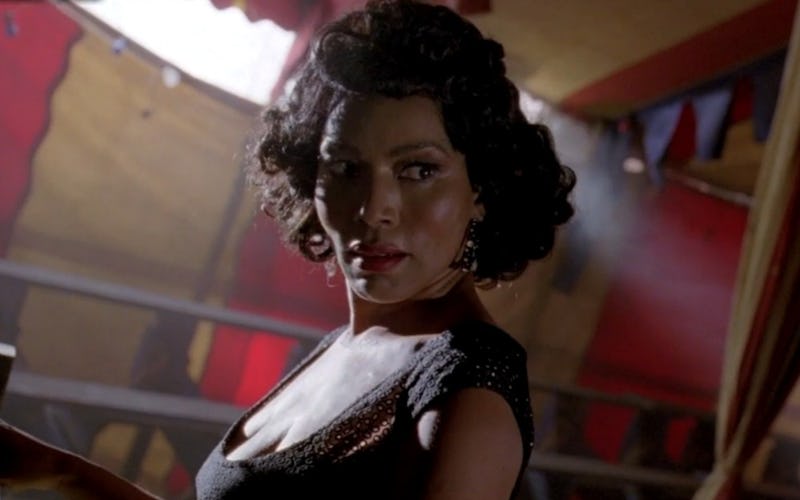 We can all breathe easy, because an American Horror Story fan favorite has officially joined the cast of the new season. Jessica Lange may have truly jumped ship after Freak Show, but the news is still good: Angela Bassett joined American Horror Story: Hotel as a cast member, and it's a good enough reason as any to tune into the new season. Not that we didn't have an amazing cast before Bassett — with Kathy Bates, Evan Peters, and newcomer Lady Gaga in tow, we certainly will have more than enough amazing faces to scare us onscreen — but it helps Hotel's case to have Bassett back in action.
Long story short? I'm stoked she's checking in.
The What's Love Got To Do With It? actress was a fan favorite from the moment she appeared onscreen as all-powerful voodoo Madame Laveau on American Horror Story: Coven, and since then, her characters have become the catalyst for some of the funniest and most outrageous American Horror Story moments. And luckily, most of them can apply to your daily life. Have a Bassett moment by applying this American Horror Story GIFS to your day to day life.
When You Realize You Just Slept Through Two Alarms
And then you go back to sleep because, uh, the day's already ruined.
When Your Friend Bails On Plans Because She's "Sick"
Her Snapchat story would say otherwise.
When You're Trying To Hype Yourself Up To Finish A Paper
Grab a Red Bull and pull yourself together.
When You Lose To Someone In Trivia Crack
Pssh. Like you even care.
When You're Trying To Convince Yourself That You Don't Need Another LBD
Ugh, but so much waaaaant though.
When You're Giving Advice To Your Friend On How To Deal With Her Evil Boss
Or, you know, maybe complain to HR?
When You Have To Wait A Year For New Episodes Of A Show None Of Your Friends Watch
Oh, you don't watch Game Of Thrones? Then you just DON'T KNOW, do you?!
When Your Roommate Is Taking Forever To Get Ready
There will be a line at the door if we don't get there, like, 10 minutes ago.
When You See A Jar Of Nutella
Mine, please.
Images: p0ntiacheaven/Tumblr; deseraysmiththings /Tumblr; a-handful-of-genius /Tumblr; freakshowgifs /Tumblr; (3), akajimmydarling /Tumblr; rayerennie /Tumblr; lovely-hipster-dreamer /Tumblr