Fictional Princess Role Models For The Royal Baby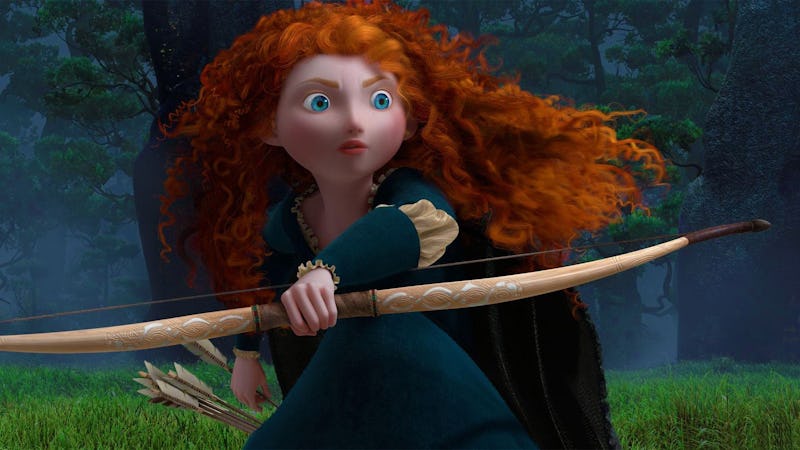 In case you just woke up, of have been living under a rock or something (hey, I don't known your life) — Kate Middleton gave birth to a baby girl Saturday at St. Mary's Hospital in west London. The youngest royal — the second child of Middleton and Prince William's — has had a big day already what with being born, meeting her big brother George, and making her world debut to an adoring public. Such is the life of a princess though, so Royal Baby #2 (her name is still unknown for the time being) had better get used to the limelight. Fourth in line to the throne, the wee one has a future full of duty, family, and adoration ahead of her, and like all little girls she is going to need strong female role models to look up to. So, what about fictional princesses?
Of course, she already has lots of amazing women around her including her great-grandmother — Her Majesty Queen Elizabeth II, that is — mom Princess Kate Middleton, Aunt Pippa, and the memory of her grandmother Princess Diana. Still, everyone needs a few fictional role models to look up to as well, including the little Princess. From Disney to Star Wars, pop culture has produced its share of amazing princesses that the Royal Baby can look up to as she grows up to be a confident, smart woman who might just end up sitting on the throne.
1. Princess Merida, Brave
The world has certain expectations for princesses, and those expectations usually involve being a prim and proper lady at all times. The Royal Baby can use Merida as a role model that shows her how to challenge the social norms if she feels constrained by them. After all, the Royal Baby is a thoroughly modern princess — as long as she stays true to herself (and listens to her mom's advice even during those angsty teen years) like Merida does in Brave, she's going to be fantastic.
2. Princess Leia, Star Wars
The princess is going to be the voice of her people one day, and her position will come with a crazy amount of responsibility. No other fictional princess handled politics and policy with as much swagger as Leia. At no point does Leia ever back down from her beliefs, her duty to protect her people, or her desire to find common ground with everyone (remember the Ewoks?).
3. Princess Mia, The Princess Diaries
Can you imagine being born a princess? It sounds like a dream come true, but for a little kid the title has to come with a lot of pressure. Princess Mia can teach our new princess how to grow into her role without losing her sense of self. Mia goes through her share of ups and downs as the adults in her life work to mold her into the kind of princess they want her to be, but, ultimately, Mia learns how to stand up for herself and becomes the best version of herself, instead of the "perfect" princess.
4. Giselle, Enchanted
Giselle appears to be a purely stereotypical princess on the outside, but her open heart makes her a true rarity in the increasingly cynical world around her. Our new princess doesn't have to get dressed by birds in the morning, but it would be wonderful if she could grow up with optimism, believing she is capable of anything including slaying dragons and saving princes.
5. Ariel, The Little Mermaid
Ariel's curiosity led her to question everything, collect objects, and constantly keep her eyes open in case a new adventure came around the corner. The little princess does not need to concern herself with the part of the story where Ariel signs her voice away (although it is a great example of what not to do), instead she should focus on all the parts where Ariel's exploration leads her to a whole new world.
6. Wonder Woman
Yes, Wonder Woman is a princess. She has also served as a role model for generation after generation of women. This comic book heroine believes in truth, justice, and kicking butt. The little princess doesn't have to kick anyone's butt physically, but as a paragon of strength, Wonder Woman is a heroine she and every other little girl will be better off for knowing.
7. Lumpy Space Princess, Adventure Time
Sometimes the little princess is going to be in a bad mood. That's all absolutely normal, of course — and when it happens, she can watch LSP to remind herself that no one, not even a princess, has to be perfect all the time.
Images: Disney; Giphy (7)