This Is What A $900 McDonald's Burger Looks Like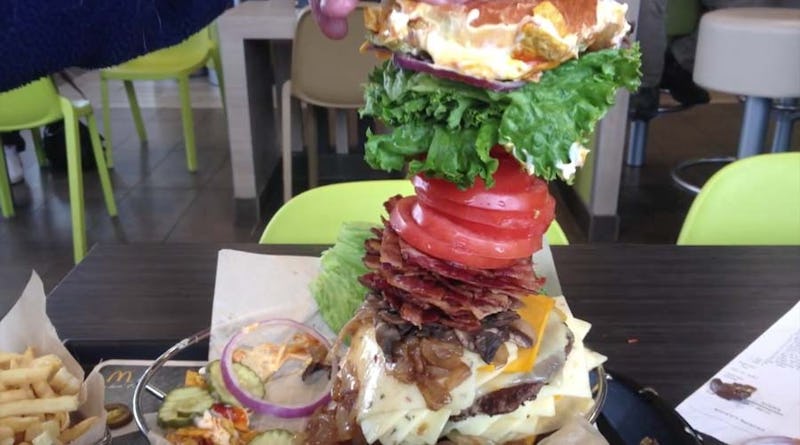 Here's something you won't find on the dollar menu. McDonald's "Create Your Taste" kiosks have been popping up at select locations, with all the available ingredients listed for customers to build their own burgers. And a tech entrepreneur named Moshe Tamssot decided to take it to a whole new level of awesome.
The idea behind the kiosks is for McDonald's customers to have every burger perfectly tailored to their tastes, and with "fresher" ingredients. So when Tamssot chose to have a little fun with the build-a-burger feature, he REALLY had fun. Instead of a typical one-of-everything burger, he added 10 pieces of bacon, 10 servings of guacamole, 30 slices of cheese, two patties, tomatoes, and a variety of sauces (including mayo and spicy mayo... because, of course), as reported by Food Beast.
Tamssot decided to name his delicious monstrosity the "Big Max," and it weighed a massive 3.8 pounds. It was also served on two separate trays, because it was THAT big. The tomatoes were placed in their own basket. With all of the added ingredients, the Big Max ended up costing $890.80, but due to a seriously convenient pricing bug, Tamssot only ended up paying $24.89. For a full look at how Tamssot put his edible masterpiece together, check this out:
Hilariously, the cashier saw the receipt and couldn't believe her eyes. She even pulled her manager over to complete the transaction. But probably the most surprising part is that there were only two burger patties on there. When you're adding enough tomatoes that they require their own basket, why not add more meat? I mean, what would Ron Swanson say about that? Probably nothing, since there are 30 pieces of bacon. Which was maybe just shy of all the bacon they had.
Image: YouTube