Fashion & Accessories That Any Guitarist Would <3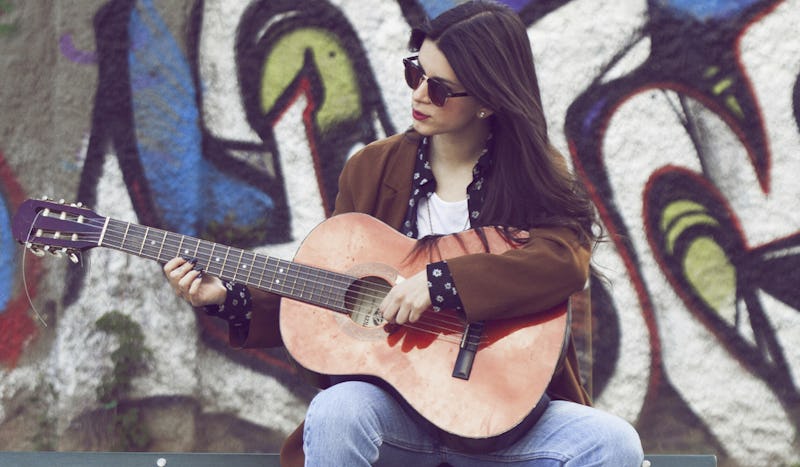 If you're a guitar player, it's probably obvious to you that your music influences every aspect of your life, including your style. Of course, the fashion and accessories for guitar players that you love don't necessarily have to revolve around the guitar itself, but when you love your physical guitar as much as you love playing it, it tends to happen anyway. And showing off how that adoration for your instrument is a part of who you are as a human can be a ton of fun.
When it comes to getting inspired by the fashion sense of other guitar players, there's a plethora of female rockers who come to mind. The likes of Joan Jett, Bonnie Rait, Stevie Nicks, and the more contemporary artists like St. Vincent and Jenny Lewis, all have killer senses of dress, so anything that emulates their cool rocker status would likely be of interest to any guitar-playing chick.
But there's something about identifying with your own style as a musician that can actually be a part of your process in developing your sound as well. Although this list features items that more so identify you as a guitarist rather than help you discover your style, I think you'll find some things that, if you had them, would make you smile every time you put 'em on.
1. Guitar Ring
Sterling Silver Acoustic Guitar Ring, $150-$200, Music Treasures
Cute with just enough bling, but not too overpowering, this ring would look great on the finger of a guitarist. Wearing it on the hand you don't strum the guitar with would probably be ideal since your ring will constantly hit the strings otherwise.
2. Pick Holder Necklace
Timberwolf Gray Pickbandz® Guitar Pick Holder Pick Necklace, $9, Pick Bandz
What better accessory than this? You can tuck away your favorite pick inside so it's never too far away from you! You'll never forget your pick when you're wearing this necklace, and the design comes in a variety of colors to boot!
3. Joni Mitchell Tee
Joni Mitchell Line, $25, Red Bubble
I'd go so far as to say that pretty much every female guitarist post-Joni Mitchell has been influenced by the fashion and folk icon. So a t-shirt with a photo of her playing the guitar not only pays homage to such a gifted artist, but also looks totally rad. Redbubble.com offers the shirt in several different colors and shirt styles.
4. Guitar Socks
Guitar Print Ankle Socks, $2, Forever 21
You seriously can't go wrong with socks. These are perfect for those cool evenings out on the back porch when you're trying to figure out that new song you've been playing around with for ages.
5. Guitar Buttons
Time To Play Acoustic Guitar — Green Background Button, $3, Zazzle
Cute little accessories like this one are perfect for buttoning to your bag, your favorite denim jacket, or even your guitar strap. Zazzle has a ton of designs for a fun collection.
6. Inlay Stickers
Gypsy Rose Fret Markers Inlay Sticker, $20, Inlay Stickers
You can't forget to accessorize your guitar! Though I'm sure plenty of us guitar players like to keep our guitar simple and "natural" looking, a beautiful sticker like the one above creates a folksy and elegant way to dress up our favorite music maker. Can't you just feel the romantic mood those roses make? I think I want to go write a love song now.
7. Comfortable Shoes
Minnetonka Back Zipper Boot Hardsole, $53, Minnetonka Moccasin
All guitarists know, especially if they're playing a live gig and standing, that comfortable shoes are a must-have. These moccasins are a perfect option for preserving your sense of style, but also rocking out with the cool, hippie vibe (if that's your thing)!
Images: Fotolia; Courtesy Brands