12 Books To Read If You Loved 'Age Of Ultron'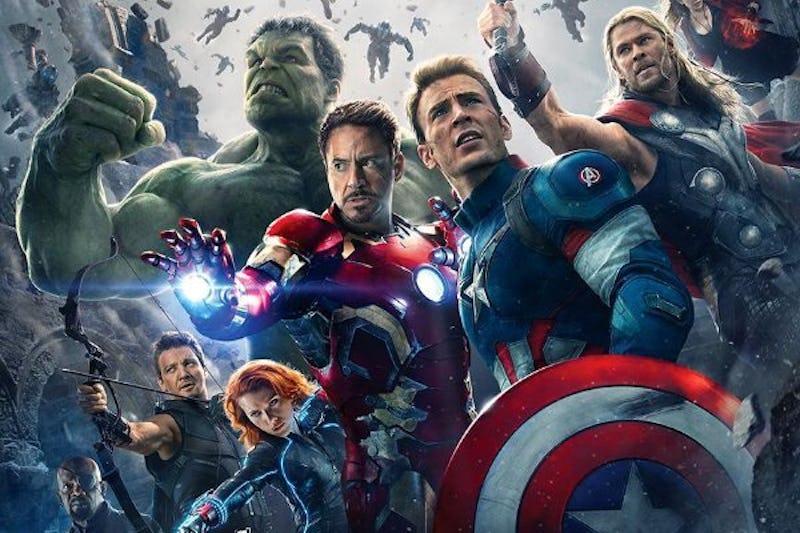 The first blockbuster movie of the summer has exploded: The Avengers: Age of Ultron was released this weekend. Sure, it's only the first of many huge movies to come, but, really, will anything live up to Age of Ultron?
Marvel is on a roll lately, between the movies, the TV shows, and the female-led comics they've been planning and delivering for the rest of 2015. I don't blame you for loving Marvel — I do, too. But their one movie every year just isn't enough for me. I've read the comics (well, some of them), and I know there are more films in the works. But I need more sometimes!
If you loved all the action of The Avengers: Age of Ultron and everything Marvel delibers, you've probably already watched all the stand alone movies. You've probably already devoured Agents of S.H.I.E.L.D. and Agent Carter , too. But there are some books that can deliver all the excitement and superhero action of the movies. If you've already watched everything you can, here are 12 super books to get your through your post-Age of Ultron haze this summer.
If you like female superheroes, this is the book for you. Jill Lepore digs deep into the history of one of the most famous superheroes of all time: Wonder Woman. Beneath the cape and gold headband lies a history even most comic book fans didn't know, and this is a can't-miss if you want some historical background on your favorite fictional characters.
If you've seen Age of Ultron, you know that robots play a big role in the movie. Ultron thinks the world would be better off without any humans at all, actually. Robopocalypse follows in a similar fashion, with Daniel H. Wilson creating a complete, well, apocalypse brought about by robots. If the robo-drama brought the movie to life for you, definitely give this one a go next!
Black Widow may be the only woman in The Avengers — for now! — but that's not to say she's the only female superhero we have. Captain Marvel is just as badass as Black Widow, and has a whole series you can read for yourself, if you can't get enough of the girl power aspect of Age of Ultron.
Stealth. Gorgon. Regenerator. Cerberus. Zzzap. The Mighty Dragon. No, these aren't the names of Avengers you've never heard of, but they are a league of superheroes all their own. Well, fallen superheroes. Ex-Heroes , you might say. Ex-heroes who have to work past their differences to come to the aid of the world — sounds like another set of heroes we know and love, doesn't it?
Black Widow is the best Avenger of them all, if you ask me. She's not the product of an explosion, or a lab experiment. She's a genuine trained assassin who cast aside her dark past in favor of saving the world. I'm still waiting for her to get the solo movie she so deserves. But, in the mean time, we can all read the comics already in place, and so patiently waiting for Marvel to adapt them.
Most of our favorite Avengers were the product of a terrible accident. An accident leaving them changed for the better. Such is the case with Ulysses: an innocent squirrel who was hit by a vacuum he never saw coming. Luckily for him, he has Flora by his side, and just so happens to be an avid comic book-reader herself. She knows just the thing to make Ulysses better than ever before!
One of the best parts of Age of Ultron was the discussion about what makes humans inherently good or bad, and what the future of humanity should be. Ernest Cline had a similar question with Ready Player One, which doesn't paint humans in the best light. Earth, in the year 2044, is on the brink of collapse, and all that holds it together is a virtual reality game that people have all but retreated to. One person must find the Easter Egg (and the billion dollar prize) within the game, and save the world.
A Pulitzer Prize winner, The Amazing Adventures of Kavalier & Clay is a fantastic adventures for fans of novels and comic books alike. Kavalier and Clay create a comic book world for the likes of The Escapist, Luna Moth, and The Monitor, and an unforgettable adventure for readers everywhere. This one is the perfect, long book to take you on an adventure this summer.
Marvel fans all know it's coming: Civil War is the next big Avengers movie to hit the big screen — it just might be a few years away. So, after you've seen Avenger: Age of Ultron and are still looking for more superheroes to entertain you, get ahead of the game and pick up Mark Milar's Civil War before it hits the big screen.
Vicious by V.E. Schwab
Victor and Eli were college roommates. Two lonely young men just looking for someone with similar interests, when things go terribly wrong. They join together on a research experiment gone wrong: they believed that they could give superhuman abilities to real people. When this inevitably goes wrong, Victor ends up in jail, and Eli embarks on a quest to undo their mistakes.
Doctor Impossible is an evil genius — what else could he be, with a name like that? He's tried and failed to take over the world countless times, but he won't give up. Meanwhile, The Champions are a superhero team along the lines of The Avengers, and they, along with their newest member, Fatale, aren't going to let someone like Doctor Impossible come to power. The perfect book for fans of Marvel and The Avengers: Age of Ultron, Soon I Will Be Invincible is a great follow up to the movie.
Steelheart by Brandon Sanderson
Calamity was a quick explosion in the sky. A quick explosion that left regular people with extraordinary abilities. Superhuman abilities, if you will. Calamity created The Epics, but the Reckoners, they want in. They want to understand the Epics, and they want to stop them.
Image: Marvel Studios