5-Minute Makeovers You Can Give Yourself At Work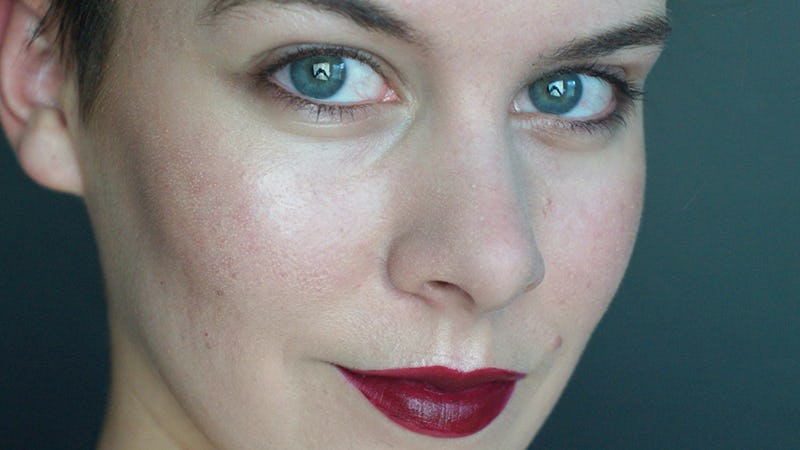 If there is one thing a woman should know how to do, it's how to create an entire makeup look in five minutes in a bathroom before going out for the evening. After all, we're all busy people. Who has time to run home after work just to do their makeup? Of course, you generally don't want to put in the effort at 7am to wear a full-on smoky eye, contouring, and perfect lipstick to work, either. Instead, figure out your go-to evening beauty look ahead of time and keep the essentials in a small makeup bag at your desk for this exact purpose.
Not sure what kind of beauty look you can do in five minutes, or what products to use? Read on because I've got you covered.
First you should have some sort of base look. Even if you don't usually wear makeup to work, you'll want to give yourself a good base to build off of first thing in the morning. This saves you from having to bring foundation, concealer, brushes, mascara, an eyelash curler, blush, and so on with you to work (and it saves time later, too).
Personally, my everyday base look goes something like this: a light foundation, some concealer where needed, mascara, and brow gel.
Here's what that looks like:
Now I'm all set for my work day, and once 5:00 rolls around and I'm heading out for happy hour I already have a good base to use as a jumping off point for whatever evening look I'm in the mood for.
Here are three of my favorite going-out looks that you can do in just five minutes from your office bathroom or the local Starbucks bathroom before your impromptu date or karaoke night.
1. The Two-Minute Contoured Look
If you have a contouring palette that contains a highlighter and a bronzer then you're all set. Sadly I don't own one of those yet (I know, I need to get my life in order) but that just means I have to carry two separate products instead of one compact. It's not the end of the world, especially if you shop for minis and travel sizes like I do.
Opt for cream or liquid in this case if possible; it's easier to blend with a finger than powders. You don't want to have to bother with brushes. I used my mini Benefit Highlighter ($30 for full-size, sephora.com) and Perricone MD No Bronzer Bronzer ($35, perriconemd.com).
Using clean fingers, I blended highlighter above my brow, upper lip, cheekbones, and the bridge of my nose. This takes less than a minute.
Then, again using fingers, I took another minute to blend a line of bronzer from my temple to halfway down each cheek. If you're not sure of bronzer placement, it helps to suck in your cheeks and place the bronzer in the hollow of your cheeks. Blend really well (you do not want a stark line of bronzer) and build slowly until you have the desired effect.
Here's my contoured look:
2. The One-Minute Bold Lip
I love doing a quick bold lip for maximum impact with minimum effort. You can use whatever your favorite lip product is, but I like NYX Soft Matte Lip Cream ($6, ulta.com) because it's affordable, small and unlikely to spill or leak in your bag, easy to apply, and long-lasting.
I used the shade Copenhagen, which is a great fall/winter shade but also unexpectedly chic in the summer.
It only took about a minute to apply, with no lip liner needed.
3. The Two-Minute Smoky Eye
If you prefer a dramatic eye, there are a few different options.
You can create a fast and easy smoky eye with a pencil eye liner; I like Urban Decay 24/7 Glide On Eye Pencil ($20, sephora.com). Simply line your upper and lower lashes, going slightly beyond the outer corner of your eye, and then smudge it with a clean finger. It couldn't be faster or simpler.
If you want a single wash of color instead, I can't recommend anything more than the Colour Prevails Eye Shimmer Powder ($10, drugstore.com). It's small and spill-proof, and the pretty butterfly handle is actually a sponge applicator for applying the shadow. Below I used the shade Teddy Bear.
Finally, if you really want to go all out, invest in a mini eye shadow palette. I have a limited edition Deco Starlet Palette by Sonia Kashuk and I love it (sold out but find a similar palette here). It has four shades (black, brown, gold, and white) and fits into even the smallest clutch. Below I used all four shades:
The only downsides are that you have to bring a eye shadow brush with you and this particular look takes at least two minutes to do.
Curious to see all three looks combined? Here it is:
It's a bit much for me personally, but now you know that if you want to do dramatic eyes, lips, and contouring in five minutes with only a handful of products, you certainly can.
Images: Kelly Dougher