Monogrammed Items The New Princess Needs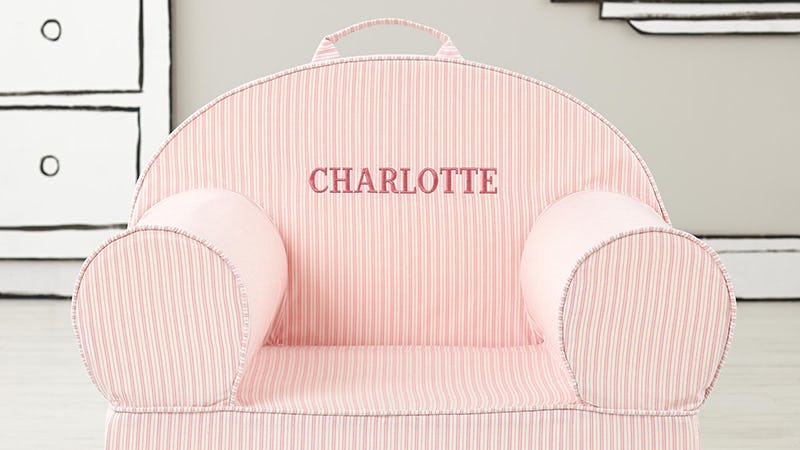 The world was overjoyed Saturday morning when the royal family announced the birth of their Princess, but we were still left anxious with anticipation for the name of the baby to be announced. Finally, on Monday, it was official: The new princess is named Charlotte Elizabeth Diana, in memorial of the late Princess Diana, Charlotte's grandmother. It's sophisticated, it flows, and is just so... royal.
Let's take a second to note that the Princess is as cute as a button. Not only does Charlotte Elizabeth scream "I'm royalty," but tell me you can't envision the name "Charlotte" labeling every dress, bonnet and blanket that little girl will own. All the monogram-able possibilities! If I were Kate, I'd take a cue from the reports splashing her baby girl's name all over headlines and invest in Charlotte Elizabeth Diana embroidered everything, or at least her first and possibly middle name.
As I would consider myself to be a loyal follower of the royal family by default (my mother's been obsessed with Princess Diana since I was in diapers), I'd say I'm in the running for a position as Kate and William's little darling's stylist and decorator. Sure, Middleton's pretty much got the style thing down, but I'm here to offer my services if she needs an extra hand. Check out my favorite monogrammed items that Charlotte Elizabeth Diana has to have, ASAP.
1. C is for Charlotte's Wall Decal
So everyone knows just whose room they are walking into.
2. C is for Charlotte's Dress
She'll be taking fashion cues from her mother's impeccable style in no time.
3. C is for Charlotte's Necklace
This precious necklace documents her full name, birthday, and birth weight.
4. C is for Charlotte's Bracelet
A little royal bling for the royal baby's wrist.
5. C is for Charlotte's Blanket
Napping in style.
6. C is for Charlotte's Royal Sofa
She may not be settling into a thrown anytime soon, but this miniature couch will do the trick -- for now.
Ball gowns... tutus... they are all poofy and wonderful.
Maybe not her first, but definitely her second.
9. C is for Charlotte's Bathrobe
Someone better get an initialed CED on this thing because it must have been made for the newest addition to the Royal Family.
Images: Courtesy Brands