How To Make The Booze-Filled Piñata Of Your Dreams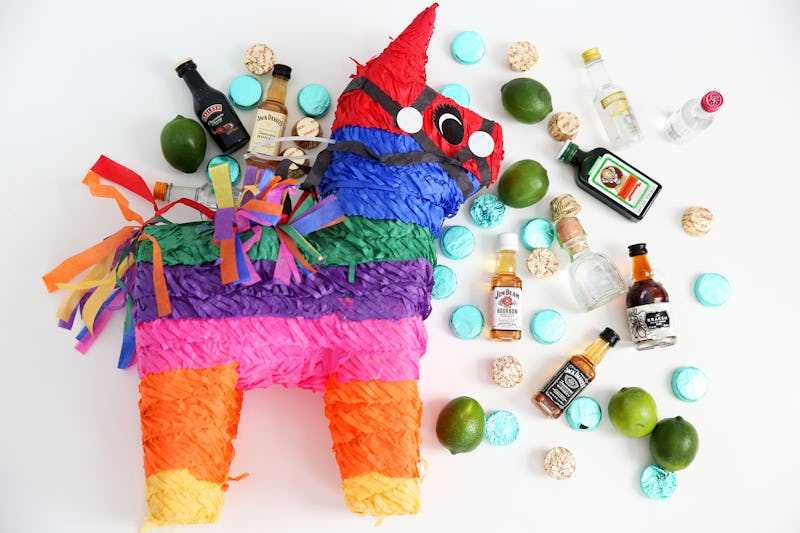 If there's one single way to make sure your party is a total smash, it's to have a piñata. These are staples at children's birthday parties for a reason, people — because they're awesome. And now that you're a big fancy adult celebrating big fancy adult holidays like Cinco de Mayo, it's time you learned how to make a booze-filled piñata to go along with your new grownup lifestyle. And guys? Good news! It's basically the easiest thing ever.
After hearing about this genius Nipyata packed with bottles of — you guessed it — nips, we were feeling ultra inspired to make one ourselves. So we selected our own assortment of mini alcohol bottles (you can find plastic ones at your local liquor store so they won't shatter when they fall to the ground), stocked up on a few other essential good-time ingredients, and then proceeded to transform our traditional donkey piñata into the libatious fuñata of our dreams. And yeah... it was awesome.
Looking for a cool party trick that's sure to be a total hit (pun 100 percent intended) on Cinco de Mayo? Not anymore you're not — this booze-filled piñata is everything you never knew your soiree needed. So grab a stick, put on a blindfold, and start swinging. You're in for a slightly ridiculous, completely amazing time. Here's how to make one in five super simple steps.
1. Assemble your mini alcohol bottles
Sure, tequila may be the shot of choice on this very special day, but variety is the spice of life, and if you want to throw a little Jim Beam into the mix, nobody is going to be mad. Nobody.
2. Don't forget a few limes
You wouldn't want to find yourself holding a perfectly adorable bottle of tequila and have nothing to chase it down with, right? Just think about what a travesty that would be, you guys.
3. A few chocolate treats couldn't hurt
This is a party, after all. Go crazy in the candy aisle, and fill up on whatever sweet treats you want to make this the piñata of your dreams.
4. Fill your piñata until it's ready to pop
Now that you've spent so much time collecting your materials, it's time to put this baby together. Stuff your piñata to the brim, and get ready to let the good times roll. Feel free to add in salt, aspirin, or any other drinking-time accessories you want to make this the most perfect piñata experience of your life.
5. Prepare to have a smashing good time
Check out the full how-to video below, and make sure to check out Bustle on YouTube!
Video: Bianca Consunji/Bustle