Koryn Has Come A Long Way on 'The Voice'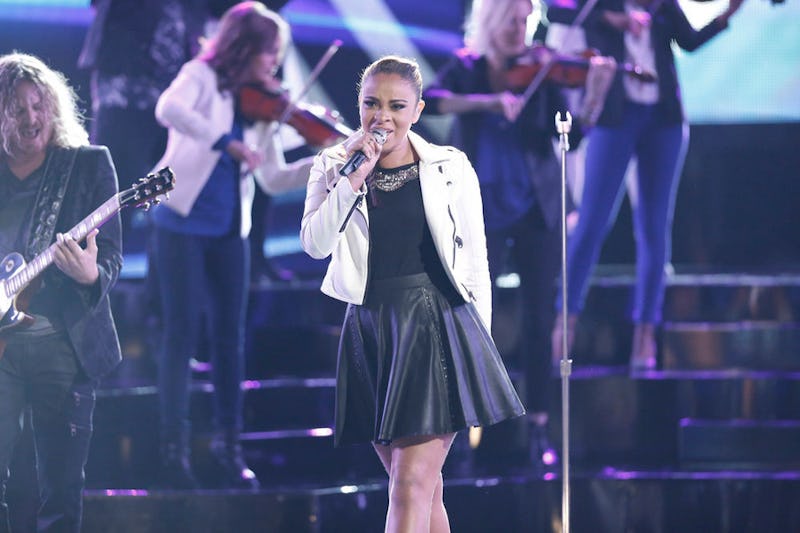 We must be dreaming. The Voice hopeful Koryn Hawthorne strayed from her typical ballad song choice and rocked the stage with Aerosmith's "Dream On." While this was a major risk at this point in the game, she completely owned it. The classic rock jam isn't a song one would consider for the youngest female contestant in this competition, but that's what made it so great. Hawthorne has stayed in the game because she's not afraid to go against the norm, and she did that again this week. The competition is heating up but Hawthorne isn't backing down, and that's why she'll succeed even after her time on The Voice is over.
Hawthorne hasn't had the most flawless of journeys on this season, but she's proven that she doesn't give up. She started in this competition as a young, inexperienced performer with raw talent. While she's still young, she's much more experienced than when she came in and her talent is far more polished. Her lack of experience was actually an advantage for her, because she was able to soak up all of Coach Pharrell's advice and integrate it into her performances. Pharrell's stamp has been on all of Hawthorne's performances, but in the best way possible. He's helped her position herself as an inspirational singer, and that's the best thing that could've happened for Hawthorne in this game.
Hawthorne probably wouldn't be in this game if she hadn't adopted the inspirational angle. She's talented, yes, but not strong enough of a performer to stick around if she were singing typical teenage pop songs. Hawthorne is so amazing because she's singing powerful, spiritual, mature songs at such a young age. Even "Dream On" was a powerful, mature choice for her. Though it's not as "in your face" inspirational as "Amazing Grace," there's a strong message behind the lyrics that takes a level of maturity to convey. Hawthorne did this effortlessly. Though this could be the last week for her in this competition — the talent is just too tough to compete with — she's won something much more valuable. She found herself as an artist, and that will be invaluable long after Season 8 is over.
Image: Tyler Golden/NBC