Meghan Linsey Gets Better Every Week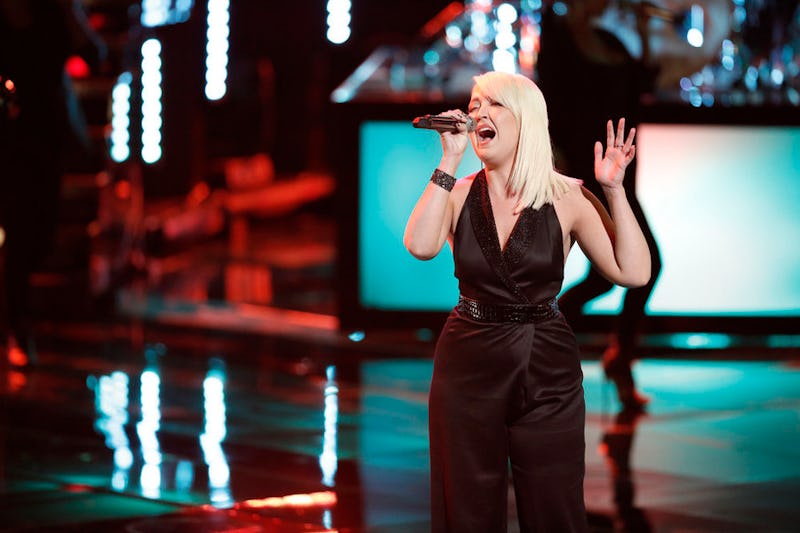 Guys, Meghan Linsey is insane. There, I said it. Her voice is literal butter and everything she sings is sheer perfection. Tonight's Top 8 performance on The Voice was no exception. Linsey performed George Harrison's "Something" and it was her best performance yet. The coaches were blown away and her own coach, Blake Shelton, made a pretty bold statement — that he expects to see Linsey in the finale. I've said it before and I'll say it again — Linsey will be in The Voice Season 8 finale and will most likely win this whole competition.
Linsey is the most versatile singer in this competition, and that's a pretty special characteristic to have. The most successful singers in the music industry are able to sing almost any genre — the ultimate pop-diva herself, Christina Aguilera, has sung basically every genre you can think of, including a country collaboration with Rascal Flatts that's absolutely amazing. Linsey possesses this same crossover talent that will become invaluable as she progresses in her career. It says a lot that she is trying to break into the pop/R&B world now after being in the country scene for so long. But she is doing it flawlessly, proving that she can literally sing anything and sound amazing.
The competition is fierce on this season of The Voice. There are two clear front-runners (Linsey included) with 6 strong voices trailing very closely behind. Linsey has the potential to beat out the rest of the competition, including the powerhouse that is Kimberly Nichole. Linsey has done a great job of staying true to herself in this competition. She chooses songs that she wants to sing, instead of taking her coach's recommendation. Though she puts her spin on everything she does, she does take Coach Blake's direction when it comes to the vocals and performance — and that's why she's doing so well in this game. Linsey really needed that extra professional guidance to boost her career. If Linsey continues on the path she's on, she'll be taking home The Voice title in no time.
Image: Tyler Golden/NBC